Martin Johnson Heade Born on the 11th of August, 1819, in Lumberville Pennsylvania, He is not believed to have any formal training. Edward Hicks, the folk artist, was reportedly the first one to train him.
Martin Johnson Heade Biography
He had started painting his first portraits by 1839, and in 1843 changed his name from Heed to Heade. He traveled widely in search of inspiration until finally settling in New York in 1859.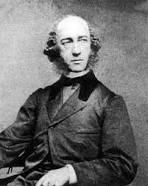 Heade's paintings show a great influence of his surroundings, as seen by the wide depiction of Florida's eastern coast and the tropical vegetation and marshes of St. Augustine.
Influences
These, along with an understanding of how light interacts with the environment, inspired him to paint landscapes full of serenity and warmth.
Light, combined with intelligent use of lines, curves, and angles, creates the illusion of movement which has been used by Heade to demonstrate moving water or wind blowing the trees.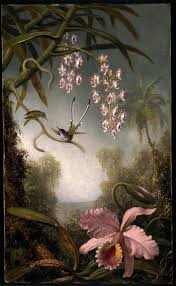 In New York, Heade met with several students of the River Hudson School, among them Frederick Edwin Church, who became a close friend. Church also influenced many of his artworks, as can be seen by the lighting and emphasis of detail.
Martin Johnson Heade Artworks
Heade was also greatly influenced by Darwin and developed an interest in hummingbirds and how they are affected by natural selection.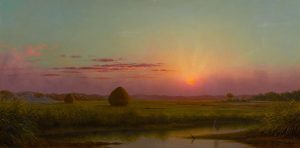 He spent several years traveling to the tropics, where he studied the life and habits of hummingbirds, which are a frequent subject in his paintings.
Martin Johnson Heade book "The Gems of Brazil"
Heade painted a series of small works, numbering over forty, which he intended to publish in a small book titled 'The gems of Brazil". The book could not be published because of financial difficulty.
Another great influence on his works would have been his first teacher Edward Hicks, who had a great appreciation for nature. Upon meeting established artists like Benjamin Champney and John Frederick Kensett, Heade became interested in landscape paintings.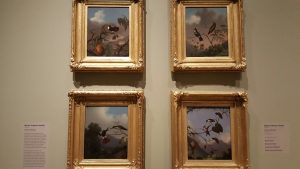 The New England coastal salt marsh, his most widely known work and other similar works have led historians to label him a Luminist painter.
Heade's work avoids depictions of grandeur, focusing instead on the expanse of subdues scenery, and employing repeating motifs such as small haystacks and diminutive figures. His paintings show a concentration of light and atmosphere in the marsh scenes.
Later Life and Death of Martin Johnson Heade
In 1883 Heade moved to St Augustine, Florida and took up the surrounding marshland as his primary landscape. In his later years in Florida, he painted several still life portraits of southern flowers, especially magnolia blossoms placed on velvet.
He had developed an interest in still living in the 1860s. His early works in the still life genre typically depict flowers displayed by arranging them in an ornate vase on a cloth covered table. Heade happens to be the only 19th-century artist to have such extensive works ranging from still life to landscapes to other tropical paintings of birds.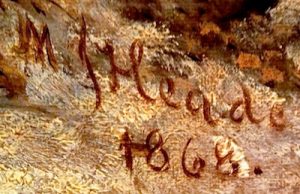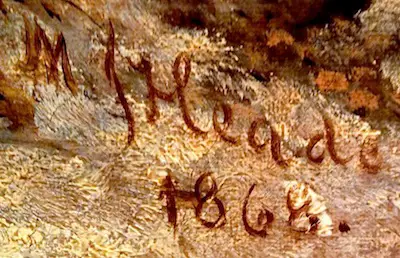 Heade was not a well-known artist during his lifetime and was nearly forgotten for much of the early twentieth century. Around World War II, there was a reawakening of interest in the 19th-century art of America and this sparked new interest in his works.
His work was greatly appreciated, and art historians have now come to count him among the most important American artists in his generation. Among the contemporary art inspired by his work are such names as David Bierkand Ian Hornak. Martin Johnson Heade died on September 4, 1904