An English navigator who attained international fame, Captain Matthew Flinders was the first cartographer to have spear-headed the circumnavigation of the Australian continent. Born in the year 1774 on 16th March, Matthew Flinders made three iconic voyages between the period of 1791 to 1810 towards the Southern Ocean.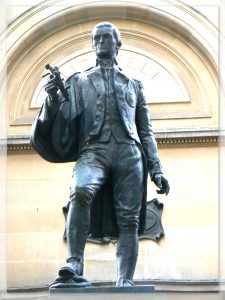 Life in the Deep Seas
The second sea voyage led Captain Flinders to an island that is now known as Tasmania. And the third voyage was commenced with a native man called Bungaree, who helped him find or circumnavigate a new mainland that later came to be known as Australia.
His Misadventure towards the End
As Flinders was returning back to England in the year 1803, his ship was in a bad state and in need of urgent repair works. This was the reason he sailed en-route Isle de France. Instead of safe passage, Flinders was imprisoned by a distrustful governor due to the ongoing war between Britain and France. Flinders was arrested and jailed for 6 long years.
During the period of his arrest, Flinders managed to record all the primary details of his sea voyages for the future generation. He even suggested that the new mainland to be named as Australia, which was readily taken up years later by Governor Macquarie.
Flinders Sea Voyages – Salient Points
Matthew Flinders was born to a surgeon who was also named Matthew Flinders.

He was married to Ann Chappelle in 1801 and had a daughter with her

He was born and raised in Donington, Lincolnshire County in the city of England

He went to the sea inspired by the epic novel Robinson Crusoe at the tender age of fifteen

He later happened to join the Royal Navy and served on HMS Alert

His first sea voyage happened in the year 1795 to the place New South Wales

As an adventurous midshipman, Flinders was known as a good navigator and fine cartographer

After becoming a lieutenant, Flinders gained command of Norfolk in the year 1798, to sail towards unknown lands

From 1796 to 1800, Flinders discovered many passages, new routes, islands, and mainlands

It was in the year 1796, Flinders explored the vast Sydney coastline in a little boat and found out Tasmania Island while sailing via Bass Strait

In the 1790s, Flinders navigated to New South Wales in a ship called HMS Reliance
Reaching his Homeland
Matthew Flinders suffered from many health issues after he returned to England in the year 1810. Sadly, the great voyager did not live long to enjoy the success of his sea-adventure volume and atlas, that he had penned during his imprisonment period, known as 'A Voyage to Terra Australis'. He departed from this world in the year 1814 and the true location of his tomb or grave was totally lost to the historians of the 19th century.
News on Recent Archaeological Findings
Excavators and archaeologists who were exploring a London burial place (near London's railway line Euston) this month (January 2019) were shocked and excited to find the remains of the great voyager and 19th – century navigator Captain Flinders thus making their HS2 project super successful.
Captain Flinders' coffin was buried along with some 61,000 human skeletons. The date on his coffin read 23rd July 1814. The discovery of skeletons was unearthed due to an exploration project going on since October 2018, between London area and Birmingham area for the future construction of a grand high-speed railway line project costing around £55bn. It is said to be one of the 60 prime archaeological sites in England.
As per historical records, it was hinted that Captain Flinders could be among the thousands of bodies that were buried at the site during the early 19th century when Euston rail line was expanded. However, the report did not have credibility, and historians felt it was highly unlikely that the body of Flinders would be found and identified among other skeletons.
But this wondrous discovery of the body of the sea explorer Captain Matthew Flinders has been received by great enthusiasm worldwide, especially by the citizens of Britain and Australia.