Naughty Boy Song: Penned by one of the most reflective poets, John Keats, this was actually written for children during his trip to Scotland and had sent it to his little fifteen-year-old sister, captured in a letter.
Naughty Boy Song
It adds to the amusement of not only children but also adults. Keats had written it as a self-caricature where he is seen as a naughty boy, all packed for his trip to Scotland. He stuffs in a book of vowels and nightcap and a hairbrush and a pair of stockings in case the old ones split. He takes up his bag and follows where his nose leads him. Here, it leads him North.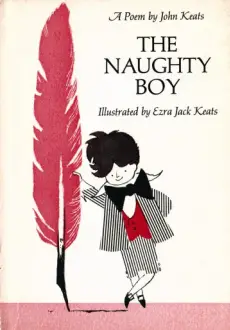 While writers write for they enjoy writing, readers read with a careful mind. To a particularly avid reader and observer, this poem might hold a metaphorical meaning after all.
This is the story of a boy, wishing to travel the world, packing in his backpack, along with his hairbrush and cap and stockings, all his dreams of watching mountains breathe in the waltzing breeze.
Our little friend, as naughty as he was, nevertheless, had also packed in his book of words and vowels. All he could really do was scribble poetry all day and he kept fishes in tubs in spite of the might of the maid and his Granny.
John Keats Poems
The wordplay in this poem is a beautiful array of illusion that floats to your ears if you read it aloud. The rhyming scheme has been creatively put in which at one point will either confuse the reader or amuse him. In some cases, it might do both.
"An inkstand
In his hand
And a pen
Big as ten
In the other,
And away
In a pother
He ran
To the mountains
And Fountains
And Ghosts
And Postes
And Witches
And ditches
And wrote
In his coat…"
A Song About Myself John Keats
The beauty of this poem lies in the activities of this naughty boy, who is the world-renowned poet, John Keats. Our little friend travels write and pets a fish and in its simplicity, gives the readers immense joy. This is one of the most celebrated poems of Keats that he had penned for children.
"There was a naughty boy,
And a naughty boy was he,
He ran away to Scotland
The people to see-
There he found
That the ground
Was as hard,
That a yard
Was as long,
That a song
Was as merry,
That a cherry
Was as red,
That lead
Was as weighty,
That fourscore
Was as eighty,
That a door
Was as wooden
As in England-
So he stood in his shoes
And he wonder'd,
He wonder'd,
He stood in his
Shoes and he wonder'd."
~Rileena Sanyal
More Info On- Georgian Era Music, Music and Musicians in the Victorian Era, Music Facts, Entertainment