Richard Dadd is an English painter of the Victorian era, noted specifically for his depictions of fairies and other supernatural objects, enigmatic genre scenes and other scenes of orientalism, rendered with obsessively minute details.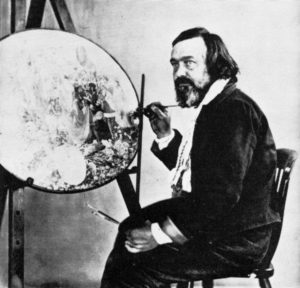 Most of the works for which he gained fame were created by him when he was confined to a psychiatric hospital.
Richard Dadd's Early Life
Richard was born to a chemist family on 1st August 1817 at Chatham, Kent, England. His knack for drawing was discovered at an early age which led to his admission in the Royal Academy of Arts at the mere age of 20. Along with William Powell Frith, Henry O' Neil, Augustus Egg and a few others, Richard founded The Clique, of which he was considered the leading talent.
On July 1842, Dadd was chosen by Sir Thomas Phillips to accompany him as his draftsman on an expedition through Europe to Greece, Turkey, Southern Syria and finally Egypt.  In the month of November that year they spent an exhausting two weeks in Southern Syria, passing via Jerusalem to Jordan returning across the Engaddi wastelands.
Richard Dadd Biography
Towards the end of December, while traveling up the Nile by boat, Dadd underwent a dramatical change in personality, becoming delusional and gradually more violent, and believing himself to be under the domination of the Egyptian god Orisis. Yet, his condition was initially diagnosed as sunstroke.
After returning from the expedition in 1843, Dadd was diagnosed to be of an unstable mind and his family took him to a village called Cobham in Kent to recuperate Dadd.
In August of the same year, Dadd was convinced that his father was the devil in disguise, Dadd stabbed and killed him with a knife and fled to France. On his way to France, Dadd almost killed another tourist with a razor but was overpowered and arrested by the police.
Dadd admitted that he stabbed and killed his father and he returned to England and he was confined in Bedlam, the criminal department of the Bethlem psychiatrist hospital.
It is quite a possibility that Dadd suffered from a form of paranoid schizophrenia. He seems to have genetically predisposed to mental illness as two of his siblings were similarly afflicted.
Major Achievements of Richard Dadd
In the hospital, Dadd was allowed to paint and it was here that most of his masterpieces were created, including his most celebrated painting The Fairy Feller's Master-Stroke which he worked on from 1855 to 1564.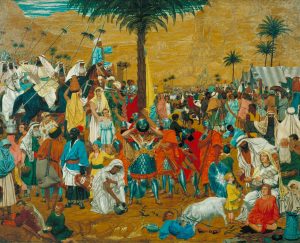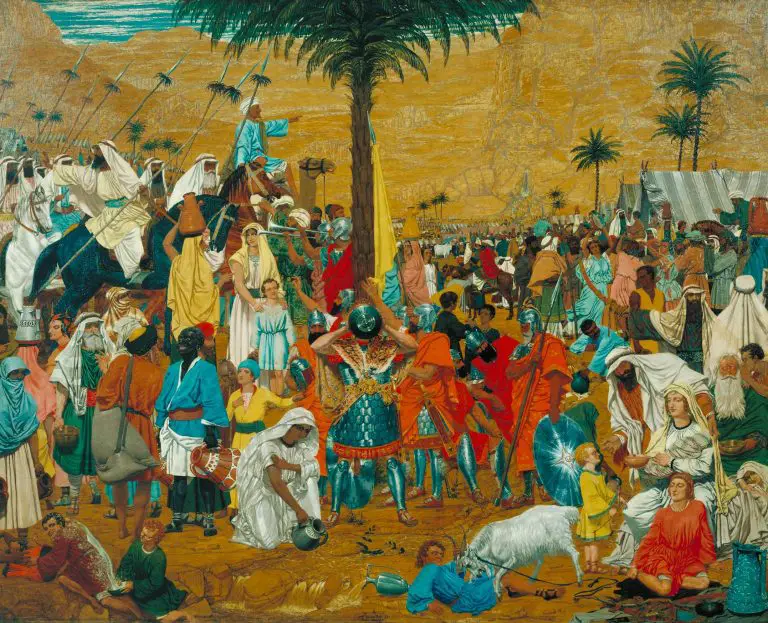 From the 1850s are the 33 watercolor drawings with the title Sketches to illustrate certain passions, which include grief, sorrow, love and jealousy and also Agony-raving madness and murder.
Dadd also created many shipping scenes and landscapes during his confinement like the celestial 1861 watercolor, Port Stragglin.
Richard Dadd Paintings
Dadd was always attracted towards fantasy and other-worldly thems and according to him "fairy painting was a serious business an act of the most intensely personal creation.
It had nothing to do with the whimsy – despite his ability to charm and please by purely fanciful and playful touches – the voyeurism, sometimes the sadism with which his contemporaries often achieved popularity in this field. For fairy painting was also a way of exploring nature, as his landscape painting later became…"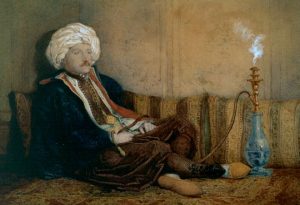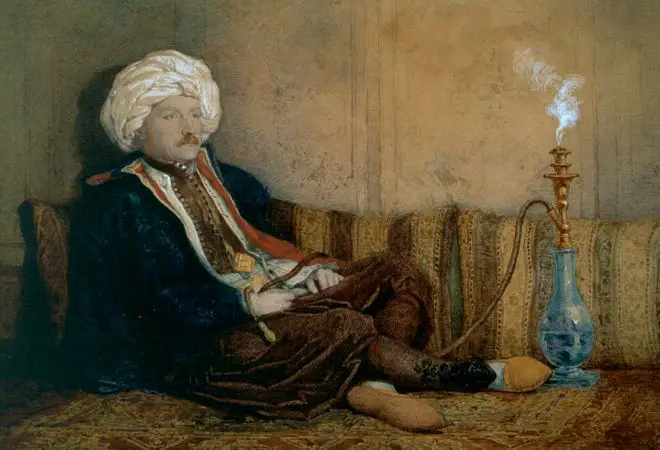 Towards the later part of his career when it is easy to categorize and assimilate the lucid moments from the mad in his creations, Dadd's fantasy is close to that of Shakespeare's and the plays to which he continuously returned to his subjects.
To Richard Dadd, Fairy painting was a way of looking at the imaginary creations to cast light on our real world.
Dadd seems to have instinctively held a theatrical principle in the composition of his paintings of fairies, which Patricia Alderbridge calls "Self-enclosing frames". "In Come Unto These Yellow Sands", for example, the painting has an arch at the top that is like the proscenium of a stage, and within the picture itself through which the sprites dance.
This same instrument, an encompassing stage like structure is effectively employed in "Puck" and "Titania Sleeping", paintings that span Dadd's entire career.
The Legacy of Richard Dadd
After struggling for 20 long years at Bethlem, Richard Dadd was moved to Broadmoor Hospital, a highly secured hospital outside London.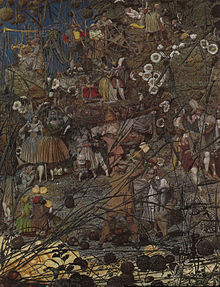 On 7th January 1886, Dadd took his last breath. He died from an extensive disease of the lungs.
More Info On- William Powell Frith, Princess Helena, Winslow Homer, John Philip