Below is the detailed biography of Robert Louis Stevenson, a Scottish poet and essayist. His theme of writing was fiction and travel. He is best known for his 'Treasure Island' in 1881.
Early Life of Robert Louis Stevenson
Robert Louis Stevenson was born on the 13th of November, 1850 in Edinburgh, Scotland. His parents were Thomas Stevenson and Margaret Isabella Stevenson. Thomas Stevenson was a successful lighthouse engineer or a civil engineer in Edinburgh. The Stevenson's were prosperous and Robert was their only child.
Lighthouse Engineering was their family business and Robert Louis Stevenson was expected to carry the same forward. Robert grew up as an unhealthy child which made his schooling difficult. At the age of 17, he entered Edinburgh University and was expected to study engineering like his father. However, Robert Louis Stevenson grew up as a creative child wanting to pursue Arts.
He had a flair for writing since he was a young boy. He studied, observed an imitated many famous writers of his time in prose as well as poetry. As a young boy, he was in support of the Covenanters movement which was held by a group of Protestant Churchmen that were ministered by and Elder and a group of Elders also known as the 'Presbyterian Group'.
He was rebellious to his parents' religion and refused to accept church doctrines blindly. This showed how he was a man of progressive thinking. He wrote his first book inspired by the Covenanters movement – The Pentland Rising. It was first published in 1866.
Works by Robert Louis Stevenson
Robert Louis Stevenson was travelling most of his time. He spent many years in France. During these times, he wrote 'An Inland Voyage' in 1878 and 'Travels with a Donkey in the Cévennes' in the year 1879. Famous magazines such as 'The Portfolio' and 'Macmillan's Magazine' featured his essays – 'Roads' and 'Ordered South' in 1873 and 1874, respectively. 'The Fortnightly', another influential 19th-century magazine published his review of 'Fables in Song' by Lord Lytton.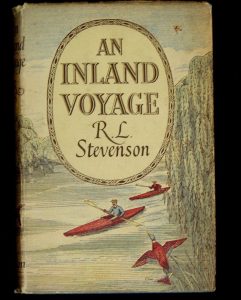 These essays had an encouraging tone and were liked by all readers. This drew him more attention and he was known to be more of a writer and less of an engineer. The start of the 'Treasure Island' happened as a game with his stepson. Later, in Scotland, he started developing it as a book. In October 1881, the children show 'The Sea Cook' was inspired by Treasure Island.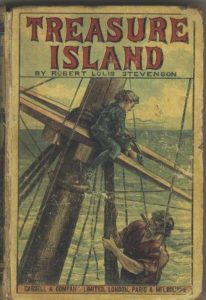 In 1885, after finishing Treasure Island, he started 'Prince Otto'. It was a complicated book and was less famous as compared to Treasure Island which was an adventurous tale filled with emotions of all kinds.
In the years 1881 and 1882, Stevenson spent most of his time publishing essays in Switzerland. He lived in the county of Davos where he owned a small 'Chalet' or a 'Shack'. Here, he worked on his collection of essays that he wrote for the Cornhill magazine. The collection was called 'Virginibus Puerisque' and was published in 1881.
He moved to France in 1883, he wrote 'A Child's Garden of Verses' in the southern county of France whilst suffering from illnesses. During this time, he started 'The Black Arrow: A Tale of the Two Roses' which was published in 1888. It was a history based book with an old English dialect.
In 1884, he, along with his family moved back to Britain because of the epidemic that broke out in the South of France. They moved to Bournemouth in the South County of England but the climate did not suit Robert Louis Stevenson. He kept falling ill, however, he had great willpower. His time in England is also considered very fruitful.
He met the American novelist 'Henry James' and had him revise 'A Child's Garden of Verses'. He started working on his bestseller 'Strange Case of Dr Jekyll and Mr Hyde' and 'Kidnapped""""". His works are remembered and still read because of his wonderful portrayal of the sensations of childhood. He was appreciated by many critics, Graham Balfour being one of them.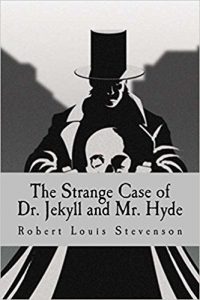 Towards the end, along with his family, he spent most of his time in the Southern Seas. The sail began from San Francisco and went on and on for about a year up to Samoa, an island in the South Pacific. He took this excursion for the betterment of his health. During his time in the sea, he wrote 'In the South Seas' that was published in 1896 and 'A Footnote to History' that was published in the same year of 1892. They are perceptive and informative.
Personal Life of Robert Louis Stevenson
In 1876, Stevenson fell in love with Fanny Osbourne, an American lady who was a widow that had a son. His parents highly opposed the idea of him involving in a relationship with a married woman because of which she moved to California in 1878. Robert followed her after a year, which made his family even more furious.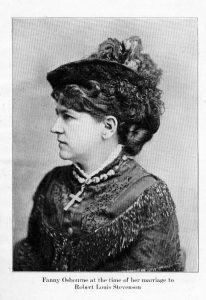 He was in California without any money and ill. Eventually, he married her in early 1880's in San Francisco, United States.
Health Conditions of Robert Louis Stevenson
Robert Louis Stevenson was a weak child as he was growing up and was prone to illnesses. He was diagnosed with tuberculosis in his youth and the disease remained with him until the end. In 1882, while living in Davos, Switzerland, he was diagnosed with lung haemorrhages when he was working on short stories – Thrawn Janet and The Merry Men. At the time of his death, he developed cerebral haemorrhage.
Death of Robert Louis Stevenson
Robert Louis Stevenson died on the 3rd of December 1894 at the young age of 44. Even though he suffered from long-term tuberculosis, it wasn't the cause of his death. He died of the cerebral haemorrhage, that he developed at the later stage.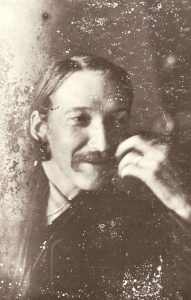 He returned from his voyage to Sydney at Samoa, where his family was waiting for him. He died at the same house. On the day of his death, he was working on 'The Beach of Falesá' which remained unfinished.