The Victorian age has seen a colossal upheaval in the arena of art, aesthetics, painting, sculpture and other such artistic domains as well.   Much impetus was given to paintings and hence, painters gained much importance in society. The emotions attached to a painting, its strokes and its hues were widely recognised and also the cerebral facet and its practicality was kept at bay to look into the all-pervasive nature and its beauty through paintings. Creativity was given much importance then, as Schiller said:
"Art is the daughter of freedom "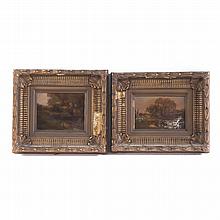 Well, when we talk about the very famous Victorian painter Robinson tait, the first thing that strikes our minds is the 'Dolce Far Niente '. He was famous for painting European lives and European nature too. Robinson tait was basically a landscape artist.
Birth, death and nationality
Robinson Tait was an American if we consider his nationality. He was born on January 13, 1834 and lost his life, in 1909 on July 29th. He lived till the age of 75.
Robinson Tait's childhood
Since his childhood, he did grow a passion for painting but did not take it up as a profession until and unless he was an adult. His manhood gave him the courage to choose painting as his forte. Robinson tait studied in Florence.  But as a student too he was very active in creative aspects such as publishing of magazines.
College
Bethany College
Magazine published
The Stylus
His visits to Europe inspired him encouraged him to paint European landscapes. He even wrote art criticisms such as, "New York Evening Mail ". He was known for his critical analysis of painting and art forms prevalent in the then society. Also, Robinson Tait wrote poetry and these shows that his life revolved around multiple facets of passion and career.
Robinson Tait did not live a single life of a painter or an artist, or might be a poet; he lived many lives at a time. In fact Robinson Tait was very close to his childhood friend, Thomas and hence, wrote, "Reminiscence of a poet, painter "in memories of his friend, Thomas.
He believed in the fast that, "truth is for the wise but art is for the beautiful heart".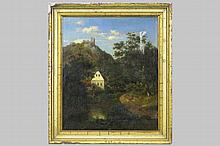 In fact Robinson Tait loved travelling and was a vivid traveller. He published his books written upon his accounts and experiences of travelling in the European nations. Some of his very famous paintings are:
Waterfall
Summer
Solitude
Evening on the lake
And so on and so forth. He was the person who equally and simultaneously wrote about paintings, constructive critical analysis about art, and did paint as well. Robinson tait devoted him to the practice of literature too and did manifest his creative feats in all arenas such as travelling, travel literature, art critical analysis, paintings and much more. This Victorian artist cannot be bound in boundaries for being called a professional artist as he was multitalented in the true sense. The dynamics of his creative thoughts did reflect upon poetry and literature as well.