What is Sir Francis Chantrey famous for?
Sir Francis Leggatt Chantrey was a famous English sculptor. During the Regency Era Britain, he gained popularity and was known as the leading portrait sculptor. At that time, Sir Francis Chantrey has produced statues of many famous and notable figures.
In the early 19th century, this English Sculptor gained popularity for psychological and naturalism vitality. Most of his work was classic. But because of his work, English sculptors of the next generation were inspired and they adopted the modern perspective.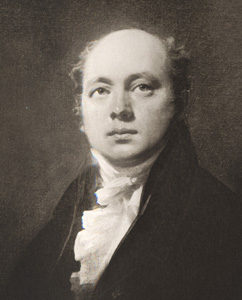 He was born in Norton, Derbyshire on April 7, 1781. He died at the age of 60. Sir Francis Chantrey died on November 25, 1841.
His father owned a small farm. Further, his father was also involved in woodcarving and carpentry. After his death, he left Chantrey Bequest for the purpose of buying work of art for the nation. It was available after the death of his widow in 1878.
Sir Francis Chantrey's Career
Father of Francis Leggatt Chantrey dies when he was 12 years old. After that, he started working with a grocer and at this time he was only 15 years old. During this time, he was fascinated by the wood-carving. Then, he placed himself with Ramsay in Sheffield who was a glider and woodcarver. At the place of Ramsay, he met with  John Raphael Smith who was an engraver and draughtsman. He received his painting lessons from him. In fact,  John Raphael Smith introduced Francis Leggatt Chantrey to the potential patrons. Later, Sir Francis Leggatt Chantrey began his career as a wood carver.
In the year 1802, Chantrey paid £50 in order to buy his apprentice with his mentor, Ramsay. Then, as a  portrait artist, he set up a studio in Sheffield.
For many years, he worked from both the places: London and Sheffield. Along with this, he studied at the Royal Academy Schools.
In 1802, he moved to Dublin where he got severe ill. He lost all of his hairs
In 1805, he received his first sculpture commission. In 1811, his work was displayed at the Royal Academy. It was of reformer John Horne Tooke. At this time, success was assured.
From 1807, he devoted himself completely to sculpture. His first one was for  Sheffield parish church. In 1808, Royal Academy displayed his imaginative sculpture. It was the head of Satan.
After that, in 1809, he was commissioned for making 4 monumental plaster busts of the admirals namely Duncan, Vincent,  Howe, and Nelson. It was for the  Royal Naval Asylum at Greenwich.   Daniel Asher Alexander, the architect was the person who commissioned Sir Francis Leggatt Chantrey for this purpose. For each, he received £10. At the same year, 3 were displayed at the Royal Academy.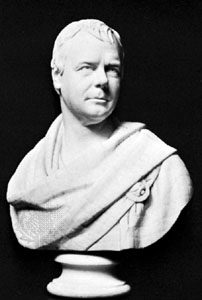 Sir Francis Chantrey's Marriage
He married Mary Ann Wale who was his cousin on 23 November 1809. He married her at  St Mary's Church in Twickenham. At the time of marriage, he was permanently settled in London. The marriage was fruitful to him as his wife brought a large sum of money with her which was utilized in paying all of his debt. With this money, he also set a studio in London.
At the Royal Academy, he displayed 6 busts in 1811 which are as follows:
Two political figures:  Sir Francis Burdett,Horne Tooke
His mentor, John Raphael Smith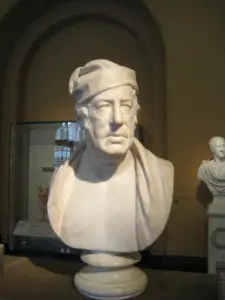 Benjamin West. Joseph Nollekens
During the exhibition, £2,000 was received by him as the commissions.
Popular Work of Sir Francis Chantrey
He was a leading prolific sculptor. As per an article which was published in 1842, along with his reliefs and busts, he produced 14 recumbent figures, 18 seated ones, 18standing ones and  three equestrian statues.
His famous works include the statues of following
William Pitt the Younger in Hanover Square (in Bronze)
George III in The Guildhall, London
James Watt in Westminster Abbey
George Washington in the State-house
Lord President Blair and Lord Melville in Edinburgh
John Dalton in Manchester Town Hall
He also worked on the instructions of the king and made a bronze equestrian statue of King George IV. He also made the same statue of Sir Thomas Munro for Madras. Horses in both of these works are the same in appearance. A third one was completed after his death and it was of the Duke of Wellington and it was for the place of Royal Exchange in London.
The sleeping children was also a notable work of Sir Francis Chantrey displaying girls of Robinson's family.