Sir Rowland Hill (1795-1879) was an educationist, administrator, and an economic reformer. He held various posts in the British Administration, but he is best known for his work in radically improving the postal system by introducing uniform, prepaid postal rates and putting forth the idea of postage stamps.
He taught at his father's schools at Hill Top, Hazelwood, and later, it's branch at Bruce Castle. He also successfully handled a large part of the emigration venture in Australia. Later in his life, he was tied with bringing about many improvements for the London and Brighton Railway.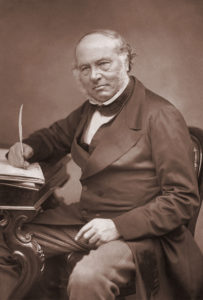 Early Life of Sir Rowland Hill
Sir Rowland Hill was born on the 3rd of December in 1975 in Kidderminster, England, to the illustrious Hill family. His grandfather was a well-respected man, and his father, Thomas Hill had laid the foundation for a comprehensive education system for the middle class at his school, Hill Top, which he had established in 1802.
His mother, Sarah, was a woman of great frugality and efficiency, which Hill is said to have inherited. He was the third child, with three equally brilliant brothers, Matthew, Edwin, and Arthur. This strong backing from his family was what pushed Hill towards his achievements.
Due to his premature birth, he was a sickly and feeble child. Sometime in his childhood, his spine became affected, restricting him to a horizontal position. He usually laid down on a hearth-rug in front of the fireplace in his living room. It was here where he acquired a peculiar habit to pass his boredom- counting numbers loudly and continuously till he reached several hundred thousands. It can be said that this culminated into his love for figures, as seen in his future accomplishments.
Effect of Education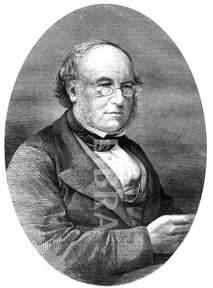 In 1802, Hill developed enough strength to pursue his education at his father's school. He progressed rapidly in the fields of mathematics and science, and just at the age of 12, he was a student-teacher at the school. Rowland Hill designed Hazelwood in a way that was unique to the times; gas heating, laboratory, swimming pool, canteen, sports field, study and observatory rooms, gymnasium, and an assembly hall with a large stage.
The curriculum was designed to take off the attention from Greek and Latin (which was focused on at that time), and reapplying it to a number of practical subjects like Science, History, Geography, and Maths. This was indeed the foundation for an educational system followed widely till date.
He was a frequent lecturer at other institutions as well; his favorite topics included "Astronomy", "Advantage of Systematic Arrangement", and "Periodicity as a Law of Nature". This gives a glimpse into his highly organized and decisive mind.
In 1822, along with his brother Matthew, he published "Plans for the Government and Liberal Instruction of Boys in Large Numbers, Drawn from Experience", a book about the school. This popularized Hazelwood, and a large number of students enrolled, due to its positive reviews.
Thus, in 1827, a branch of the school opened at Bruce Castle in London, which Rowland Hill took over. Here, he focused largely on aspects of Science and Mathematics, which he believed to be necessary for advancement. However, many parents disagreed with this curriculum and rallied for its end. This was perhaps why Hill resigned in 1833.
Colonisation of Australia 
After spending a few months relaxing, he was called upon by Lord Brougham, his brother Matthew, and Edward Gibbon Wakefield, to get involved in the organization of a system of colonization in Australia. This type of work was perfectly suited to his abilities.
He made some necessary changes; limiting emigrants to those who were married and could support themselves, and pushing for strong ground rules for ships.
This resulted in ships and passengers reaching their destination safely. He then, through his administration, reversed the previous spell of infertility on the land, and within three years, changed it into a fruitful and prosperous market. During this time, in 1835, he also worked with his brother Edwin on a rotary printing machine patent which used rolls of paper instead of sheets.
Postal Reforms by Sir Rowland Hill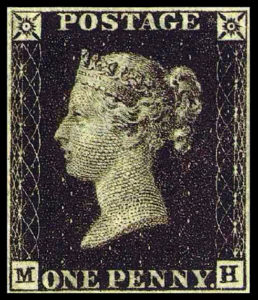 Soon after the Australian venture, his attention turned to the reform of the Post Office. The Postal System at that time was riddled with inconsistencies. The letters were charged based on the distance to be traveled, the number of sheets included, an enormous charge which was to be paid entirely by the recipient.
The recipient could deny the letter, thus leading to losses in the system. This service was free of charge for the Peers and Members of the Parliament; all they required was their signature called "frank", which would cause the letter to pass through the post without charge. This lead to abuse of power, with many M.P's "selling" their "franks" at a given price per dozen.
The postal system had grown by temporarily patching up discrepancies, which led to the whole system being a thorough mess. This led to Sir Rowland Hill publishing a pamphlet in 1837, "Post Office Reform: It's Importance and Practicability", a 104-page document, which was published in four editions till 1838.
With the use of logic and complex calculations, he encouraged the reduction of taxation on the system. He argued that the cost of transporting a letter was negligible- no more than 1/36 a penny for 400 miles- and thus proposed that the cost of letters be paid beforehand at the lowest possible rate of a penny. He made a number of suggestions in detail for the improvement of the collection system and introduced the concept of adhesive stamps.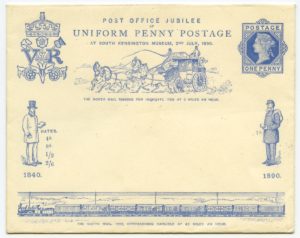 This pamphlet astonished the public; at first, it was thought to be completely ridiculous, but as the calculations were severely examined, it was established as a sound plan. It received massive public interest, thus it was presented to the Parliament for adoption.
The newly-crowned Queen Victoria then appointed a Committee to look into it. As expected, there was strong opposition, but the Committee nonetheless, reported positively to the House of Commons. On August 27, 1839, with Royal assent, the Penny Postage Act became an Act of Parliament and was hailed across the country. Hill was then given a temporary two-year appointment to the treasury.
Reappointment of Sir Rowland Hill
His appointment ended in September 1841, with the change of government. However, he immediately received and accepted an offer form the London and Brighton Railway as their Managing Director, and later, Chairman. Here, he brought about many reforms, introducing the concept of "express trains", and popularized cheap  Sunday "excursions" between London and Brighton.
In 1846, John Russell became the Prime Minister and requested Hill to return to the Post Office, to which he happily obliged. A new office, "Secretary to the Post-Master-General" was created especially for him. His return brought about a number of improvements to the system. In 1854, he was promoted to "Chief Secretary" of the Post Office.
During his years at the Post Office, he, along with a number of people formed a society, "Friends in Council" which met regularly to discuss the political economy. He also joined the prominent "Political Economy Club", which had various powerful figures.
Knighthood and Later life of Sir Rowland Hill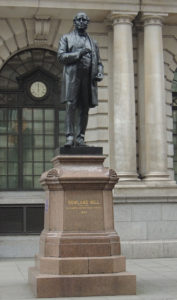 In 1860, he received the honor of a knighthood, Knight Commander of the Order of the Bath, for his services. He was also made a Fellow of the Royal Society, and an honorary degree from Oxford was bestowed upon him.
Near the end of 1863, his health deteriorated, and he took a six months leave of absence. However, owing to a lack of improvement, he resigned from the office in March 1864. The Government rewarded him not only with a grant of 20,000 pounds, but also a retiring pension of 2,000 pounds per year for the rest of his life.
He spent the remainder of his life in retirement at Hampstead, completely withdrawing from his social life. On August 27th, 1879, he spent his last moments surrounded by his wife and children, and breathed his last, at the ripe age of 84. The news of his death induced mourning and drew respect from all classes. He was buried at Westminster Abbey on September 4th, 1879.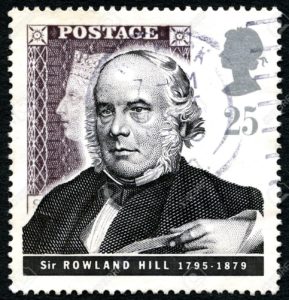 His life was commemorated in various ways: statues were made at Birmingham (1870), Kidderminster (1881), and London (1881). He has been acclaimed by the Universal Postal Union and nearly 147 countries have released stamps which pay tribute to the man who transformed the world with his multifaceted reforms.