Sir William Allan, President of the Royal Scottish Academy of painting, was born in the year 1782 to William Allan Sr. who held the modest post of a macer in the Court of Session. His birthplace was Edinburgh. He was a very renowned painter and he painted mostly historical scenes of Russian life.
The early life of Sir William Allan
His father was an officer of the Court of Session. He went to the High School at Edinburgh. From a very early stage in his life, he had an interest in art and painting.
He then studied painting under Graham at the Trustees' Academy along with artists like Wilkie, John Burnet, and Alexander Fraser. After a few years, he went to London to continue his learning for painting at the schools of Royal Academy.
Sir William Allan received his early education until 1797, at the high school of Edinburgh under the tutorship of Mr. William Nichols to learn Latin and Greek literature. Although an able and stern teacher, Nichols could not negate young William's inclination towards nature, it's subjects and their expressions.
Not able to convince his heart to the learning of Latin and Greek, William declared his love for the art of painting to his father. Having done so, he was appointed apprentice to a coachbuilder in the task of painting armorial bearings and panels of carriages.
As early as 13 years of age, William exhibited such signs of painting excellence that he was assigned the highly efficient task of painting anatomical figures in the Surgeons Square Hall.
Overwhelmed by Sir William's efficient coach painting, his employer influenced the members of the Trustees Academy to take him in as a pupil. At the academy, he was coached by JOHN GRAHAM. It was in this academy that Sir William met and developed a lifelong friendship with Wilkie.
Achievements of Sir William Allan
Having studied for several years, Sir William moved on to London and was admitted to the Royal Academy, In 1803, he exhibited is first piece, "Gypsy Boy With An Ass". His expertise as a painter was not appreciated in the galleries of London. He found no means of livelihood as his paintings were rejected.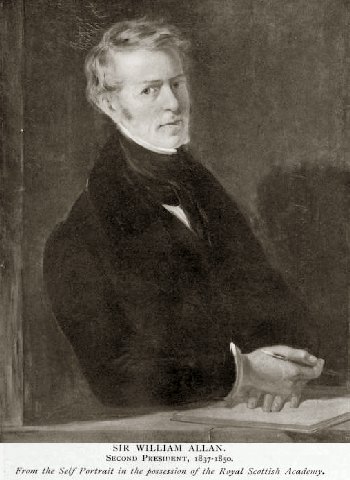 Russian sojourn
In 1805, following in the footsteps of his countrymen and in search of a better prospect, he set sail to Russia. He wanted to visit Russia but he was wrecked at Memel and he made money by painting portraits of the Dutch consul and others.
He had found himself at Prussia with little financial support. He took shelter at an inn and began his occupation as a portrait painter. His first as a portrait was that of a Danish counsel. Other portraits followed and led him to gain substantial money. He thus continued his journey to Russia.
He continued his journey by land to St. Petersburg passing through a great portion of the Russian Army. There he came in contact with Sir Alexander Crichton, physician to the Royal family.
Sir Alexander introduced William Allan to a fashionable Russian circle. His paintings were appreciated and he further felt the need to improve on it. In the years that followed, Sir William learned Russian so as to facilitate his excursions into the interiors of the country and understand the culture of the Cossack, Circassians and the Tartars.
He intermingled with the Russian, Turk, Pole, Cossack, Circassians, and Bashkin so much that he identified himself as one of them. His keen observation of the countryside resulted in his painting 'Russian peasants keeping their holiday', to be exhibited at The Royal Academy in 1809. He earned himself a high reputation as a painter in a foreign land contrary to his homeland.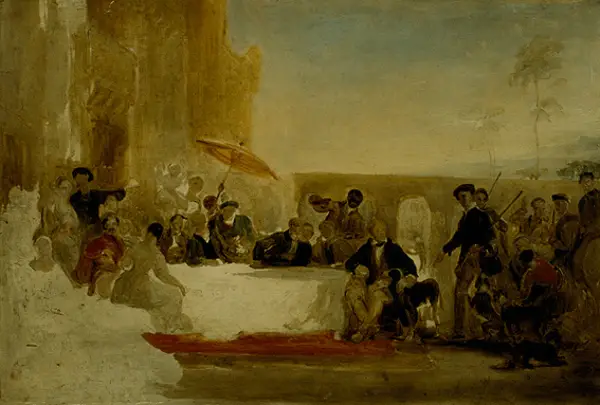 In between 1812-1814, he was witness to the worst consequences of war. In 1814, he returned to England and in 1815, his picture Circassian Captive was exhibited at the Somerset House.
Circassian Captive was followed by Tartar Bandits, Haslam Gherai crossing the Kuban, A Jewish Wedding In Poland, and Prisoners Conveyed to Siberia by Cossack. His countrymen, however, responded to his exhibits in a damp manner and he was advised by many to resort to portrait painting.
Sir William later painted some scenes from Scottish history as depicted in his Walter Scott's novels. The painting,'Death of The Regent Murray' of 1825, was purchased by Duke of Bedford and it catapulted his career to be elected an Associate of the Royal Academy.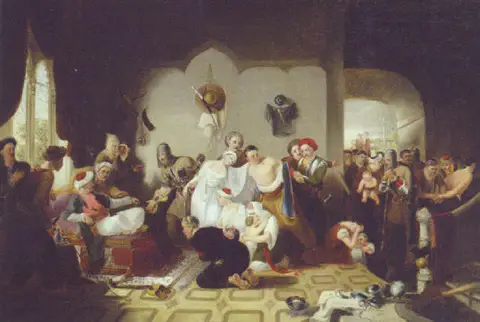 The Circassian Captives was bought by patrons pooling in their money and then the paintings of 'Haslam Gherai' and 'The Siberian Exile' were purchased by Grand Duke Nicholas and finally, he established himself as a Scottish painter of repute.
Thereafter many of his paintings found competent judges and prized buyers. Shortly afterwards, his eyesight weakened to the extent of blindness and he headed to recuperate at far off places, returning to his studio in Edinburgh.
The painting of The Battle of Waterloo(1843) was such a masterpiece, perfect in costume, weaponry, and scenery that The Duke of Wellington testified to its accurateness and also bought it.
In 1844, he again embarked upon a journey to Russia. There he painted ' Peter the Great Teaching His Subjects The Art of Shipbuilding'. This was bought by the Emperor of Russia.
Buoyed by the response of his painting of the battle of Waterloo Sir William Alan took upon himself to paint a sequel to it; this time a view from the British side. Pitting his painting for the competition at Westminister Hall, Sir William was disheartened by its failure.
Timeline of life of Sir William Allan
1826 – Elected Associate of The Royal Academy. Appointed master of the Trustees' School, Edinburgh
1835 – Elected Royal Academician.
1838 – President of Royal Scottish Academy
1841 – Appointed limmer to the queen in Scotland
1842 – Awarded knighthood.
His last professional work-'The battle of Bannockburn' did not see completion as he did not live to finish it.
Sir William Allan's famous paintings 
Byron in a Fisherman's point after swimming the Hellespont
Anniversary
Orphan
Battle of Waterloo from the English Side
Battle of Bannockburn


Death of Sir William Allan

After 1826, his health started to deteriorate. He went to Rome and had started painting there and then returned to Edinburgh in 1830. After that, he had painted several other important portraits. He died in Edinburgh.