Samuel Butler translated Homer's Iliad and Odyssey. The way is different using that he used to write. This grand novelist was born in 1835, in the United Kingdom. The 'Iconoclastic' English writes made us, the readers proud for his works, these are Utopian, Erewhon and The Way of All Flesh.
When was Erewhon by Samuel Butler published?
"Erewhon" or "Over the Range" is a novel that the author, Samuel Butler published first in 1872. Many of his novels are mold with a mild satiric tone towards society. His novels express criticism of Victorian society.
The word means "nowhere". This is basically fictional that tells a story of exploration. Here the author made his protagonist who will discover the world.
Erewhon or Over the Range by Samuel Butler
Characterization of the Novel
Higgs is the protagonist of the novel who will discover the land of Erewhon. Later he will make the other people aware of the fact. Chowbok is another character of the novel who makes Higgs understand none will be able to cross the mountains, thus Higgs does that later.
After went to the land of Erewhon he finds Nosnibor, a middle aged-man. He had two daughters and he wanted to make Higgs the son-in-law of his elder daughter. But later Higgs flew out with his younger daughter Arowhena.
Arowhena is a well-natured vegetarian woman who loved Higgs very much. In this novel, she leaves her country God Higgs and she went to England. She never visited England before her marriage.
These are the central characters of the novel. But Highs is the lead character who has served the story to the readers.
Erewhon by Samuel Butler Summary
Higgs is the narrator of the novel who tells us the story exploration. In the novel, Higgs is a young man who is twenty-two years old. He works as a sheepman and he always keeps on looking at the mountains that are standing before him.
He uses to think that what is there in the back of the mountains. But he never gets any answers to his question. These peaks are very high so that Higgs will never be able to cross that. But his curiosity getting deep with time and once he told everything to Chowbok, he is an old vicinal.
His words made Chowbok astonished and he further speaks that crossing the mountains is not allowed to do. So people never crossed the mountains. This is very adventurous for the readers because they will be curious to know what will be done in the next.
Higgs still remains curious to know what is there and he becomes more curious because of the words of Chowbok who says it is forbidden for all.
Odyssey Translated by Samuel Butler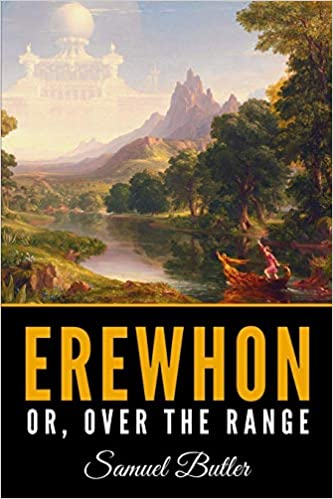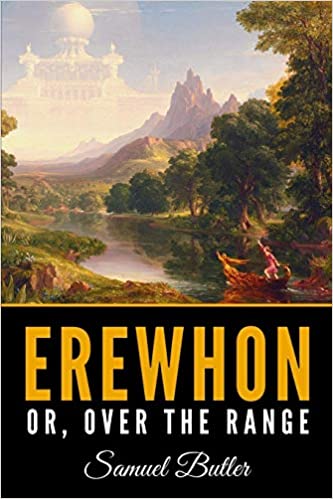 Erewhon Samuel Butler Analysis
After someday passed, Higgs went to the mountain to find the way to cross the mountains but there were no ways that he could see. But after finding for the say long he finds a valley and though for himself that it would be helpful for himself if he can cross it.
And now Higgs is struggling to cross the valley and after some time few could finally cross the river by a small boat which is made of reeds. After that Higgs finds a beautiful land. As he was very tired he slept there and when the Sun awakens upright found, two girls.
He convinced them he is human. But they snatched his clothes and decided to send him into the jail. Higgs becomes a prisoner without making any crime and the others also start to treat him as a criminal. This is the first time when he gets to know "Erewhon" is the name of the place.
Then Higgs gets an opportunity to meet the King and Queen of the land. Now the king of Erewhon tells him that he will be saying with Nosnibor. Higgs went with him and visited many places of Erewhon.
Now the countrymen started to like Higgs because of his golden hair. Even he gets learned that many years ago a prophet told people that killing animals for eating is not good, people can kill others to get meat. That is why the people of Erewhon are vegetarians.
With time Higgs started to know many things on the land and about the men. After some time passed Nosnibor thinks that he will make a marriage within his elder daughter and Higgs.
But she was not good looking and Higgs does like her. Now he started loving Arowhena, the younger daughter of Nosnibor.
Arowhena is beautiful and she also likes Higgs. But Nosnibor does not concede to their marriage because of his elder daughter. And, suddenly Nosnibor gets guess something is going writhing Higgs and Arowhena.
When the King learns the fact of the love of them he sends them in a trip of hot air balloon.
So Higgs accepted the deal and he goes for the trip with Arowhena. As they were trying to fly away they used this voyage and then they crossed the line by these balloons and get back to England.
After returning to England they get married to each other. Now after coming back Higgs met Chowbok and said "Erewhon" does exist. Then he teaches everyone about these facts of Erewhon.
Critical Analysis
Here, Samuel Butler has presented the novel with fantastic touches. The story tells the power of discovering something. In life, many people discourage from discovering something. In this novel, Chowbok does this work.
Odyssey Samuel Butler Translation
Besides that, readers can get some religious views from taking vegetarian foods. This is addressing the Christian sentiment that is being announced in the novel. Thus the novel caters to many important notes on the Victorian Age with religious views.