What was Amy Levy known for?
Amy Levy was one of the most celebrated British poetess and novelist of the Victorian era. She is especially known for her novel 'Reuben Sachs' and several poems that describe Jewish life and feminist issues.
Her early life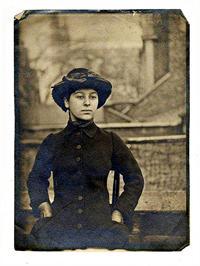 Amy Levy was born on November 10, 1861, in Clapham, an affluent district of London to a middle-class Anglo-Jewish family rooted in England. Her father was Lewis Levy, a successful stockbroker, and her mother was Isabel Levy. She was the second of their seven children. Her family was involved in home theatre productions for which her siblings wrote literary works and she converted them in plays and poetry.
Amy Levy started writing when she was a little girl and at the age of 14 it started as a career when her poem 'Ida Grey' was published in the journal 'Pelican'. Her early education was in Brighton and Hove High School. Here, her Headmistress, Edith Creak, who was a very strong and independent woman inspired Amy Levy.
After schooling, she enrolled at the Newham College, Cambridge in 1879, to study classical and modern languages along with literature. She was the first Jewish woman to be enrolled at this college. However, she left the college in 1881 without graduating when her first volume, 'Xantippe and Other Verse' was published.
Her friend circle included many politically aware people such as Clementina Black, Ellen Wordsworth Darwin, Dollie Radford, and Eleanor Marx who was Karl Marx's youngest daughter.
Amy Levy's career
Amy Levy travelled to Florence and Italy in 1886, where she wrote and published a series of articles in 'The Jewish Chronicles'. These articles were about Jewish life in Florence.
Many poems and essays were published by her between 1886 and 1888, which included 'Women and Club Life', "The Poetry of Christina Rossetti' and 'At Prato".
Amy Levy Novels
Her first novel was 'Romance of a Shop' which was women-centric and broke conventions. It was well received by the readers and was praised by Oscar Wilde.
Her second novel was 'Reuben Sachs' was not received well by the Jewish Press as they mistook it to be anti-Semitic.
Her third novel was 'Miss Meredith' raised feminist issues.
Amy Levy Poems
Amy Levy wrote a large number of poems but some selected works that are widely appreciated include-
A London Plane-Tree
A March Day in London
A Minor Poet
A Prayer
At a Dinner Party
Between the Showers
Cambridge in the Long
In a Minor Key
In the Mile End Road
In the Night
London in July
London Poets
Magdalen
Death and Legacy
When Amy was in Florence, she befriended Vernon Lee, a fiction writer and literary theorist six years her senior. She is said to have fallen in love with her and her expression of unrequited love can be seen in her poems, 'To Vernon Lee', and, 'New Love, New Life'.
Amy Levy had suffered from depression all her life and in her later years, she was in distress due to her romantic relationships which added to her depression. To worsen the matters for her, she was growing deaf. Amy Levy committed suicide at the age of 27 by inhaling Carbon Monoxide at her family home at Endsleigh Gardens.
On her death, Oscar Wilde wrote an obituary for her in 'Women's World' in which he praised her gifts.