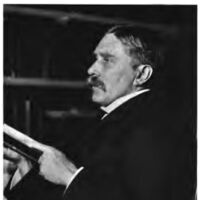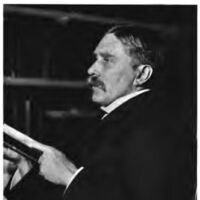 Early Life and Career of A.C. Benson
A. C. Benson, the author, poet and essayist known widely for authoring the lyrics of the British patriotic song, 'Land of Hope and Glory', was born in Berkshire at Wellington College to Edward White Benson and Mary Sidgwick.
He was one of six siblings. Two of his siblings died at a very early age. His father was the Headmaster of Wellington College when he was born. After some time, he became the Archbishop of Canterbury. A. C. Benson's life seems to have been influenced a lot by Christianity due to this. From the age of 10 to 21, he lived at Lincoln and Truro.
This well-known poet was very good at academics and therefore received a scholarship to study at Eton College in 1874. In 1881, he removed to Cambridge to study at King's College. He graduated from there in 1884 and returned to Eton College as a teacher. He was given the post of Housemaster after his teaching service of 6 years. Benson quit this job as he wanted to focus more of his time on writing. He, therefore, returned to Cambridge.
He wrote his father's biography in 1899 who was the Archbishop of Canterbury.
In 1903, he co-edited Queen Victoria's letters along with Viscount Esher in three volumes. He was made the Commander of the Royal Victorian Order.
Magdalene by
A.C. Benson
Arthur Christopher Benson remains a popular name in Magdalene College, Cambridge as he was the 28th Master of the college and remained in the college until his death making praiseworthy changes in the college under his leadership.
In 1904, he received an offer to be a Fellow at the college from a colleague from Eton, Stuart Donaldson. Stuart Donaldson was the Master of Magdalene. Benson was informed that there was a lack of funds and therefore he wouldn't be paid. He took up the offer nonetheless and worked there for eleven years after which he became the Master there. Under his able leadership, the college brought great changes.
He is known to have been loved by all his students there. He encouraged his undergraduate students to pursue various subjects like Archaeology, Music and History along with English.
He had been elected as the President of Magdalene College in 1912 and became the Master in 1915.
Depression
Arthur Christopher Benson battled depression from a very young age until his final years. He is known to have been suffering from bipolar disorder. It affected his personal life tremendously and he remained unmarried during his lifetime.
He started keeping a diary from 1897 and continued to write a diary entry until his death. His tumultuous personal life and emotional breakdowns due to depression could be the reason for it.
He has written a total of 180 diaries, and the words in them are said to be about 4 million. Percy Lubbock, who edited his diary, says that he used to write in them at every chance he got. Percy Lubbock first edited these diaries and published them as 'The Diary of Arthur Christopher Benson by Hutchinson and Co. (London)' in 1926.
Death and Legacy of
A.C. Benson
A. C. Benson died of a cardiac arrest in Magdalene College and was buried in Cambridge.
His legacy includes the song 'Land of Hope and Glory' which was composed by Elgar as King Edward VII's Coronation ode. It was performed at Royal Albert Hall till 2001 on the eve of the closing night of London proms.
Arthur Christopher Benson was a Fellow of the Royal Society of Literature in the United Kingdom. The Benson Medal is awarded to outstanding writings in the field of history, poetry, fiction and 'belles-lettres', which may be in any language. 
He never married during his life.
His siblings also remained quite famous in their areas of work. Edward Frederic, his brother, is known for writing a series of novels. Another brother of his and his sister were also writers. And he was the brother of the famous Egyptologist, Margaret Benson.