The Early Life of Charlotte Elizabeth
Charlotte Elizabeth Tonna was born on 1 October 1790. She was a popular Victorian poet, author and novelist who used Charlotte Elizabeth as her signature. She was born to a rector of St. Gile's Church, Michael Brown. She was born and raised in a minor canon of Norwich Cathedral, Norwich.
Charlotte lost her vision temporarily at the age of seven and during this time she developed an interest in music. But soon at the age of 10, she lost her hearing permanently. She then decided to become a pioneer of deaf education and accomplished her dream.


First marriage
During a visit to London in 1813, she met Captain George Phelan, an Irish army officer of H.M. 60th regiment, and soon got married. After their marriage for two years, captain served at Nova Scotia with his regiment. They later shifted to Ireland, to a small estate near Kilkenny owned by Phelan.
In 1824, they got separated because of the violent insanity of her husband. She then started living with her only brother Capt. John Browne at Clifton, after his return from many years of service in Portugal.
Famous Female Writers of Victorian Era. Their Names, Works, InformationWhile living with her brother she made acquaintances with Hannah more. She stayed with her brother for 2 years and 2 months until her brother's death in 1818. After the death of her brother, she took charge of his son's education and future.
Famous works of Charlotte Elizabeth Tonna
During this period (1815-1818) she wrote several books like Perseverance(tale) published in 1826, The Rockite published in 1829, Allan McLeod,  Consistency(tale) published in 1826, Izram published in 1826, Zadoc, The System, and other books and tracts. In 1836 Charlotte Elizabeth shortened the famous novel of "British Martyrology" into two moderate volumes of Foxe.
Elizabeth published dozens of stories, books, including the children's books which were banned once for children like The Simple Flower (1826), the novel Judah's Lion (1843), Izram: A Mexican Tale; and Other Poems (1826), and Posthumous and other poems (1847).
Summary of some of her famous books
Judah's Lion (1843)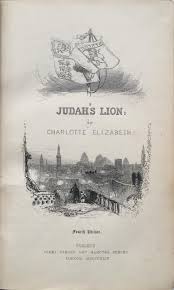 Judah's Lion is a fiction which was published in 1843. It was earlier serially published in The Christian Lady's Magazine. For Charlotte, her years of interest in Zionism and many interactions with the Jews gave birth to this Zionist book. The title of the book doubly refers to the lion of Judah.
It also has the reference of the holy bible. The story revolves around a journey of the protagonist which is though long but eventful and has lessons for him. During the journey, he meets his physical and spiritual destiny and learns that the outcome reached is certain.
Personal Recollections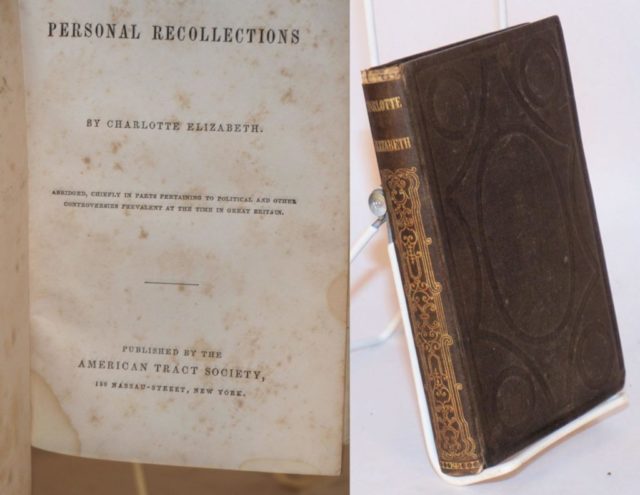 Charlotte wrote her biography which she named as Personal Recollections published in 1841. Charlotte was very particular about her privacy and never wanted people to interpret her life events. Though she did write some of her events in her life in her only attempt of autobiography, personal recollections.
She was sure that her life was by no means scarce in noteworthy events and she was aware that her disturbed and confused marital history would be the most interpreted hence she made her family and friends promise to destroy every letter given by her, post her death.
The Wrongs of Woman (1844)
The Wrongs of Woman was published in 1843-1844 in four volumes. The book is the description of the life of a young girl Kate Clark who became a lace runner's employee who works from home. Initially, she is very happy and a healthy child but later when she due to lack of food, long hours of work, negligible wage rate and the working conditions she turns like the other workers into malnourished, dirty and sick.
The woman who teaches the apprentice has a baby. Due to poor wages, she does not have to feed to the child so feds him opium to stop him from crying. Due to the hazardous product the baby sickens, starves and eventually dies. She doesn't even have the money to buy the poor child a coffin.
He asks the buyer who buys the finished goods to lend her some money. Instead of money, he advises the woman to become a prostitute to earn more. Inspire of her dignity and poor health she becomes one and eventually her social status degrades even more.
The book covers the issues of women workers and the plight of their working conditions. It even talks about the social identity of a sex worker and the conditions in which a sex worker faces.
Charlotte Elizabeth Tonna's novel Helen Fleetwood
In Helen Fleetwood was published in 1841. It provided a semi-fictional narrative of the disastrous conditions which a factory system creates. The novel revolves around the fate of an orphan Helen Fleetwood who is adopted by a poor widow green. Green raises Helen with her other grandchildren in a rented cottage.
Green and Helen used to work on agricultural land every day and was living a satisfactory life. One day Mr Ferris distributes pamphlets to promote factory work. The greens were the potential future burden on the parish whence they were enticed to work in the factory to earn more money, comfortable home and baited them to the hardships and slums of the industrial city of Manchester.
The novel not only describes the working hardships of industrial works in early England but also reveals the corruption and unjust practices in the factory system.
Second marriage
In the year 1837, her husband George Phelan died in Dublin. In 1841, charlotte then married to Lewis Hyppolytus Joseph Tonna, Assistant Director of the United Service Institution. A scirrhous induration appeared under Charlotte's left axilla at the beginning of the year 1844. It soon rapidly conjectured to be of the malignant form.
She died due to her fatal cancer for more than eighteen months. The cause of death which was diagnosed as due to exhaustion which was caused by an attack on the artery eventually leading to loss of blood and then death. She died on 12th July 1846.in Ramsgate where she was buried also.
Charlotte Elizabeth Tonna's contribution to Literature
Charlotte Elizabeth Tonna is known for her tracts to various religious societies. She has also contributed to the anti-catholic contributions through her writings. Her respect and support for the martyrs were immense and she always wanted to be one of them.
She has extensively written on social causes especially about the flaws of industrial society and their workers. She has been a concerned writer and her works have always inspired people to hope for better. She would always be remembered as a protestant supporter and rich writer.