George Gissing (born November 22, 1857, Wakefield, Yorkshire, England—died December 28, 1903, Saint-Jean-de-Luz, France) was an English novelist, an unswerving realist whose primary subjects were people of lower birth. As a subscriber of the naturalist school, his works dealt with an artistic expression of the banal existence and travails of these subjects.
He wrote a total of twenty-three novels including "The Odd Women" (1893), "New Grub Street" (1891), "The Nether World" (1889). His works are profoundly critical of the contemporary societal organisation.
Early Life
Gissing was born in a lower-middle-class household and his father died young, leaving behind five children. Being academically proficient, Gissing earned a scholarship to Owens College in Manchester. He proved himself to be a brilliant student and went on to win many coveted prizes including the Shakespeare prize in 1875.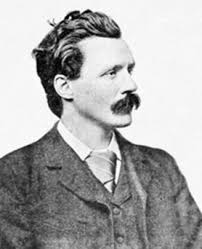 His future looked quite promising until he fell in love with a woman, rumoured to be a prostitute, Marianne Helen Harrison better known as Nell Harrison. To support her he started stealing, ended up being convicted of theft and had to leave the college. In September 1876 he travelled to the U.S. with the help of his sympathisers.
He went to Chicago next where he earned a precarious living by writing in newspapers including the "Chicago Tribune".  
He moved back to England in 1877 and married Nell Harrison only to be separated in 1883 when Nell turned alcoholic. His first novel had failed and he took private tuitions to sustain himself.
Literary works of George Gissing
Gissing's early works were not received well, bringing him little or no recognition. He had to continue teaching to earn a living.
Between 1891 and 1897, he produced some of his best works including New Grub Street, Born in Exile, The Odd Women, In the Year of Jubilee, and The Whirlpool. His reputation reached new heights during this period. Some critics also labelled him as one of the best novelists of his time alongside the likes of Thomas Hardy, H.G. Wells and Henry James. 
The Odd Women (1893)
Set in the London of 1887, this particular work of social realism is an acute expression of the social position and frustration of women. Remarkably ahead of the time it was written in, "The Odd Women" is considered by many to be a work of early feminism.
The novel explores the lives of the Victorian women left without a male partner. It tries to see their "odd" lives in a time when marriage is the norm and whether it's a result of their lack of agency to marry or an informed choice that they make. Gissing introduces to us the revolting character of Rhoda Nunn who falls under the latter category i.e. choosing to be an odd woman. 
New Grub Street (1891)
This acclaimed novel paints us a critical picture through the juxtaposition of the life of an un-commercial and impoverished yet talented writer with that of a commercial and materially successful writer. New Grub Street introduces its readers to the debilitating effects that poverty has in the literary world. It brings to us how talent can be no guarantee for a successful career in this world.
The title alludes to the Grub Street in London, present before Gissing's time, teeming with an array of writers indulging in low-quality, a low-paid genre of work known as "hack literature". It's considered to be Gissing's most pessimistic work and its based on his struggle to make a career out of writing.
The Nether World (1889)
Set in the slums of nineteenth-century London, "The Nether World" focuses on the problems of the sordid lives led by the poor. The final one of his slum novels, this novel is an inquiry into the misery of the lowest stratum of the working class to which Gissing belonged. The horror and bleakness of these lives are highlighted by an inescapable world of labour.
The Gissing Journal
The Gissing Journal, a quarterly ode to the life and works of George Gissing, is published by The Gissing Trust. It is committed to the research of essays, book reviews and news pieces in connection with Gissing and his contemporaries. It welcomes contributions from journalists and enthusiasts.
George Gissing: Later Years and Death
 In 1890, Gissing had taken a trip to Italy and his experiences there led him to write "the Emancipated". In 1891, he got married to another working-class woman Edith Alice Underwood with whom he had two children. However, they separated in 1897. In 1902, Edith was certified insane and confined to an asylum. Gissing took another trip to Italy in 1897-1898 where he also wrote the perceptive piece of literary criticism "Charles Dickens: A Critical Study".
In July 1898 he met Gabrielle Marie Fleury, a Frenchwoman, who had approached him for the translation of his work "New Grub Street". Shortly after, they became partners in common-law marriage as Gissing was yet to obtain a divorce from Edith.
In 1903, he published his acclaimed work "The Private Papers of Henry Ryecroft". This was autobiographical written from the perspective of a once-struggling writer who later inherited a legacy enabling him to retire in the countryside. 
In December 1903, George Gissing caught a chill from taking a walk which led to his demise. He was 46 at the time. Gissing's works seem heavily inspired by French Realist fiction, especially by Émile Zola.