George Orwell or rather Eric Arthur Blair is widely known as a famous novelist, essayist and journalist. His contributions are also scattered in the field of criticism also. He was kind of person who wasn't afraid of saying anything for the betterment of mankind.
The strong opinion was the most interesting and amusing characteristic in his personality.
In his lifetime he also addressed some of the major political movements of the contemporary time which included fascism, imperialism and communism. Intellectual prose and voice and social injustice, these were the salient features of his writings. Orwell strictly opposed the totalitarianism and also he stood up for democratic socialism.
Early Life
Orwell spent his very first days in Motihari, Bihar where he took birth on 25th of June in 1903. At that time Motihari was under British India. A year after his birth, his elder sister and he was taken to England by his mother. They settled in Henley which is located on the Thames.
There wasn't a strong bond between Orwell and his father as his father mostly stayed in India.
The initial schooling of Orwell began in St. Cyprian's in Eastbourne. It was a coastal area boarding school where he first tasted the classical England class system. Somewhere Orwell felt that the treatment of the school was different for the rich students and the poor students.
Orwell was a very studious kind of person who found his happiness in the books. The works of Rudyard Kipling, H.G.Wells used to mesmerize him in his school days. He qualified for the scholarships of Wellington College and Eton College.
After completing his formal education at the Eton, Orwell was no longer in the condition to continue his studies. It was his bad family condition which held him back from getting a University education.
In the year 1922 Orwell joined the Imperial India Police Force for a living. After serving for five years in Burma, Orwell resigned from the service and went back to England. It was 1928 and Orwell was in Paris, living on some low paying jobs.
After one year Orwell moved to London where he termed his living as 'fairly severe property".That was the time when Orwell intended to be a writer.
George Orwell's Early Writing Career
These sadistic experiences in Paris and London provided the fuel for his first novel 'Down And Out In Paris And London (1933)'. This novel of Orwell mainly explores his living in these two cities, Paris and London. Orwell was teaching in a private school of Middlesex. He had his first pneumonia at this due to tuberculosis.
After recovering from this disease Orwell gave up teaching and went to Southwold to spend some time alone. He tried to concentrate on his writing more at that time. After some time he came up with his second book, the 'Burmese Days' (1934).
In this book, Orwell explores his overseas experiences. According to his personal experience, it makes the British colonialism look dark in Burma. The publishing of this novel triggered Orwell's interest in political matters.
During these days Orwell was working in a bookstore where he met his wife Eileen O'Shaughnessy. They got married in the year 1936.
George Orwell War Injury
In the year 1936, there was a cold war happening in Spain against General Francisco Franco. Orwell went to Spain mainly to write newspaper articles on the Spanish civil war. Finally, he found what he was looking for, a true socialist state. Here he joined a party which was involved in a rebellion against the fascist party.
Orwell and his wife were Charged for treason in Spain as they found that the socialist party was helping the Fascist party from the behind. Luckily Orwell and his wife were already out of Spain.
After coming back to England Orwell had to face several severe diseases. In the year 1938, he spent a few months in Preston Hall Sanatorium to recover from tuberculosis.
History
At his young age, he shifted to Shiplake and after some dates, the First World War started. Eric also writes on his own experiences in the First World War.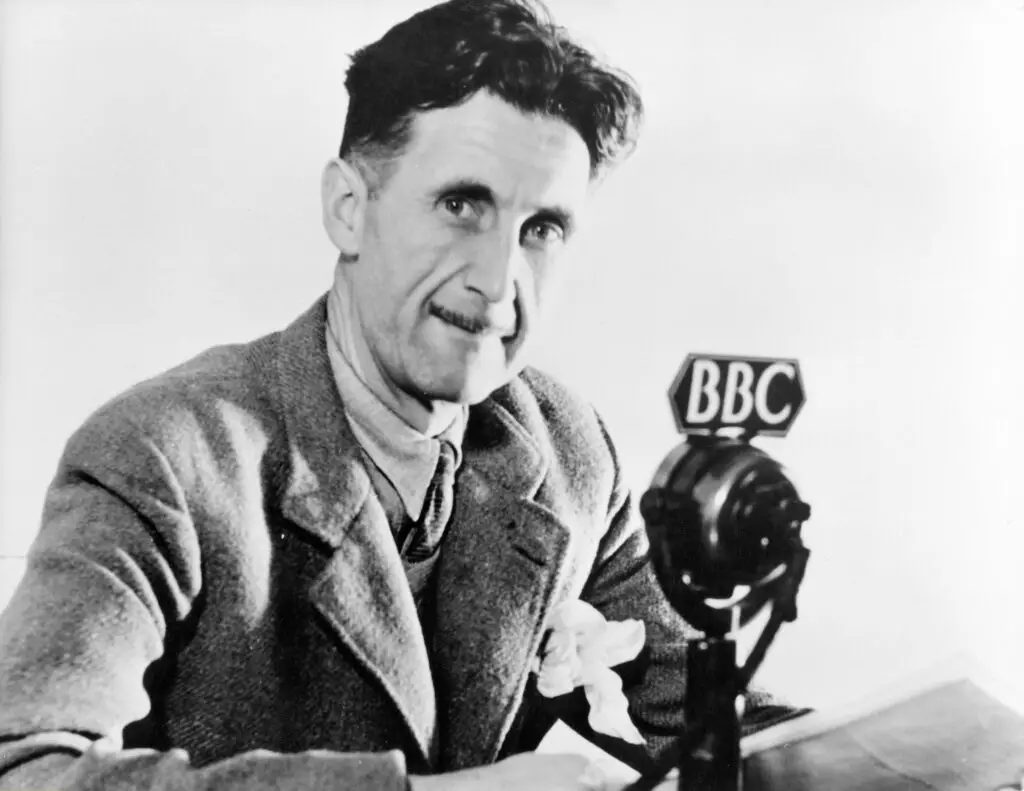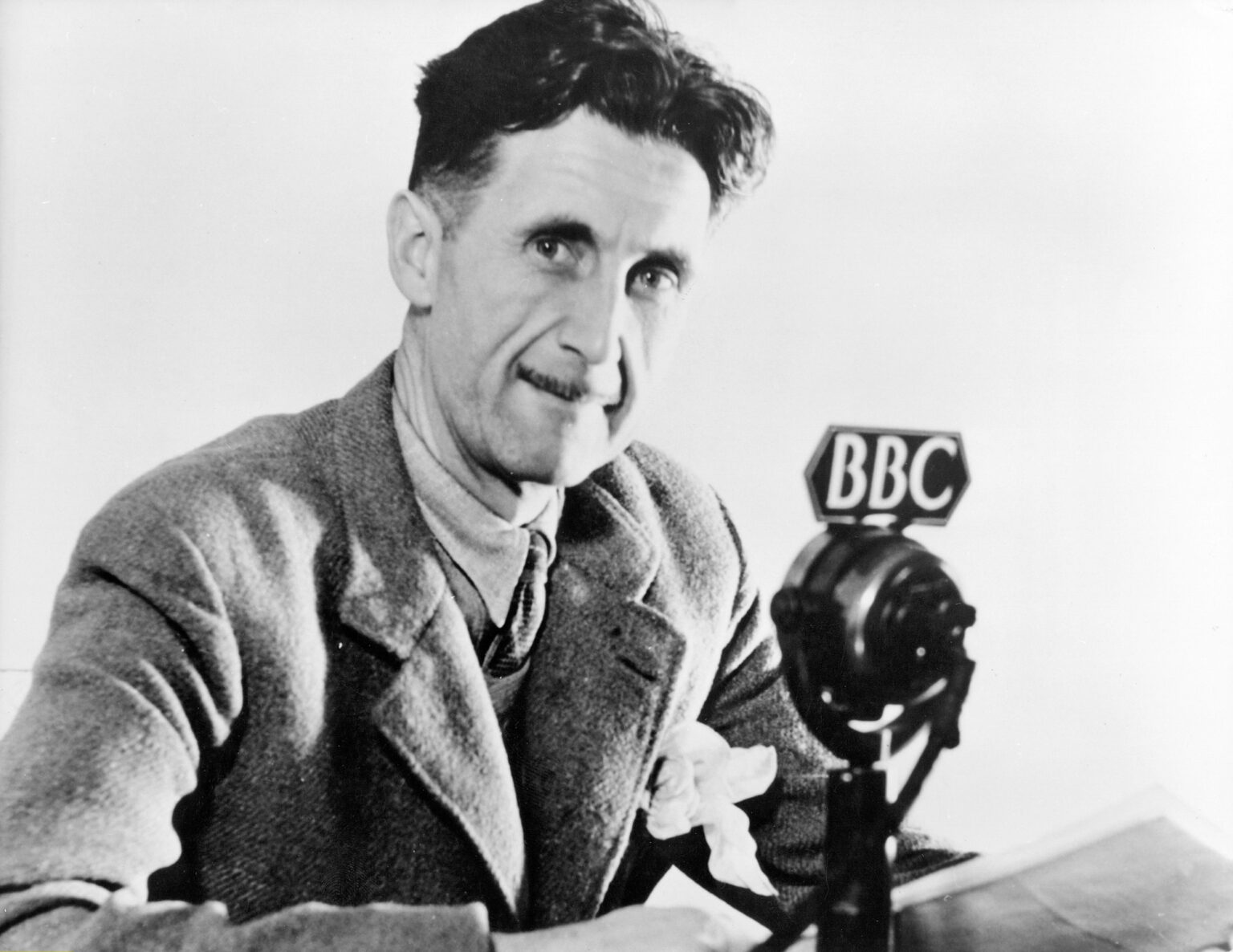 At that time, he had written two poems. Then in his later life, he gained several scholarships in Wellington and Eton. In 1916, he comes to Wellington and then Eton.
Though his family was not living with him. One of his famous quotes is being found that snatch the attention of his fans,
"One could not have a better example of the moral and emotional shallowness of our time,

than the fact that we are now all more or less pro Stalin.

This disgusting murderer is temporarily on our side, and so the purges, etc., are suddenly forgotten."
There are very personal sentences that he utters. He has many times in BBC interviews and had spoken of social taboos, animalism, and on other things.
Role as a Literary Critic and BBC Producer
Orwell had to take up writing again to help himself out of such a miserable condition. He wrote several essays and reviews of books to build up a solid reputation as a standard literary critic.
In 1941 Orwell was hired for the job of BBC Producer in India and Southeast Asia. Arnold developed several news programs where he invited some of the greatest literary Giants like E.M.Forster and T.S.Elliot.
Soon Orwell realized that he was working as a British colonial propagandist to increase national interest. He started to hate his job immensely. In his diary, Orwell described this job like, "something halfway between a girls' school and a lunatic asylum, and all we are doing at present is useless, or slightly worse than useless".
In 1943 Orwell finally resigned from the job saying "I was wasting my own time…". Then he took up a job of his choice, literary editor of 'The Tribune'.
George Orwell 's Literary Career
Orwell went on to write for nearly seventeen years. Sarcastically Orwell never considered himself to be a great novelist, but still, he produced two masterpieces of the twentieth century, "Animal Farm" and "Nineteen Eighty-four".
The essays of Orwell was something that can enlighten one's self. His most famous essays were, "Political and the English Language", "Shooting an Elephant". These essays were purely personal which describes Orwell's own experience in the field of politics.
Through his writings, Orwell wanted to invent the truth. Political dilemmas, social breakdowns used to move him so much. From the beginning, Orwell tried to capture the real struggle of real people through his writings.
Orwell himself said that there was a mantle of lie all over the world which was needed to be seen.
Quotes
"Who controls the past controls the future.

Who controls the present controls the past."
But with the reference of his brother, he started to go to another school and he won several competitions there. Later in his own essay he speaks on this school and from "Such, Such Were the Joys" we, the readers can get to know he did not love his school too much.
And the economy was a big deal to him because later he stated on the financial problems of their family. One of the critics have written,
"soon recognised that he was from a poorer home".
After the passing of many years in the 'Horizon', he gets an opportunity to publish some essays and he published them in later days.
on Politics
He directly says to the readers in his essay "Politics and the Language" that this is not good for people and the politicians write books to attract people to them. He was a speaker of "democratic socialism".
Animal Farm
And approximately in 1943 Orwell published his famous, attention-grabbing novel "The Animal Farm". It gains a clap of people. Though later a movie also published that is being directed by the nobleman.
In his latest life he marries Eileen whom he loved and then his wife Eileen adopted a son of three years. According to Jackson, a critic of Orwell says that he was a good father and also loved his son very much.
Eric had written to Ann Popham that,
"I was sometimes unfaithful to Eileen,
and I also treated her badly, and I think she treated me badly,
too, at times, but it was a real marriage,
in the sense that we had been through awful struggles
together and she understood all about my work, etc."
Throughout his life, he shifted from one place to another. And 'Bohemian Fashion' reveals that maybe he was a communist. Even some of his works also provoke that.
Literary works of George Orwell
Except "The Animal Farm" his famous works are "Politics and the language" this a social satire that produces irony and sarcasm among the people.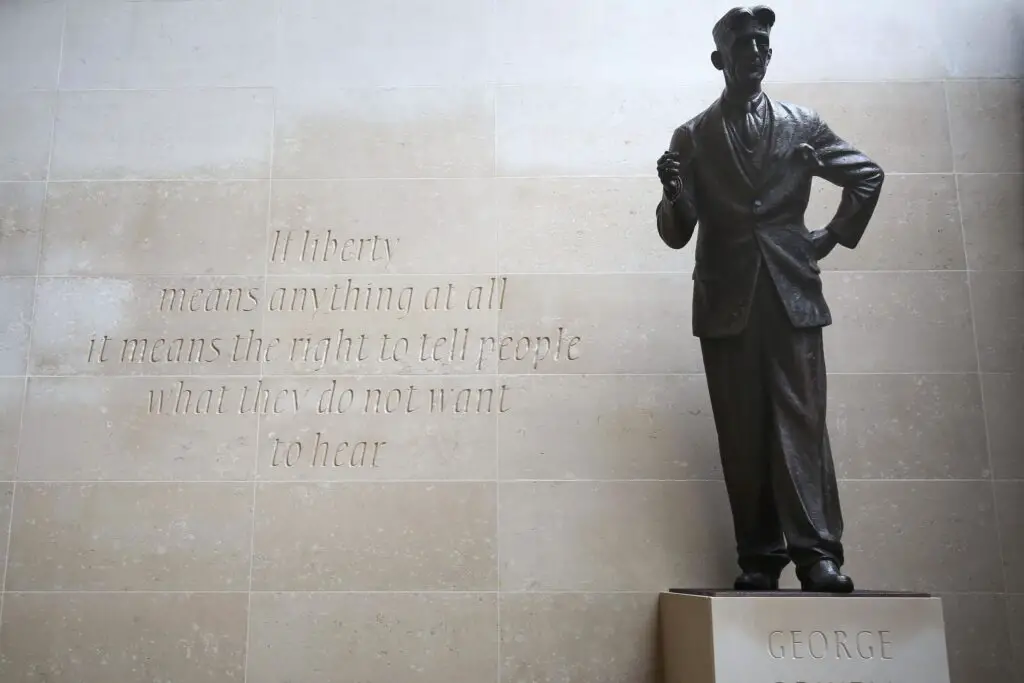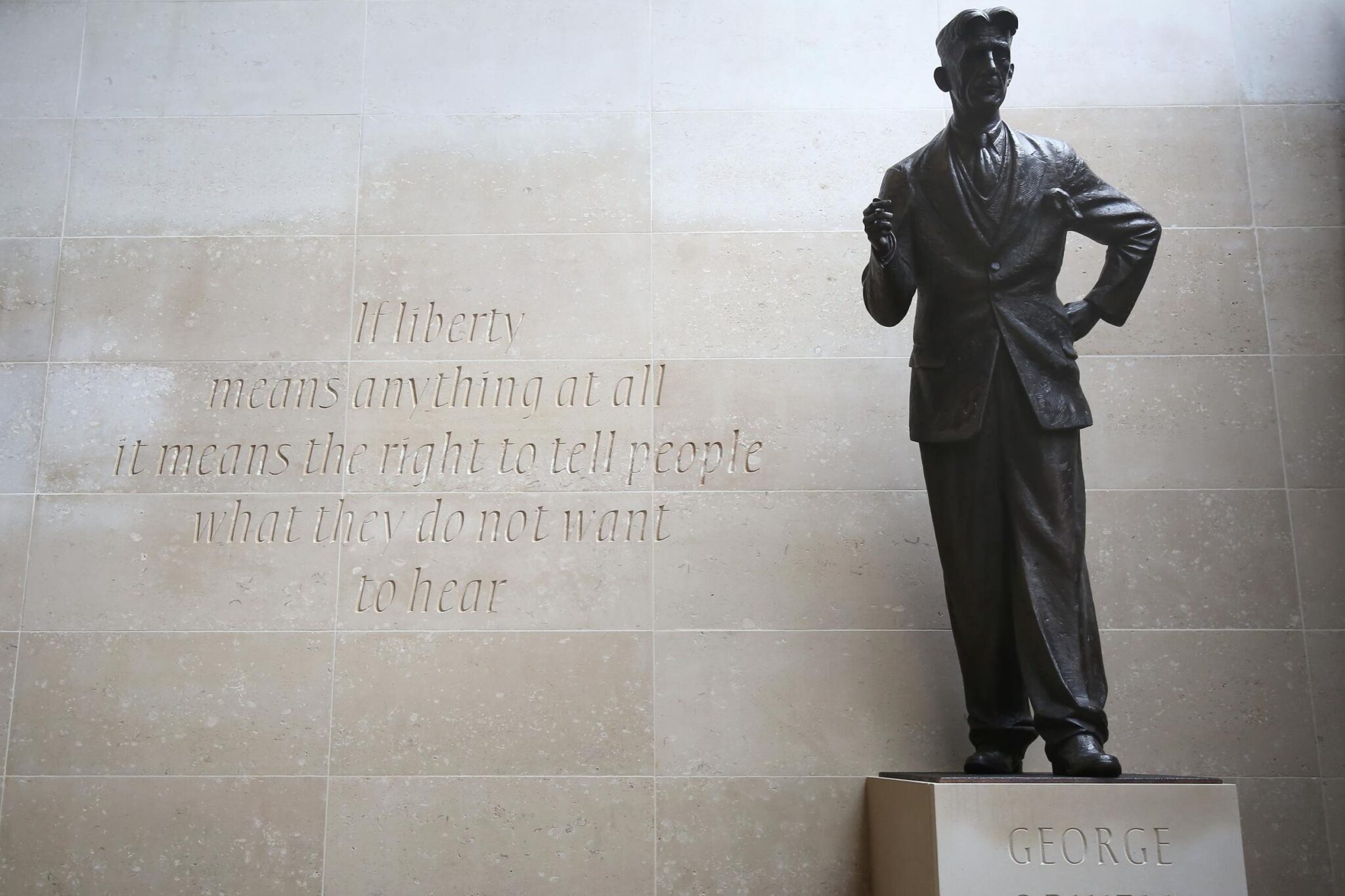 George Orwell Books
"Homage to Catalonia" is also a notable work of this grand character. "Shooting an Elephant" is an essay that is a bit of his personal life because he spends his days in Burma as a policeman.
George Orwell on Socialism
Some essays are clearly exposed as anti-fascism mentality of the essayist. Belonging from a society reveals the backbone of the social functions.
"By putting the tea in first and stirring as one pours,

one can exactly regulate the amount of milk,

whereas one is likely to put in too much milk if one does it the other way round."
This is the line of "A Nice Cup of Tea" from where his lifestyle is being reflected. This nobleman died very soon when he was only 46 years old. He died in 1950.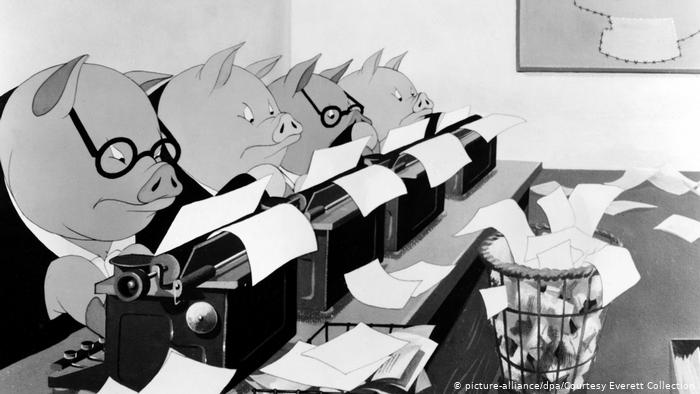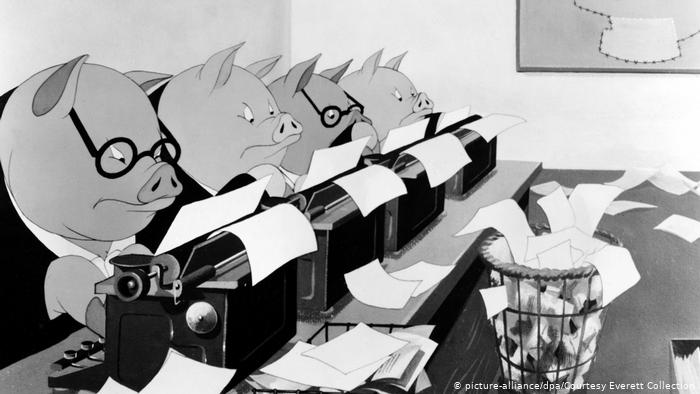 Questions and Answers
Where was George Orwell educated?
He was educated from Wellington and Eton college.
Why was George Orwell famous?
George Orwell is famous because of his writings, essays, and films.
What did George Orwell die of?
He was died due to Tuberculosis.
What did George Orwell write?
He wrote The Animal Farm, The Nineteen Eighty-Four, Shooting an Elephant, etc.
George Orwell Death
It was January 21 in the year 1950 when death laid its icy hands on Orwell. The reason for death was tuberculosis. He died young, just at the age of 46 but his ideas and opinions about different matters are still alive among men.