Life
Maria Louise Ramé, or better known by her pen name "Ouida" was a well-known Victorian era novelist and writer. She was born at Bury St Edmunds, England on January 1st, 1839. The derivation of her pen name stems from the mispronunciation of her own name "Louise".
In 1867, she resided in the 'Langham Hotel', London. Where, she used to write in her room, on the bed, surrounded by light emanated from numerous candles, and purple flowers, for ambience. She held salons and soirees that included politicians, literary lights (such as Oscar Wilde, Robert Browning), and artists. These people, who attended such gatherings became her inspiration and source for many of the characters in Ouida's stories.
After living in London for quite some years, in 1871, Ouida went to Italy. Wherein she decided to settle along with her mother in Firenze. It was there that she followed her work as a writer.
She lived, for a time, in Bagni di Lucca, wherein there now exists an honorary plaque on the outside wall.
Ouida was incredibly serious regarding her craft. She gained inspiration by Byron, however, she displayed an interest in other artists as well.
There was an amalgamation of romantic undertones and criticisms pertaining to the society surrounding, in her writings. Such as evident in her novel, Puck, wherein views on society are voiced by a canine possessing voice. She voiced her own viewpoints and feelings in her essays.
She resided in Italy until her demise on 25th January 1908, due to pneumonia. She was buried in the English Cemetery in Bagni di Lucca.
Works
Ouida wrote more than 40 novels, multiple children's books and assortments of short stories and essays during her tenure as a writer.
Her 1st novel was published in 1863, at the age of 24. The name of the novel being "Held in Bondage" (original name: Granville de Vigne).
As opposed to her later work, her earlier writings, her novels were often allocated terms such as "racy" and "daring", which was in sharp contrast to the work prevalent at the time. Later, her writings changed genres and started containing traits of typical of historical romance, however, she continued to voice her opinions on society. She also continued writing stories for kids.
She continued on to write more books such as Strathmore is 1865, followed by Chandos in 1866. Then it was her book named Two Flags in 1867. Which went on to become one of her most recognized novels. It described the British in Algeria and expressed sympathy for the French. This book went on to be adapted as plays and film.
She wrote A Dog of Flanders in 1872 which gained widespread fame, it is a story of a young boy and his dog and possesses a gloomy ending. One of her other extraordinary and famous works includes Moths which came in 1880.
In her book 'The Massarenes' (1897) she described a clear picture of a millionaire in the London societal landscape. This book was immensely treasured by Ouida, and proved to be incredibly successful in sales. After that, she primarily engaged in writing for the top magazine's essays on social scenarios, or criticisms and reviews pertaining to literature, which did not provide remuneration.
And, despite such fame and skill, extravagance spending and loss of her copyright privileges resulted in a state of destitution for her.
Influence
Her novel Signa, published in 1875 gained recognition by the composer Frederic Hymen Cowen who went on to obtain the privileges to the novel in order to draft an opera for Richard D'Oyly Carte's 'Royal English Opera House' to succeed Arthur Sullivan's Ivanhoe in 1891.
The Opera was then taken Italy along with a translation. After many halts and troubles, Cowen's Signa was initially performed in an abridged three-act form at the Teatro Dal Verme, in Milan on 12th November 1893. It was then constricted to a two-act version at Covent Garden, London on 30th June 1894.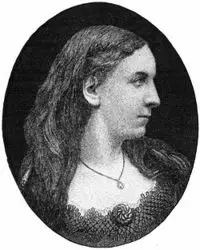 Pietro Mascagni also acquired the rights for one of her stories "Two Little Wooden Shoes", so that he could adapt it into an opera.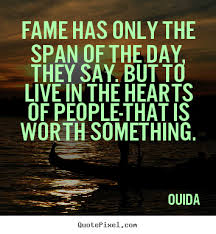 However, a friend of his, Giacomo Puccini gained notice in the story and thereby initiated a suit, on the grounds that because Ouida was highly indebted in terms of money, she should forfeit the rights over her work, thereby the rights being set up for auction in order to raise money for her creditors.
He succeeded in the same and thereby convinced Ricordi to place a bid. After Ricordi's victory, and subsequent acquisition of the rights, Puccini became disinterested in the story, and never made the opera. It was later created by Mascagni with the name 'Lodoletta'.
"Rita" Humphreys, another writer, composed a eulogy to Ouida and directed it to the press soon after Ouida's demise. The same was read at the opening of Ouida's memorial.
Famous quotes
Even of death Christianity has made a terror which was unknown to the gay calmness of the Pagan and the stoical repose of the Indian.
"Has Christianity Failed?", in The North American Review (February 1891)
Take hope from the heart of man and you make him a beast of prey.
A Village Commune (1881)
What use was it to argue with a little idiot like this? Indeed, peasants never do argue; they use abuse.
When one has not father, or mother, or brother, and all one's friends have barely bread enough for themselves, life cannot be very easy, nor its crusts very many at any time.
Brussels is a gay little city that lies as bright within its girdle of woodland as any butterfly that rests upon the moss.