The Victorian era lasted for almost two third of the 19th century. This period of Queen Victoria's reign is known for bringing about immense changes in almost all the fields particularly architecture, literature, visual arts and most importantly fashion. This reign which lasted for 63 long years witnessed ample changes in fashion.
In addition to this, the invention of the lock-stitch sewing machines in the middle of the century thereby making the whole home and boutique dressmaking a simplified one. Lace machinery helped in making lace at a much lesser price in a much lesser time.
Additionally, with the advent of trade and industry, clothing became factory made and was sold in bulk quantities at fixed prices. Also, different types of materials came to be introduced like rubber which helped in the manufacturing of gumboots and mackintoshes.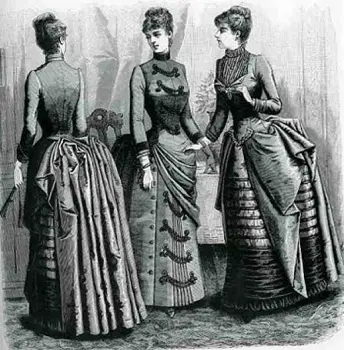 The men and women's attire during the Victorian era can be categorized in different periods. Like for instance, during the period of the 1840s, men wore frock coats and waistcoat or a vest which were very tight fitting. The vests were either single or triple breasted with uneven collars.
Men's Shirts
Shirts were made of cotton or linen while trousers were fly fronts. As far as formal occasions were concerned, in the morning, a cutaway coat with light-coloured trousers while dark tailcoats and trousers in the evenings. During summers, men wore a top hat with wide edges.
The 1850s was characterized with shirts with upstanding collars and four-in-hand neck tied in a knot with pointed ends like wings along with top hats being continued to be worn by the people of the nobility while the working class wore bowler hats. The 1860s men wore ties with a loose knot. The calf-length coats were reduced to knee length with sack coat replacing the frock coat.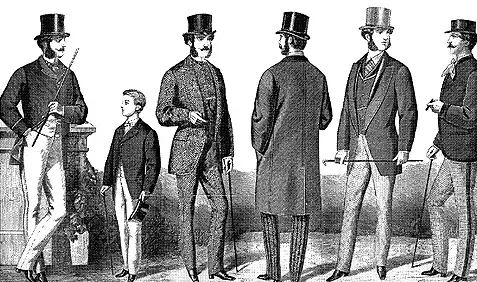 Suits
Three-piece suits with patterned fabrics for shirts gained popularity during the 1870s. Frock coats, as well as sack coats, grew shorter in length. During the 1880s, the dark tail coats with a white bow and a shirt with winged collar remained as it is. Evening formal wear consisted of a dinner jacket or a tuxedo.
Shoes
Shoes consisted of high heels and had a narrow toe. It was in the 1890s that the blazer was introduced. It was worn at the time of sports, sailing and such other activities. Also, men kept their hair short with a pointed beard and a big thick moustache.
Women's attire
Women's attires during the Victorian era were very elegant, classy and feminine. Beginning with the 1840s and 1850s, gowns had become narrow with sloping shoulders and pointed waists. Evening gowns had very low necklines were worn along with gloves and shawls.
Skirts
By the 1860s, flat skirts came into vogue which highlighted women's posterior. Evening gowns remained more or less the same. The 1870s introduced tea gowns which were to be worn at home.
The Hunting costumes became a major hit in the 1880s which typically included a matching jacket and a skirt, a high collared shirt coupled with the top hat and a veil while by the 1890s, women fashion became very simple.
Trumpet-shaped skirts came into fashion. These skirts were well fitted at the hip with a waist cut flaring just above the knee. High necks and puffed collars also gained popularity during this time. Bicycling wear, tennis, and swimwear also became famous sportswear worn during this period.
To sum up, the Victorian era can thus be regarded as a diversified as well as a dynamic era in which fashion evolved at regular intervals. Some of the fashion trends which were set out during this period find a place even in today's modern fashion world. Also, read about boy's costumes.