A Cape can be described as a sleeveless outer garment. It is a long garment that covers the back half of the person wearing it and is fastened around the neck.
Cape is the shorter garment that falls just below the shoulders. Cloak, on the other hand, is a full-length garment. Both cape and cloak mean the same. The only difference is in length of the garment. The capes were very popular during the Victorian and Edwardian periods.
They were commonly worn by the Victorians. In the 19th century, the combination of capes with a hood in the chaperon was in vogue. These capes were often ornamented with detailed embroidery work. Capes were also worn as style statements and were made using fur, velvet, silk and satin.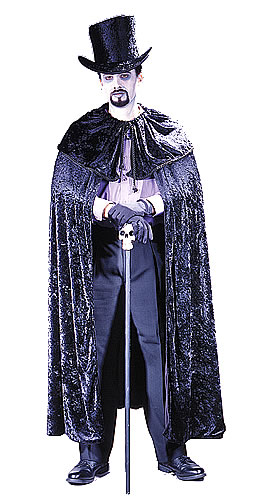 Capes were worn by women and men. The length of the capes worn by women varied from short length garment to a full-length garment. Around the 1890s, multi-tiered shoulder cape with a high collar was in vogue. Women during the Victorian period at owned two or three evening capes.
The short layered capes were made from lace and chiffon. During the late 1890s, the length of the capes reached above or on the waist. Soon, capes with longer lengths were preferred by women.
Capes worn by women were designed with flora, trailing leaf and similar patterns. During the late 1890s and early 1900s, Dog Collar Cape was in fashion. However, by mid-1900 the demand for capes had declined and soon they were out of fashion. Amongst the Victorian men, caped overcoats were very popular. For men also, multi-layered capes were manufactured. Men wore different types of capes for formal evening events and for day-time work.