In the Victorian era, for most of the 19th Century, parents were of the belief that children should not engage in mentally or physically exhausting activities or the ones which interfered with their chores. There were not many "acceptable" pastimes, but gardening, playing a musical instrument, visiting, walking, riding, and reading was considered appropriate.
Card games
And, while it was believed that children should not play card games with regular decks of cards because it "could lead to gambling", it was fine for children to play with the cards themselves, such as to build a "house of cards", etc. Children could, however, play with special decks of cards, designed specifically for certain children's games.
In the early part of the century, most children's card games were educational. They helped teach children about math, history, science, and geography. There were even cards that helped teach girls about cooking. Then, in the 1850s, children began playing fun card games, with very colourful decks and lively games.
Parlour games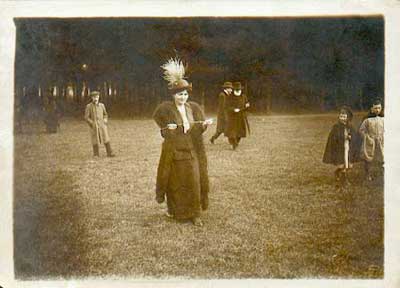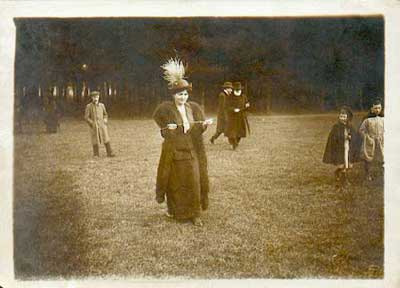 "Parlour games" was another popular activity for children. These games got their name due to the fact that they were usually played with guests, and during the Victorian era, guests were always entertained in the best room in the house, that is, the parlour! Many of these popular games, such as "Charades", "Blind man's Bluff", and "Pin the Tail on the Donkey", are still played at parties (especially children's parties) and gatherings today.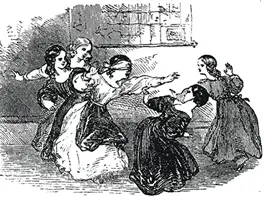 Board games
Some of the board games that children played during the Victorian era were already centuries old. A few examples of these include old favourites like Checkers, Chess, and Backgammon. Many new board games were introduced in the 1800s, and they taught children about geography, science, or history. Others taught children values such as good behaviour and hard work.
One of the greatest amusements for Victorian children, naturally, was the gift of their own imagination. Countless games and various activities could be created each day, and only duplicated if the children so chose. The best way to avoid boredom was to have a grand imagination.
Other toys & dolls
Store-bought toys inspired children's creativity and the world of pretend. Boys could play with lead soldiers, construct villages filled with people, gardens, farms, and stores, all from celluloid, or even using wooden blocks cut into all different shapes and sizes.
For girls, dolls and dollhouses had practically become a necessity. Dollhouses ranged from elaborate store-bought models to crates or grocery boxes glued together and filled with homemade furniture, wallpaper, and curtains. Towards the end of the 19th century, paper dolls became the rage, as well. Dolls of one type or another have been found in literally every culture, but by the mid-19th century, doll making had reached a level of very high quality, and many were extremely realistic.
Still, if an expensive doll could not be afforded, little girls could still play with a doll made of cloth or other cheap material.
Role play
A child's imagination took them to a great many places and allowed them to become, at least for a short time, whatever they wanted to be. Children could be store keepers, firemen, blacksmiths, soldiers, or maybe even rich and elegant debutantes hosting a formal tea party in their pretend parlour. There were trees to climb, fish to catch, streams to wade in, hay lofts to hide in, and woods to explore. A board which had been laid over an old tree stump became a simple see-saw.
Tree branches laid over two boulders became an instant fort or house, and with a bit of imagination, a fence became a bucking horse to ride. There were hundreds of other possibilities to fill the day, and a child was only limited by the reach of his or her imagination.
Where Was Rugby Originated? The History of Rugby: An exploration of the origins of the rugby.
Aristocratic Sports: A look into the sports and recreational activities of the Victorian upper class.