What is the origin of Victorian era last names?
It is said that new last names were created during the Victorian era. There were various reasons and one of them being migration. The English had migrated to Ireland and settled there. But they were not able to speak, read or write Irish Gaelic and new last names were to be formed. The Irish surnames are not what they were formerly.
If you are looking for Victorian last names to use in your play / story as character names, why not try our random Victorian last name & first name generator.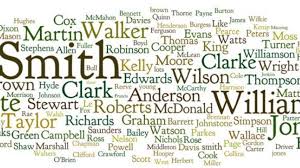 Thus the immigrants of the Victorian era changed their names and new last names were added onto the pages of Victorian era surnames.
Last names do not go in and out of fashion like given names. While given names are chosen, last names are passed along from generation to generation, so the surnames of today are not much different from the ones used in Victorian times.
Not uncommonly Victorians recycled family surnames, for instance inserting the mother's maiden name as a child's middle name. This applied to both boys and girls, which meant you, might be named along the lines of John Butterfield Smith or Louisa Jefferson Jones. Sometimes those family surnames were used as given names, as well, so a boy might be named something like Fitzhugh Smith.
Girls were also given virtuous names, such as Hope or Charity. Names were often handed down, too, so you might see an extended family tree with a Christopher Columbus Jones found in each of three or four consecutive generations. Likewise, you might see a middle name reoccurring time and again, which was often an ancestors name or surname.
In class-bound Victorian England, where the film Doctor Doolittle is set the opportunities were practically nil for those with idlers and hobos in their genealogy, even if many generations back, to penetrate a socio-economic stratum that enjoyed access to advanced academic training.
Indeed, during the latter half of the 19th century, the vast majority of the English population was illiterate and the middle school graduation rate among those of humble lineage never broke 20 percent.
It is believed that last names acquired a status in England around the twelfth and the thirteenth century. It was only then it was decided that last names should be made hereditary. Hence in a family tree, the last name occurred in consecutive generations.
Many historians have often associated last names with the Victorian era, but we can never conclude that last names were unique during the Victorian era. Tennyson, Kipling, Browning, Dickens, Gladstone and Disraeli were some of the popular last names during the Victorian times.
Below is the common Victorian last names list
Ashdown
Brewer
Down
Forge
Gedge
Griggs
Kaylock
Lynch
Adams
Beechworth
Blair
Brewer
Devitt
Hyem
Sheills
Stanbury
Urwin
Vinge
Wakefield
Yea
mast
rowe
Sinnett
Strain
Wakefield
Wickes
Wraith
Younger
Chattoway
Kidd
Kenward
Dosett
Godwin
Gunn
Hawk
Hayward
Whittock
Seymour
Strong
Hopkin
Weston
Whitlock
Whiston
Whipple
Highmore
Ashmore
Baldwin
Halbard
Suggest some fancy Victorian first names
Here are some fancy first names from Victorian times
What about Honor, Willow, Mercy; Mary, Katherine, Dorothy as ladies names?. For men, think about Jack, Chase, Colton, Lucas, Vernon, and William.
See more information about names & last names in Victorian Era
Names of Writers, Scientist and Artists and the