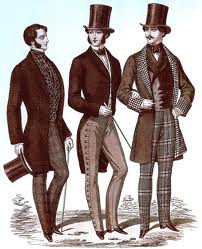 Victorian men and women are known for their typical style and fashion till today. Most men wore close fitting shirt with cuffed sleeves, a waistcoat over that with a cravat. Trousers were usually loose to the ankle and were held up by a pair of suspenders made of elastic or braces. The trousers had high waistbands and were tight at the top loosening down on the way to the ankle. Mostly they were made of dark colours or subtle plaids were used with dull colours like grey or light brown.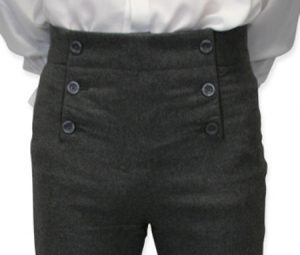 Workmen used to wear trousers made of sturdy fabrics like cotton or moleskin. Their boots were made of leather. Men of lower class wore trousers made of vivid colours with big plaids or checkers. The garish colours were mostly worn by upper class men who did not care much about fashion and styling.
Trousers 1850 – 1900
Trousers during the 1850s slightly widened at the ankle, but on the whole, gave the view of a tubular shape. Both the styles could be seen and if plain material was used, it would be braided down the side. In 1857, the trousers had narrow waistband with a strap and buckle which was at the back of the pant. These were known as American trousers and could be worn without braces. This led to discarding waistcoats for informal wear in 1890s. This was more popular in America where men started wearing belts with the trousers by then.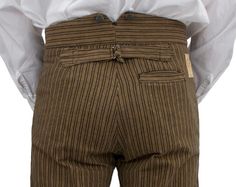 The length of the trousers varied from ankle length to instep. However, by 1860s, the strap under the foot became uncommon. Between 1857 to 1865, the trousers worn during the day were cut wide at the hips narrowing to a close fit near the ankles. This was never universally accepted. However, a modified and comparatively more successful version came into fashion in 1890s.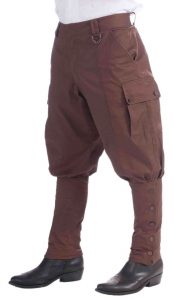 Between 1865 to 1890, there were very few variations in the cut of men's trousers. In fact, they were of equal width at knee and ankle during 1870s. In 1881, tight slacks came into fashion which were tight at the knee but loose at ankles. In 1884, the trousers were excessively tight. 1890 saw invention of the trouser-press which fascinated the fashion towards having a crease down at the front and back of trousers with a turn-up at the ankles and a hip pocket at back.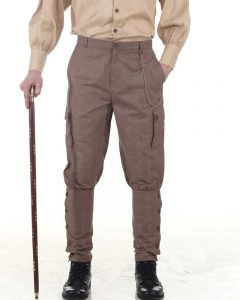 In 1860s trousers were popular in plaids and checks which were often worn with dark coloured coats. One of the most favoured day time fabric for trousers was grey striped one which was preferably worn with formal day coats. While trousers made of white flannel was worn during cricket and boating. For riding, cloth breeches were used till the end of the century. Normally they were close-fitting breeches, but in 1860s, easy fitting knickerbockers were used with socks and gaiters. The biggest innovation came in trousers when blue jeans was introduced in 1873.