The Victorian era from 1830-1901, saw a very wide range of bedroom styling. These bedrooms had a touch of antiquity along with a feminine feel. The most important thing in the bedroom is the bed which was made from cast-iron, brass or a mixture of these two metals and was full-size beds or double beds as we now refer them as.
The Victorian bedrooms can be classified into the master bedroom, the girl€™'s bedroom or the boy's bedroom. One thing common in all these rooms was the decoration used to make it attractive. The girl'€™s bedroom usually consisted of cottage furniture appropriate only for informal use.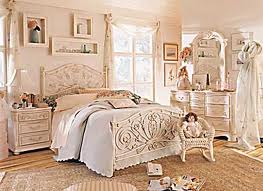 This furniture would be hand painted with floral decorations. Bed of some girls during this time was sledge shaped as it looks similar to a horse- drawn sledge. In a boy's bedroom, the desks would be full because of school books and papers. The Victorian style master bedroom was a very big room.
The bed was the central point of the room and was made from cast-iron or brass and at times both the metals were used. The beds were covered with canopies and drapes, many pillows, flounce, ribbons and other materials. It was one that reflected the massive Renaissance style of maintaining a bedroom that was made out of particular things like the walnut and the walnut burl.
The bed was generally at a height from the ground to avoid the morning drafts from the fire at the fireplace. The master bedrooms had marble-topped tables or cabinets. The room also had shelves with drawers made of oak, mahogany, walnut or likable. The night tables had traditional lamps, crystal or brass pottery and candlesticks.
Rugs on the floor were another feature of the Victorian bedrooms. Different types of rugs like the soft rugs such as Orientals, straw type mats, hooked rugs machine loomed rugs that had a flowery design on them. Walls were ornamented with old paintings, portrays of children, plants, animals, etc.
The windows were neatly accessorised with drapes or full curtains having fresh colors. The windows could be covered with laces, braids bows, etc. The fabrics used for curtains were velvet, delicate floral and eyelet, brocade.