The governess was in charge of the education of girls and young boys from upper-class households. The girls were between the ages of five and eighteen. She sometimes even taught young boys until they are old enough to attend school.
The figure of a governess in a household helped to validate the social status of the family she worked for. Employing a governess meant that the family could afford her and signified the status and power of the family.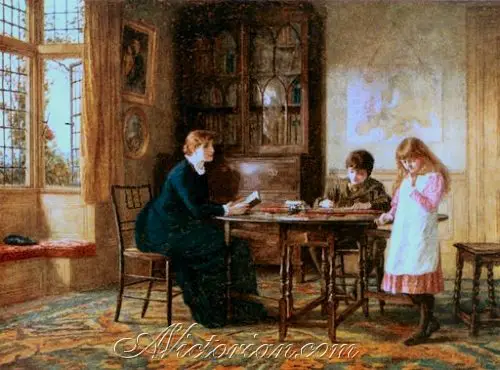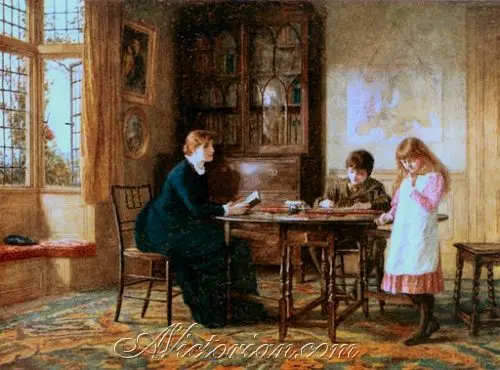 The presence of a governess in the house to teach the children freed the lady of the house from her having to teach her children and gave her more time for philanthropy.
What was the Role of a Victorian governess?
Here was a typical governess job description – A governess was different from a nanny or a nurse who took care of the children's physical needs. The governess was in-charge of their education. She taught her students the three Rs – reading, writing arithmetic. They also taught complex languages. Along with this, the governess had the responsibility of training young girls in 'accomplishments'.
These accomplishments included speaking French, playing the piano, dance. The moral values of young girls reflected on what their governesses taught them. This included studying religious texts, basic moral code, for example, honesty, politeness, courtesy, kindness. A governess had to be a lady herself, to instil proper behaviour and values in her students.
Most governesses were from middle-class homes who had to go out find work in order to support their families. This put them in a position where they could not get married. Due to this, they were often excluded from society.
What were the Types of Victorian Governesses?
There were different kinds of governesses, in fact, there were three types of governesses in the Victorian Age.
The first one was a school teacher
The next was the one who resided in one place and travelled to another place to teach.
The third one lived with the family and also served as a companion to them.
Sometimes, children felt closer to the governess than their own mother. This was because of the amount of time spent the governess spent with the children during the formative age and the lack of intimacy between children of upper-class households and their mothers.
The role of a governess often challenged the ideal stereotype of a woman because she was employed and self-sufficient (even though she had to send money home). A lady of leisure was a concept which existed in the upper class and aristocracy and these were places where a respectable woman never worked outside her home for money.
What were the Wages of a Governess?
So how much did a victorian governess get paid? A governess never had a steady job because her services were not needed after her students came of age. So she was back to searching for jobs every few years. Her wages were also extremely low.
Victorian governess wages/salaries were around 25 pounds ($3,000 in today's money) per year. Due to this, they became very poor before them reaching their 40's. As a way to put a stop to the Governesses' Benevolent Institution was set up in 1841 to help them with pensions.
What was the Victorian governess dress?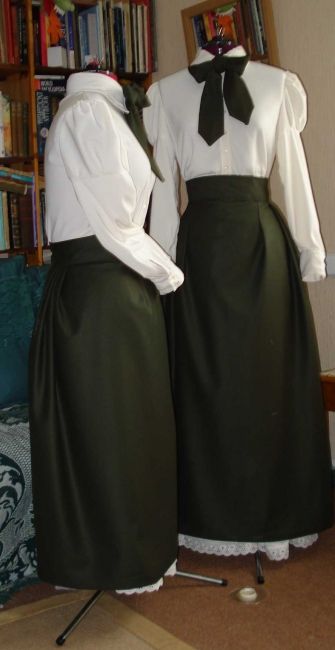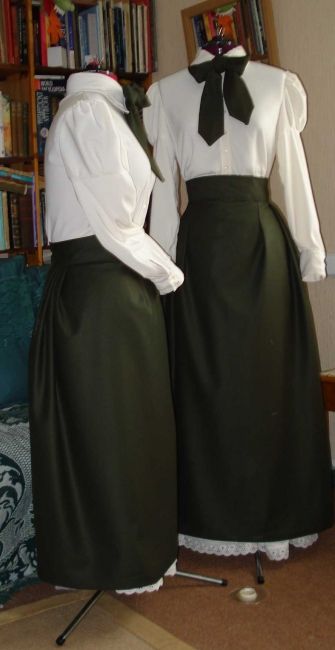 The dress of a governess was formalised by around 1880. Their uniform included a
long, plain skirt. It would usually be grey or black
boots
and a wide belt
a blouse buttoned up to the neck, along with a shawl and bonnet for outside wear.
Hair was usually scraped back into a tight bun and secured firmly under a net.
Is there a governess male equivalent?
It's easy to think of it as a governer. However, in this context tutor can be considered the masculine equivalent of a governess.
Modern-day governess
In modern times, a governess would not be called so. These days child caring work is called as a nanny, au pair, tutor or teacher. As in those days, au pairs or nannies mostly live with a family and have a play to stay, sometimes food and a weekly or monthly salary.
Governesses in Victorian Literature
A governess novel genre features a governess heroine. She may not be a perfect or particularly splendid character, but a protagonist on whom the story is centred and with whom the reader sympathises with.
Here are names of Victorian governess stories. The anonymous Margaret Stourton, or a Year of Governess Life (1863), Henry Courtney Selous's The Young Governess: A Tale for Girls (1871), and Irene Clifton's The Little Governess (1900).
Novels like Mary Martha Sherwood's Caroline Mordaunt, or, The Governess (1835), Julia Buckley's Emily, the Governess (1836), Miss Ross's The Governess; or, Politics in Private Life (1836), and Marguerite Blessington's The Governess (1839) all represent this new kind of governess novel.
Towards the end of the 19th century, the role of the governess started to be noticed in literature. In Charlotte Bronte's Jane Eyre, the titular character of Jane Eyre described the shackles governesses were bound by and the only freedom they could get from the societal status was marrying above them.
This was seen in Jane Austen's Emma, Jane Fairfax was freed from the role of the governess after her engagement to a man with some wealth. Slowly, the character of the governess changed by a sexual symbol in the house on a tall grotesque old lady who terrorized children and inflicted cruel punishments on them.
This was in the case of Rebecca Sharp in Vanity Fair. Rebecca is seen as a cruel and mean-sprinted governess who secretly marries the son of the family she works for to climb the social ladder.
More Info On- Spinster, Spinsterhood, Orphans and Orphanages