With a Copy of My Poems
The Poem
I can write no stately proem
As a prelude to my lay;
From a poet to a poem
I would dare to say.
For if of these fallen petals
One to you seem fair,
Love will waft it till it settles
On your hair.
And when wind and winter harden
All the loveless land,
It will whisper of the garden,
You will understand.
The Poet
Oscar Wilde. Read about other popular works by Oscar Wilde.. Read about other popular works by Oscar Wilde. is one of the best poets of the Victorian era. He is a genius when it comes to words and is known for his wide collection of plays, essays, novels, short stories, and poems.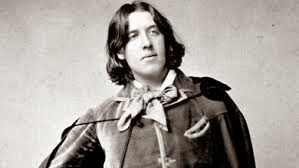 His quotes have still the inspirational essence that any person could be in need of.
The Review
'To My Wife- With A Copy Of My Poems' is a beautiful ballad that he writes to his wife.
He, in the very first stanza, puts forth a humble statement where he says he won't write a stately poem as a prelude to the poems he is giving her. His poems, like 'falling petals' would only manage to touch her hair but would not penetrate into her head or her heart.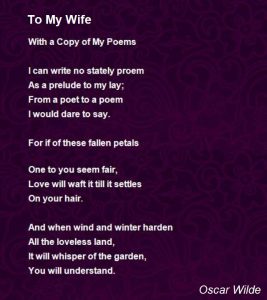 In the final stanza, he writes, when she will face troubles and will look for a way out, she will find the real meaning of the poem.
With a Copy of My Poems
This is a beautiful poem written with a lot of love for his beloved wife. This is really just a letter he attaches with the collection of poems he gives her. With a lot of depth and sincerity, this piece of his work is one of his best poems.
More Info On- Despair by Samuel Coleridge, Faded Flower by Samuel Coleridge