William Adolphe Bouguereau, a French academic painter, was born on the Atlantic Coast of France in La Rochelle on 30 November 1825. He starting showing his mysterious ability to draw from a very early age.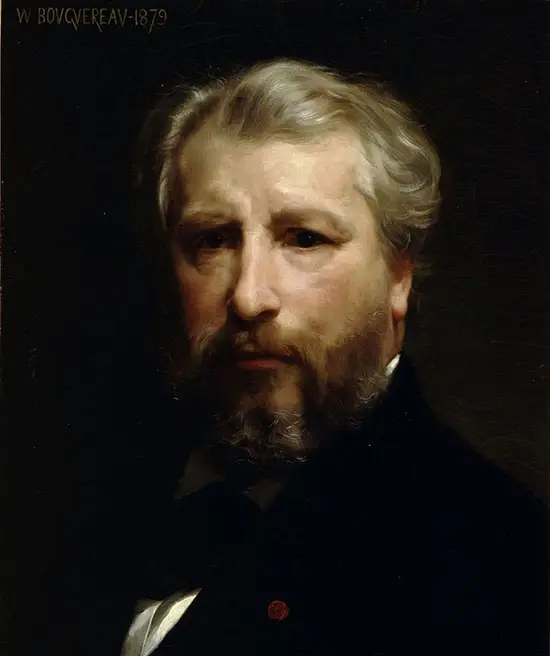 His uncle Eugene, who was a curate taught him Latin, Greek myths and told him stories from Old and New Testaments. Uncle took care that Bouguereau was sent to high school in Pons where he took his first formal drawing class.
His drawing teacher was Louis Sage, whose background and instructions when got mixed with Bouguereau's talent, the magic came out that the entire world admires till date.
Life of William Adolphe Bouguereau
Since William Adolphe Bouguereau's parents wanted him to join the family business, he did so in the early 1840s.
Once he started painting full fledge, he established a realistic approach and used mythological themes, made a modern interpretation of classical subjects as well as put emphasis on the female body throughout.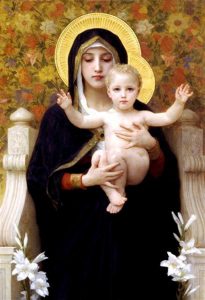 During his lifetime he did not only earned immense popularity in France and the United States but also received top prices for his works and many official honors as well.
William Adolphe Bouguereau Biography
As a boy, Bouguereau developed a love for nature, religion, and literature. Since he wanted to establish his career in paintings, he sold 33 portraits, unsigned, in three months. At the age of 21, in March 1846, he arrived in Paris.
At the age of 25, in 1850 he won Prix de Rome. His reward was to stay three years in Villa Medici in Rome, Italy, where he could study first-hand renaissance artists and their masterpieces, Greek Etruscan and Roman antiquities along with getting formal lessons.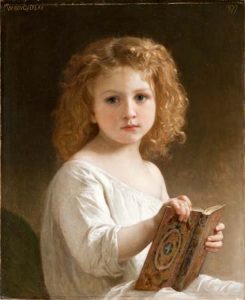 By late 1850s he had good connections with art dealers who helped clients buy paintings from the artists who participated in the exhibitions in Salons.
Bouguereau's fame reached England in 1860s. In his life, he also decorated many private houses and public buildings which actually added to his popularity and gave him early fame.
However, in the early twentieth century due to the revival in taste, Bouguereau's art fell out of favor with the public, but in 1980s Bouguereau's art and technique were rediscovered.
William Adolphe Bouguereau Technique
William Adolphe Bouguereau was a loyal traditionalist and his genre paintings, as well as his mythological themes, were classical subjects in a modern interpretation with a focus on naked female form.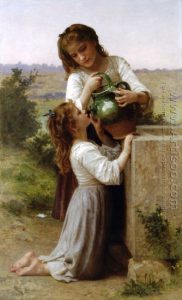 He brought to life bathers, shepherdesses, goddesses, nymphs and madonnas in a way that appealed a lot to the wealthy art patrons of the era.
William Adolphe Bouguereau Paintings
Bouguereau used old-style way of working up a painting, which included pencil and oil sketches. His careful manner of painting presented a pleasing and accurate version of the human form. Hands, arms, feet, and skin were specifically admired in his paintings.
He was considered a unique figure in the world of art. He is said to be giving a graceful and perfect treatment to his canvas. Bouguereau possessed unrestrained industry and enthusiasm.
Mythological and Religious Themes Arts
Although he painted portraits, the real bent was not found in them. He preferred mythological subjects and religious themes offering them with remarkable grace and loyalty to rule.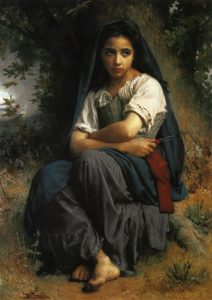 He gave the same smoothing away of individuality which could be seen in the weather-worn faces of the peasant children and women as well as with the goddesses who were made to float in misty ether in a gliding stream set in a conventional landscape.
His brush was very creative and his popularity went on growing with each of his work. The number of canvases is probably higher than that of any other contemporary artist.
Married Life
In 1856 William started living with one of his models, Nelly Monchablon, who was 19 years old at that time. They had three children by December 1861 after which they married quietly on May 24, 1866. He had five children with Nelly who died on April 3, 1877.

William wanted to marry his pupil, Elizabeth Jane Gardner, whom he knew for ten years but his mother did not allow him to do so. After the death of his mother, he, however, married Elizabeth in June 1896 in Paris. She was with William till the end of his life and died in Paris in January 1922.
Later Years of Bouguereau
Bouguereau was a diligent painter and even during his later years, he used to paint from dawn and all six days a week. He is known to have painted at least 822 paintings all through his lifetime.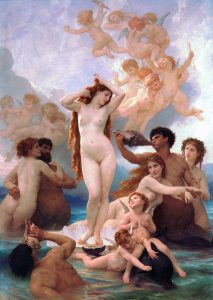 It is unfortunate that many of his paintings have been lost. Bouguereau died of heart disease at the age of 79 on 9 August 1905.
More Info On- The Birth of Venus by Bouguereau, William-Adolphe Bouguereau's Biography, Bouguereau William Biography: Fact