Prince William was the son of Prince George and Princess Anne. Princess Anne later became the Queen of England, Ireland, and Scotland.
Early Life of Duke of Gloucester
Before Prince William was born, Queen Anne had six pregnancies. The pregnancies were unfortunate as two had resulted in miscarriages, two stillbirths, and two live births. The two children who were born alive had died after a week or so because they suffered from smallpox.
On 24th July 1689, Queen Anne gave birth to a baby boy at 5 AM at the Hampton Court Palace. This was her seventh child who survived. The baby boy was declared Prince William after three days of his birth by his godfather King William III.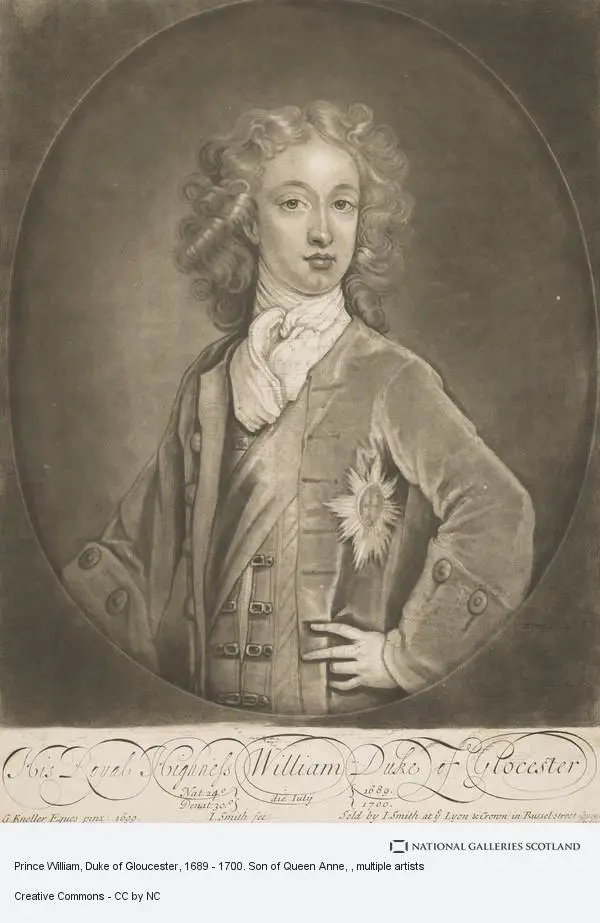 Queen Anne after William's birth had more ten unsuccessful pregnancies; which comprised of four miscarriages, four stillbirths, and two premature babies.
George Melville, 1st Earl of Melville had described Prince William as "a brave likely like boy" when he was born. Unfortunately soon after his birth, he suffered from convulsions which made the doctors worry and made them think he might die soon. After this Prince William resided in a palace that was given to him at Campden House near the Kensington gravel pits so that he could get more pure air.
He was taken outside daily in a tiny couch which was pulled by the Shetland ponies. He did not speak a word until he reached the age of three.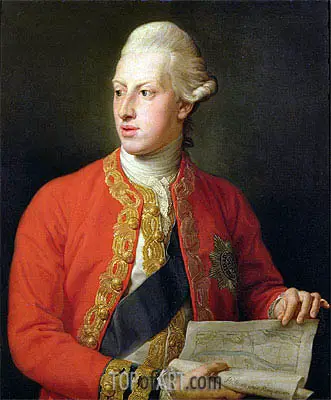 The modern medical experts felt the Prince suffered from Hydrocephalus. This is a condition in which excess cerebrospinal fluid builds up within ventricles which leads to an increase in pressure within the head. Symptoms of Hydrocephalus are enlarged head, problems in balance, poor coordination, difficulty in walking, slowing in overall developmental progress, lethargy, drowsiness, and irritability.
Some of these symptoms were noticed in Prince William too. His head was a bit too long, round and big compared to the size of the heads of the children of his age. He was active but still, without help, he could not climb upstairs or come downstairs.
Achievements of William Duke of Gloucester
Prince William's education was a bit delayed because he suffered from speech difficulties. He was primarily appointed a tutor, who taught him subjects like Geography, Mathematics, and languages like Latin and French.
Queen Anne had issues with her brother and sister in law, i.e. King William and Queen Mary. But she wanted her son to have good ties with them and just to heal the rift she had invited both of them to the Kensington Palace where Prince William who loved stories of war and had a troop of his own of local boys called "Horse Cards" had performed a drill in the presence of his uncle King William and aunt Queen Mary.
On his seventh birthday, Prince William was appointed as the Knight of the Order of the Garter at St. George's Chapel, Windsor Castle. When he turned eight, he had started studying about religion and government and had made remarkable academic progress.
William Duke of Gloucester's Death
When Prince William celebrated his eleventh birthday, he suddenly suffered from fatigue. Initially, everybody thought it was far too much of dancing but later he was suffering from sore throat and chills accompanied by severe headache and fever.
The doctors came in and treated but unfortunately, his health deteriorated more and he suffered from rash and diarrhea. Some doctor said it is scarlet fever and some said it was smallpox. He suffered for almost a week and he died on 30th July 1700 at Windsor Castle.
The legacy of William Duke of Gloucester
After Prince William's death, The House of Stuart had no Protestant heir and the Parliament then enacted the '1701 Act of Settlement', where the British throne was given to Sophia of Hanover and her heirs, a granddaughter of King James I. After Queen Anne's death, Sophia of Hanover's son had been given the British throne as King George I.
In 1699, Virginia's General Assembly created Williamsburg as the capital's colony. It was ordered that the main street will be named after "Name of Duke of Gloucester Street. " If one visits Colonial Williamsburg today, he/she can walk on Duke of Gloucester Street, which runs from the House of Burgesses to the main entrance of The College of William and Mary. The locals and the students call it DOG Street.