William Henry Hamilton Trood was a British born painter, specialized in painting dogs or other animals. Trood was an equally famous sculptor of the glorious Victorian era in English history.
William Trood's Early Life and Education
Being born in 1848 as a person who was both deaf and dumb, Trood did his schooling in England. From his youth, Trood had been so immensely compassionate towards dogs that he spent most of his childhood days playing around with dogs and observing them very carefully.
Trood used his excellent observation skills in pulling out paintings of different dogs in different postures ever since he was just four years old. However, he himself admitted that most of the paintings of dogs that he painted until he was twenty weren't actually painted properly.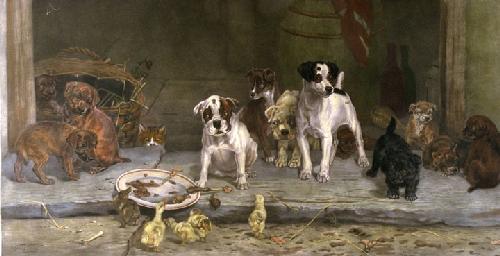 Trood's eagerness to paint animals was so extreme that there were times when he would pet animals such as menagerie, fox, badger, and an otter in his room as well as the back garden of his contemporary studio in Chelsea.
He even tried to hypnotize his own pet dog to pull out a painting of the dog but his plan went in vain as the dogs' eyes looked too unrealistic.
Trood exhibited his works regularly in England, mostly at the Royal Academy from the period 1879-1898 and also at Suffolk Street, The New Watercolor Society, Grosvenor Gallery and also a lot of other places.
William Henry Hamilton Trood 's Personal Life
William Henry Hamilton Trood 's personal life and professional career coincided with the sudden rush  in vogue of dog painting fuelled by Queen Victoria's interests (Queen Victoria had most of her dogs painted
And she had a total of seventy paintings of her own pet dogs at the time of her death) as well as the ever-increasing affection towards keeping dogs as pets.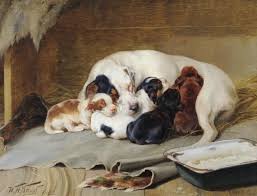 However, breeding too was becoming an even more serious pastime and the first dog show was held in London in 1886.
It became ever more appealing to have ones' dogs painted and Trood's perfection to portray the love and affection in which people held their pets led him to an extremely successful career.
Major Achievements of William Henry Hamilton Trood as an artist & Painter
Trood was a famous artist of his contemporary times. He had a very good sense of composition with the help of which he had drawn beautiful pictures.
Famous contemporary actor and apprentice of Trood, Henry Lytton said that Trood would have been a great actor if he was not deaf and dumb for the excellent facial expressions that he would carry around.
Henry Lytton adds that he and his master Trood would contrive to visit the theatres even though his master Trood could not hear, he would love to study the color effects on the stage and also that Trood had an uncanny talent for the following course of the plot.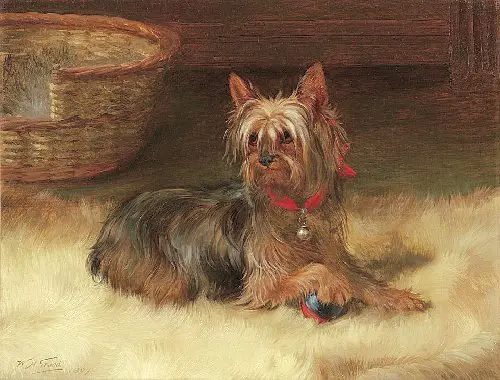 It is also to be noticed that back in the day, the painting industry was not as pumped up as today and there was very little in the industry to make a profession out of it.
Trood exhibited regularly at the Royal Academy from 1879 to 1898. He also exhibited at Suffolk Street, the New watercolor society, Grosvenor Gallery and many other places.
William Henry Hamilton Trood Biography
The romantic aspect of the canine genre had been popularized by Sir Edwin Henry Landseer (1802-1873) and Richard Ansell, RA (1815-1885).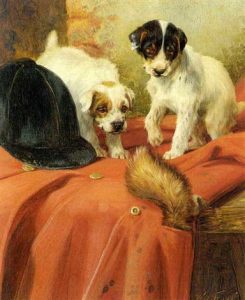 Trood, later in the century was a prime exponent of the sentimental aspect with exhibition works such as "Feel Better Now", "Dinner Time – Very Hungry", "Home Sweet Home" and  "A Plaintive Duet", all works portraying dogs in an Anthropomorphic sense.
The great Victorian painter William Henry Hamilton Trood took his last breath on 3rd November 1899 in London, United Kingdom.
More Info On- Joseph Solomon, Antoine Louis Barye, William Herschel