Victorian Era Clothes Valet Role, Salary, Duties
What was the Role of Victorian clothes Valet?
A valet or a lady's maid is a personal servant of his or her master or mistress, respectively. They are the in charge of everything related to their masters.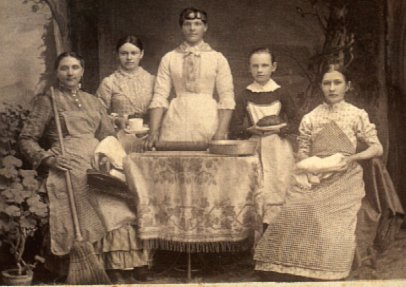 They attend to their guests, hatters and such other person or persons who make clothes or shoes for their masters. While they are to be civil, they must also have an upper hand while dealing with the later.
What were Victorian Clothes Valet Duties during the day?
The valets and the lady's maid's morning duties include lighting the fire in their Master's or mistress' room, bringing them their clothes, ironing their apparels and beating their woolens once they leave for the day.
They are supposed to be good hairdressers and must have known about the recent fashion. They are the ones who select the dresses for their masters or mistresses so they must also keep in mind their personal preference.
Victorian Era Society
George Bernard Shaw in his play, Arms, and the Man, wrote about a like scenario. He had depicted a society which was layered into different classes. The people belonging to the higher strata depended almost completely on the people belonging to the lower ones. The rich were far from being self-sufficient and were, thus, helpless without their servants.
Domestic Servants in Victorian England
Shaw had introduced two characters in his play. Both were serving the same family. While one, Nicola, was the perfect valet with "the soul of a servant", Louka was a rebel for a maid. Nicola represented a perfect servant while Louka, as one might rightfully argue, could have been the voice inside a servant's head.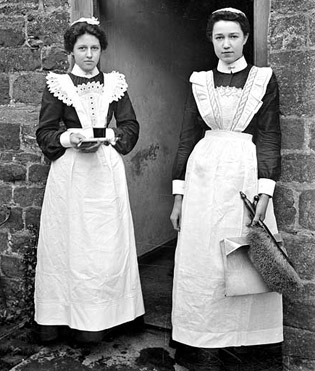 The hypocrisy of the then society is exposed when one realizes the superiority of the servants as compared to their masters. They not only took care of everything related to their masters but also were self-dependent.
Victorian Era Clothes Valet Role 
They were knowledgeable people who knew not only good manners but also various other subjects like hairdressing besides knowing other languages. Their masters, on the other hand, needed everything to be done for them. How could cleaning or doing something for someone else degrade the one doing it if it did not degrade the person it is being done for?
The pay, however, was unbelievable! A valet or a lady's maid received something around $2,100-3,200 per year. Being too high for the Victorian era, no wonder it was, but, a coveted job!
More Info On- Victorian Fabrics and Colours, European Clothing From the Victorian Era, Victorian Clothing