Edwin Henry Landseer was known as an animal painter. His paintings were different than the rest during the Victorian Age because the paintings were seen to have moral dimensions. Landseer was the youngest among seven siblings.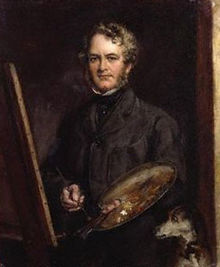 Edwin's father was an engraver and he encouraged his son to take up art and excel at it. It is noted that Landseer's first illustrations were those of animals. In his youth, he became a serious anatomy student under B R Haydon.
Edwin Henry Landseer's Early life as an Artist
Landseer started to exhibit the Royal Academy from 1817. Due to his proficiency in his field, he rose to fame. This, along with him painting animals, paved the way into the aristocratic society. He was elected the ARA at the Royal Academy at the age of 23 and became a full RA in 1831.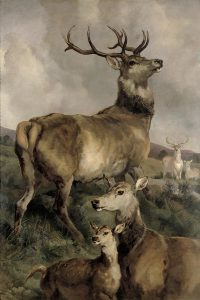 Landseer caught the eye of Queen Victoria when he produced a painting of her favorite King Charles Spaniel Dash. He earned a place in court and became the Queen's and the King Consort's favorite artists.
When the Queen and King Consort first discovered Scotland and bought their castle, Balmoral, Landseer visited them to paint a group painting of the royal family. It was that year when he was knighted. However, he could not finish the painting.
Edwin Henry Landseer: Mental Breakdown 
In 1840, a few months after the death of his mother, Landseer had a mental breakdown and never fully recovered from it. To add to the problems, the failure of the royal family painting also brought down his self-esteem and morale to a great extent.
He had to take a break from his career to try and get better. He traveled around Europe during this time and made numerous illustrations of the people and the animals of the countries he toured. Landseer traveled with the reputed artists and chemist Jacob Bell.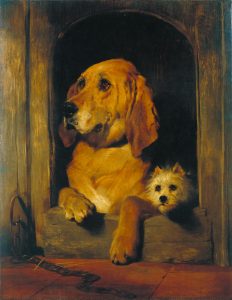 Bell took care of his day to day tasks which was now impossible for Landseer to do. After returning home, the fallen artist was looked after his aunt and his sister. He became increasingly dependent on drugs and alcohol and this was the start of his downward spiral.
In 1850, Landseer was knighted and his problems, which included depression, and substance abuse did not stop him from painting. Instead, his paintings depicted violent and disturbing visuals. In 1866, he declines the Presidency of the Royal Academy.
Landseer's Deterioration and Death
While the creative artist in him wanted to keep painting, Landseer's mental health started it gradual deterioration in the 1860s. Due to this, he was confined indoors most of the time and that took a toll on him.
Edwin Landseer Lions
However, he still created works of art. The biggest commission he received was during this time. Landseer created the Lions of Trafalgar Square. By 1872, he was certified as insane and died on OctobeLions of Trafalgar Square 1st, 1873.
Edwin Landseer Monarch of The Glen
Through Landseer's life as an artist, he visited Scotland a numerous number of times because he fell in love with the Scottish Highlands. His painting 'The Monarch of the Glen' (1851) was one of the paintings which were inspired by the scenery.
More Info On- George Meredith, Frederick Richard Pickersgill, Lord Byron, William Lamb, Mary Shelley, John Carlin