Emily Murphy's Early Life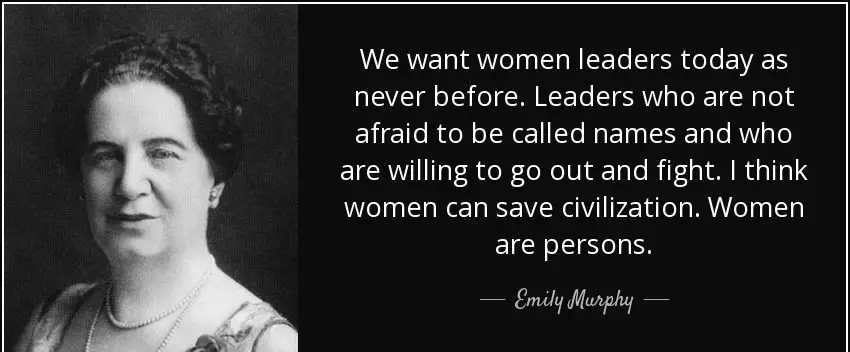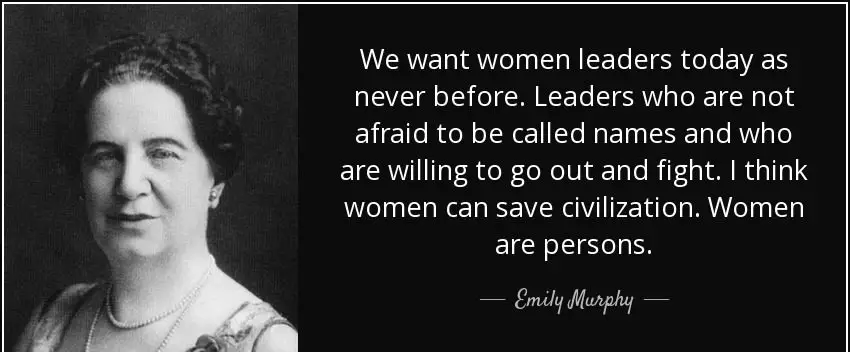 "I think women can save civilization."
Emily Gowan Ferguson (Emily Murphy) was born on March 14, 1868, in Cookstown, Ontario, Canada. She was born in a family of a prominent businessman father Isaac Ferguson and her mother Emily Gowan Ferguson.
She was born in a family who were politically and legally well aware. Therefore, since her childhood, she has frequently discussed legal and political matters. Her relatives were all involved in a government work including two who were Supreme Court judges, another who was a politician.
It was her maternal grandfather Ogle R. Gowan who founded the Orange Order lodge in Canada. She was admitted to the private bishop Strachan School of girls in Toronto, Ontario at the age of fifteen.
She was given the education and imparted the skills which were eventually needed to become a good wife. Music literature, religion, physical activity etc. were some of the subjects in which women of that era were trained.
They were being prepared for the future ladylike image they would have to create for the society. Emily was never good at music, she used to like reading. She read a lot of books including the ones which were not considered as appropriate in the societal norms.
Emily Murphy's Marriage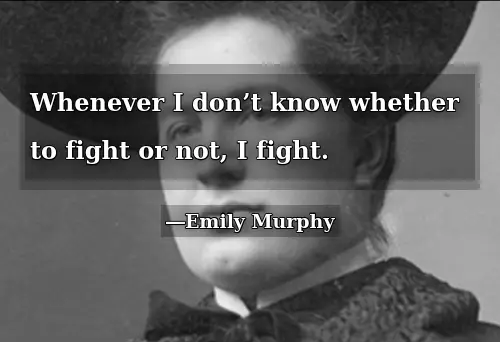 During her time at school, through a friend she met Arthur Murphy who was 11 years senior to her and was preparing to enter into politics. On August 24, 1887, soon after her graduation, Emily's marriage with Arthur murphy took place at the Anglican Church in Cookstown.
Children
Emily and Arthur had four offsprings the eldest Kathleen born in 1888, Madleine and Evelyn born in 1893, and Doris the youngest born in 1896. Unfortunately, Madleine died at 9 months due to premature birth, and Doris died in 1902 of diphtheria. After the death of their children, the Murphy Family moved to Manitoba and then to Edmonton, Alberta in 1906.
Some of her literary works
In 1900-1906 she started writing traditional and patriotic travel sketches under the pseudonym Janey Canuck. Her most famous ones are Seeds of Pine (1914), Janey Canuck in the West (1910), Open Trails (1912) and The Impressions of Janey Canuck Abroad (1901).
Her social work
After she moved to Alberta she started writing about the social causes and issues, especially regarding women and children. She even started working for the welfare of women and children concerning wages and poverty issues.
What did Emily Murphy do for women's rights?

She soon became the first woman to get appointed at the Edmonton Hospital Board. She was much concerned about the rights of a woman in the world of patriarchy and they that law does not safeguard them at all.  She was shattered after reading the law which did not provide any property rights to women.
She started to campaign about the cause and various protects and awareness programs were conducted here. But it was only after a few years that her hundreds of speeches and posters were acknowledged by law. In 1916 finally, the women were given 33.33% in their husband's property protecting their fundamental right to life.
Emily Murphy was the First Female Magistrate

She soon started another protest in favour of trials of prostitution where she claimed that if women cannot be tried in front of women and are tried in front of men then a female judge should be appointed especially for the prostitution trial.
Emily felt that it was wrong that a trial for prostitution is held in the presence of only men. Due to the protest, she was appointed as the female magistrate. She was the first-ever lady police magistrate in the British Empire, to try the cases of prostitution. During her first case on 1 July 1916, her decision was challenged under BNA act 1867, which claimed her decision to be invalid due to her being a female.
Due to the challenge, she started a long protested to help women come under the title of 'person' under the BNA act. In the same year, she applied for the post of the senate but it was denied by the prime minister Robert Brown himself that since women do not come under the category of 'person' it cannot let her stand for the position of the senate.
She then fought against this injustice and laid the reform known as the famous five, with the help of Nellie McClung, Henrietta Edwards, Louis McKinney, and Irene Parlby to amend laws. The case is known as the person's case.
Candidature for Senate


However in 1928, the supreme court held that women are not included in person under the law, but eventually, after the appeal at the privy council on 18 October 1929, declared that women re very much eligible to apply for a senate position.
During her social works in the 1920s, she came across many issues of concern among which was the drug abuse most among the Chinese immigrants. She wrote a novel The Black Candle dealing with the issues of drug abuse and addiction problems especially the use of opium and cocaine.
'The Black Candle' book by Emily Murphy
In her book, she claimed that the problem was spreading because of the immigrants and there they should be sent back to their countries.  She was supportive of the Eugenics movement. She supported the idea of only sane people living in the country and only balanced minded give birth.
The idea of birth control and save the resources and world from greediness was one of the very rigid thoughts of Emily Murphy.
Emily Murphy's sad demise
After accomplishing so much for women and children rights, she died on 27 October 1933. Though, she died without ever becoming a member of the senate she created a path for the upcoming women who could within law be a member and exercise their equal rights in politics.