Lydia Sigourney was a poet during the 19th century. Her most known nickname was Sweet Singer of Hartford, Hartford is a city and capital of Connecticut.
She is one of the first women in America who succeeded in the career of literature. She published under Mrs Sigourney. Much of her work is forgotten now.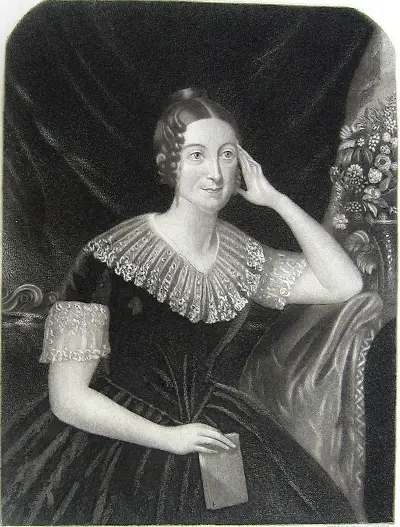 Early Life and Death
Lydia was born on 1 September 1791 in Connecticut, United States. Her father was Ezekiel Huntley, who was married to Lydia Howard and she died soon after her marriage. Her mother was Zerviah Wentworth, Ezekiel married her after the death of  Lydia Howard.
She got her education in Hartford and Norwich, local schools near her house.
Lydia loved her parents so much that in her autobiography, she mentioned how she didn't want to marry just because she didn't want to leave her parents. She wrote in her biography:
"I had . . . reason for avoiding serious advances. My mind was made up never to leave my parents. I felt that their absorbing love could never be repaid by the longest life-service and that the responsibility of an only child, their sole prop and solace, would be strictly regarded by Him who readeth the heart. I had seen aged people surrounded by indifferent persons, who considered their care a burden, and could not endure the thought that my tender parents, who were without near relatives, should be thrown upon the fluctuating kindness of hirelings and strangers. To me, my father already seemed aged, though scarcely sixty; and I said, in my musing hours, Shall he, who never denied me aught, or spoke to me otherwise than in love-tones, stretch forth his hands in their weakness, "and find none to gird him?"
Lydia died in 1865,  June 10th, in Connecticut's capital Hartford, United States. John Greenleaf Whittier wrote a poem for the memorial. The poem was:
"She sang alone, ere womanhood had known
The gift of song which fills the air to-day:
Tender and sweet, a music all her own
May fitly linger where she knelt to pray."
Marriage
Lydia married Charles Sigourney in 1819, June 16th. She started writing but didn't use her name and published anonymously. Charles Sigourney, who was a widower and he had three children with his first wife. Lydia and Charles had five children together, three of them died.
Career
After Lydia got married, she was devoted to writing. Her husband requested her to publish anonymously but later when her parents needed money, she made writing her occupation. She was successful in no time.
Lydia wrote more than 2000 articles and 67 books in her lifetime. She wrote many essays and poetries too.
Famous Works of Lydia Sigourney
In 1815, while Lydia was a schoolteacher, she published Moral Pieces in Prose and Verse. In 1833, she published Letters to Young Ladies, which was reprinted 25 times and was her best-known work.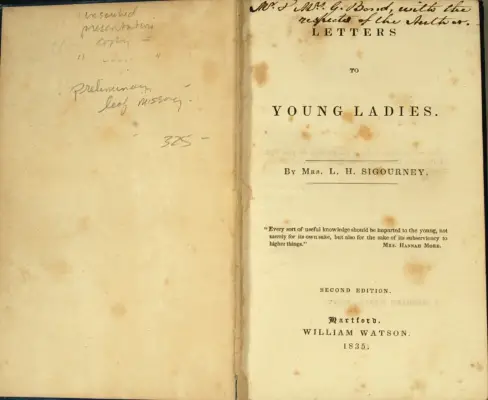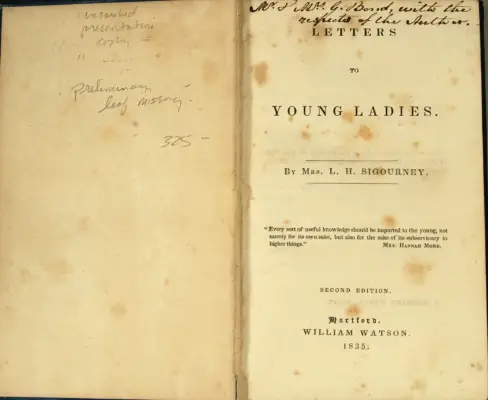 Lydia mainly wrote about religion, responsibility, and death. Her writings also showed her belief in the Christian faith. She wrote poems for friends and neighbours who died recently. Her work was considered as death literature. Her books were about how women should read and speak aloud. She also mentioned that there should be reading societies only for girls or women.
In 1837, Lydia published her second book, Letters to My Pupils, this book focuses on conversation and pronunciation and also says that even if a woman is not going to speak publicly, she should learn everything.
Lydia suggested that women should have these three qualities in their conversation like comfort, instructive and should be pleasuring. She suggested that women can change society by writing, teaching, etc.
Lydia also worked for Godey as an editor. In 1840, she went to Europe for a tour and met many writers and she wrote about that tour in her Pleasant Memories of Pleasant Lands, which was published in 1842.
Famous Poems by Lydia Sigourney
The Indian Names
In Indian Names which she again wrote about the people who died fighting:
"Ye say they all have passed away,
That noble race and brave,
That their light canoes have vanished
From off the crested wave;
That, mid the forests where they roamed,
There rings no hunter's shout,
But their name is on your waters,
Ye may not wash it out."
The Suttee
She also mentioned "sati", a tradition which was followed in India, in which after the death of one's husband, the wife was sent to burn alongside the husband's body at his funeral. The poem was on the point and very powerful. Poem's opening words were "She sat upon the pile by her dead lord".  She also said that it's not right how the people of her society were in agreement with the ritual and believed that whatever she is doing is her love.
Her other famous work was Illustrated Poems, a series of poems published in 1949.
Other Works by Lydia Sigourney
In 1811, Lydia opened a school for girls in Norwich with Nancy Hyde, her friend. The school was forced to shut down when Nance couldn't teach anymore as she was ill. She again opened a school in Connecticut's capitol Hartford which was open from 1814 to 1819.
In Hartford, Lydia met Daniel Wadsworth through her friend. Daniel helped Lydia to open a school, he convinced the parents of her daughter's friends to join this school.
He edited her work Moral Pieces in Prose and Verse and later helped to publish. In her school, there was a deaf girl and Lydia taught her, to write and read.
Lydia admired the profession of teaching, she said "Teachers should be held in the highest honour. They are the allies of legislators, they have agency in the prevention of crime, they aid in regulating the atmosphere, whose incessant action and pressure cause the life-blood to circulate, and to return pure and healthful to the heart of the nation."
Legacy of Lydia Sigourney
Iowa's county seat was named in Lydia's honour. In that county courthouse, there is a painting of Lydia, a portrait.
Lydia during her career inspired women to get an education and do better for themselves, their family and society. In the 19th century, when the Lyceum Movement was happening, women named study clubs and literary societies in her honour.
In 1886, Letters of Life, the autobiography of Lydia Sigourney was published. One more biography of Lydia came out, written by Haight. He described her writing as "hack work".