Marianne Hearn was a writer of the Victorian era and she was one of the first women writers to come from lower classes. She used to write hymns, biographies, poems, and articles.
Early Life and Education of Marianne Hearn

Marianne was born in Kent, in a small town Farningham, in 1834. Her parents were Joseph Hearn, a religious from Baptist denomination, and his wife Rebecca Bowers. She was the eldest of all her siblings.
Marianne was interested in studies from a young age, she was desperate to learn to read. So seeing their daughter's desperation to learn, her parents sent her to Isabella, the paster's daughter, she taught her the basics of reading and writing.
She was also learning household works in her home and her parents used to read the Bible to her, so she could gain the wisdom needed for a good life.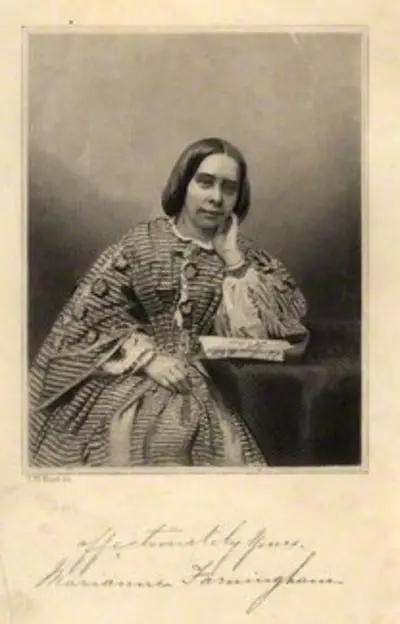 Soon Marianne's little brother died and it affected her deeply. Following the death of her brother, her mother also passed away in 1846. Due to this, she had to manage the house too now, as she was the eldest she now had to take care of all her siblings. This interrupted her studies and she said she regretted that she couldn't focus when it was most needed.
Soon there was a new British School, opened by British and Foreign Bible Society, her father allowed her to go and get an education there. This was the starting of her real education. The headmistress of the school was Eliza Hearn, they were not related. Eliza helped Marianne in many ways and kept motivating her to learn.
Marianne never got married and had no children. She once said "that the sheltered life of a married woman was not God's will concerning me",
Literary Career of Marianne Hearn
Marianne give credits to Felicia Homes, said she was the inspiration to pursue a career in poetry. She read A Better Land and admired the work, this was her first reading. Marianne's first poetry was about a dead frog which she found in her garden, after knowing that it was dead, they buried it in a matchbox properly.
In 1866, Marianne decided to pursue the writer, she started writing for Christian World, a weekly newspaper founded by Jonathan Whittemore, her Baptist pastor. She used to write poems and articles and never stopped working for this newspaper. She started using the name "Marianne Farningham" while she was working here. It was first seen in the newspaper in 1857, April 9th.
She started working as an editor in Sunday School Times in 1885, she had worked for them before and was paid £50 annually. She had friends who had similar ideas that women from lower classes should get an education too, some of them were Frances Power Cobbe and Mary Carpenter.
Marianne started writing about "women's rights" when she was writing under the name "Marianne Farningham". But later she started using a different name "Eva Hope", she wrote many biographies under this name, some of the famous ones are Queen Victoria, David Livingstone, and Grace Darling.
Although she wasn't a feminist she reflected the idea of encouraging women to earn their bread and that no one should be dependent on someone else for their daily bread.
Later in 1907, she wrote an autobiography, A Working Woman's Life. In this autobiography, she wrote "I have had frequent misgivings while writing this autobiography, for I know of no particular reason why it should have been written; and it has appeared very egotistic to do it…My hope is that it may be useful, especially to girls and women who are timid as to the years before them and the duties they have to face. We change our mottoes as we proceed through life."
Hymns by Marianne Hearn (Marianne Farningham) 
During the beginning of Marianne's Career, religious people were attracted to her because of all the poems and hymns she wrote and her belief in Christianity. She wrote numerous hymns during her entire life and the best-known of them was Just as I am, Thine Own to Be, although this wasn't her work, she modified Charlotte Elliot's Just As I Am.
Marianne wrote on very different topics at the same time, sometimes she would write about how she felt that women should be independent and capable of earning. In 1869 she wrote, "Why not live to some purpose, benefiting ourselves, and thereby all who are dear to us?"
On the other hand, she wrote about her home and how was it during the Victorian era, an example of this is her poem "God bless our home"
"O snug little nest in a shelter so cheery,
O place of sweet rest for the troubled and weary;
No spot is so dear to the heart, nor is any
Ignored by so few, or beloved by so many;"
Some of her other well-known hymns include A Blind Man's Story, A Goodbye at the Door, and The Last Hymn.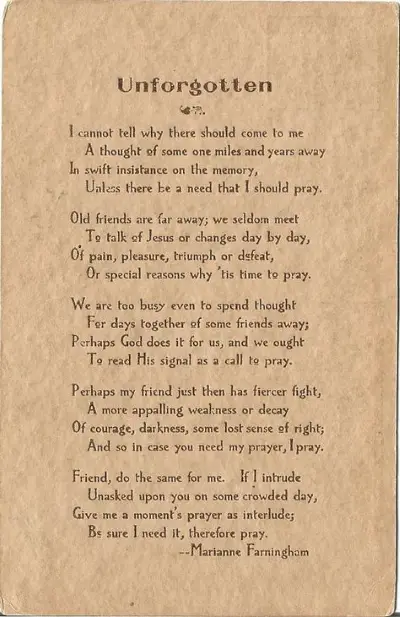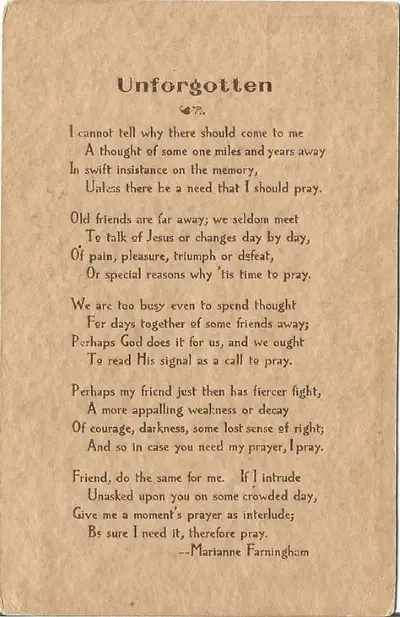 Teaching Career
After getting an education at British School, she became a teacher in British School but in different places like Bristol, Gravesend, and Northampton. These are the three British Schools she taught in.
While writing poetry for different newspapers, she gave some lectures on "The Rush and Hush of Life" and "The Women of Today" in her late 70s and early 80s. She was a member of Northampton School Board from 1886 to 1892, she was the only female there.
Later Life
Marianne rented a place in Barmouth which had a nice view of the sea. She loved this place and came often and said that "here have gracious summer-times almost renewed my youth, and caused my heart to sing for joy. How much I wish everybody could have such a haven!" She spent a significant part of her life here.
Death
Marianne Hearn died in 1909, March 16th, and her burial took place in Northampton, in Billing Road Cemetry. She left a total of £602, which was distributed to her friends as she wanted.
Legacy of Marianne Hearn (Marianne Farningham)
In 2009, after a hundred years of her death, a book was published in her honour. The next day Times had an article on Marianne saying "for half a century well known and very popular amongst a large section of the religious public."