Henri Fantin Latour was a French painter as well as a lithographer. He was not only best known for his flower paintings but also for the group portraits of Parisian artists and writers.
Early Life of Henri Fantin-Latour
He was born on 14 January 1836 to Ignace Henri Jean Théodore Fantin Latour in Grenoble, Isère. During his youth, his father gave him drawing lessons as even his father was an artist. He entered the Ecole de Dessin in 1850. In the Ecole de Dessin, he studied with Lecoq de Boisbaudran.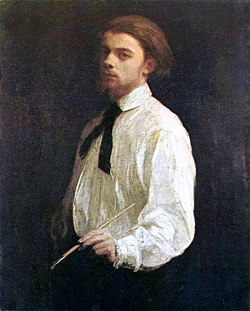 After completing his studies at the École des Beaux-Arts in Paris during 1854, he devoted much of his time in copying the works of the old masters in the Musée du Louvre.
Although he was befriended by some of the young artists who later associated with Impressionism, such as Whistler and Manet, the own work of Henri Fantin-Latour remained conservative in style.
Still life by Henri Fantin-Latour
In England, Whistler brought attention to Fantin where his still-lifes sold so well. Still-lifes is a kind of artwork which depicts mostly inanimate subject matter and they were practically unknown in France during his lifetime". In addition to his realistic paintings, he also created imaginative lithographs after being inspired by the music of some of the great classical composers.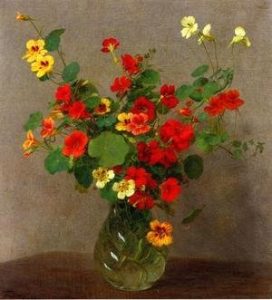 In 1875, Henri Fantin-Latour married Victorian Dubourg who was his fellow painter. After his marriage, he spent his summers on the country estate of his wife's family at Buré, Orne in Lower Normandy.
Henri Fantin Latour Biography
In two of his paintings, "Roses In A Glass Vase" and "Roses And Nasturtiums In A Vase", he paid a great attention to light and shadow.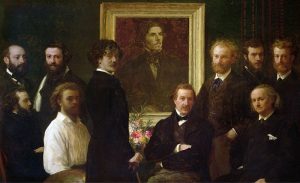 These two factors were the main subject in any still life painting of Henri Fantin-Latour.
Henri Fantin-Latour Flowers
To every petal, thick strokes were applied by him. Not only this, but he also mastered the luminous effect which makes the appearance of flowers to be life-like.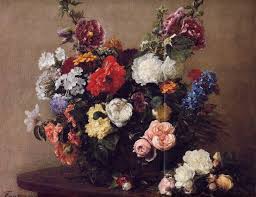 He was so much captivated by the beauty of flowers. He was considered as a master of his own time for painting the subtle effects of light as well as illuminating simple subjects such as "Plate of Peaches".
Works by Henri Fantin-Latour
In 1861 at Salon in Paris, he had his first exhibition. In 1862 also he was a part of an exhibition along with Manet, Legros, Whistler, and Jogkind as he joined the Societe des Aquafortistes. in 1863, one of his paintings, "Feerie" was displayed at the Salon des Refuses.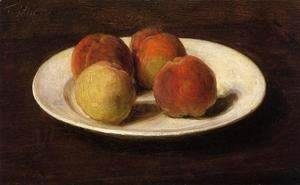 He had close contacts and friendship with Impressionists but even though he rejected their theories and further he never took part in their exhibitions. Many of his lithographs as well as his paintings are inspired by imaginative themes. He was awarded the Legion d'Honneur medal. 
The Legacy of Henri Fantin Latour
"In Search of Lost Time', Marcel Proust mentioned the work of  Fantin-Latour. Prince said the following lines after pointing to unfinished watercolors of Mme de Villeparisis's, "Many young women's hands would be incapable of doing what I see there".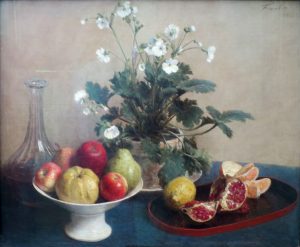 And the lady was questioned by Prince if she had seen the flower painting by the artist Fantin-Latour which was recently exhibited. (The Guermantes Way)
Henri Fantin-Latour Paintings
In April 2011, his first major UK gallery exhibition in 40 years took place at the Bowes Museum. During 2016 and 2017, Musée du Luxembourg presented a retrospective exhibition entitled "À Fleur de Peau".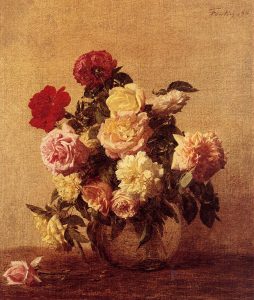 In 1983, The painting "A basket of roses was used as the cover of New Order's album Power, Corruption & Lies by Peter Saville in 1983.
Public collections holding Works by Fantin-Latour
Art Gallery of the University of Rochester
Art Institute of Chicago
Arthur Ross Gallery
Ashmolean Museum (University of Oxford)
Birmingham Museum & Art Gallery (UK)
Bowes Museum (County Durham, England)
Carnegie Museum of Art (Pittsburgh, Pennsylvania)
Clark Art Institue (Williamstown, Massachusetts)
Cleveland Museum of Art
Detroit Museum of Art
Dixon Gallery and Gardens (Tennessee)
Harvard University Art Museums
Hermitage Museum
Like other artists of his time, even he loved the music of Richard Wagner and Robert Schumann. Finally,  Henri Fantin Latour died on 25 August 1904. Through his paintings, one can directly see the connection between an artist and his paintings. His paintings clearly give the essence and stories behind the pictures.
More Info On- Lilly Martin Spence, Henry Moore, Lord Byron, George Frederic Watts, Henry Peters Gray