Henry Peters Gray ( June 23, 1819 – November 12, 1877) was an American portrait and genre painter. He was born in New York City and were a pupil of Daniel Huntington in New York, and later on, went to Rome and Florence for further studies.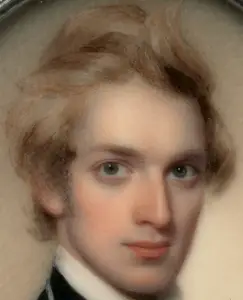 In 1842 he was Elected a member of the National Academy of Design and in 1870 he succeeded his master Huntington as its President.
Early Life and Career oF Henry Peters Gray
Born in New York City he was a pupil of Daniel Huntington in New York, and subsequently studied in Rome and Florence. He was educated in public schools of the city and gradually he discovered his talent, as a student, he started sketching with pencil on his slates.
The later years of his life were devoted to portrait work. He was strongly influenced by the old Italian masters, painting in yellow color with a classical tendency.  Under the guidance of his celebrated master Huntington, Henry went to Europe for his further studies.
Henry Peters Gray Biography
He was a quick learner and equally hardworking, soon after his return from Europe, he displayed his works in New York studio. His paintings were both of daily life and also historical studies. He later worked on his characteristic creations influenced by various galleries of the continent of Europe. One of his notable canvases was an allegorical composition called "The Birth of our Flag" (1875).
after coming back from Europe he became known and earned respect among all for his perfection in his profession.soon he took the place of his masters. He went to Florence in 1871, remaining until 1874 wherein 1877 he breathed his last.
Henry Peters Gray's Style Of Painting
His style of painting that was very simple, normally he, in his paintings defied the rules of conventional art. He created magic with his brush and went on to record such an image that was way beyond the conventional canvas.
In Florida, he studied the old Venetian masters, especially Titian, and thus largely developed his love for classical subjects. His later years were devoted to portraiture, and he left over 350 portraits
Famous 

Works 

Of Henry Peters Gray
The Wages of War (1848)

The Wages of War (1848)

The Greek Lovers(1846)

The Greek lovers

The pride of the village (1858-59)

The Pride of the Village

The Birth of our flag (also known as Origin of American Flag) 1974

The Birth of our flag

Spirit of the times 1861

The spirit of the times
More Info On- Lilly Martin Spence, Henry Moore, Lord Byron, George Frederic Watts