John Anster Fitzgerald (1819-1906) was a famous Victorian-era painter who was nicknamed as "Fair Fitzgerald" for his style of painting. His paintings mostly contained images of shaitans, demons, and references to drug use. He mostly painted dark to give justice to his themes.
Early Life Of John Fitzgerald
Fitzgerald was of Irish ancestry, he was the son of the minor poet, William Thomas Fitzgerald. In 1849 Fitzgerald married Mary Ann Barr and had four sons and two daughters. His younger daughter, Florence Harriet Fitzgerald (1857–1927), was a painter and sculptor. She married landscape artist Walter Follen Bishop (1856–1936) in 1889.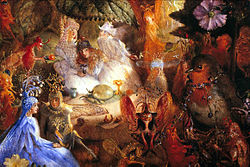 Not much is known about his early life and travels and therefore it has been inferred that as an artist he has been largely self-taught. His Fellow members at Savage Club, London remarked that Fitzgerald was not very social and had very limited social connections with other artists.
John Anster Fitzgerald Biography
His first works were displayed in 1845 at The Royal Academy of Arts, London, The British Institution, the Society of British Artists, and the Royal Watercolour Society also exhibited his work. In the late 1850s, a series of Christmas fairies for The Illustrated London News was also created by him.
John Anster Fitzgerald's Style Of Painting
Fitzgerald represented the Victorian drug scene in most of his paintings, he depicted the opiums and drug-related things. Some of Fitzgerald's paintings, like The Pipe Dream and The Captive Dreamer, suggest that "Fitzgerald was familiar with the opium dens.
John Anster Fitzgerald Alice in Wonderland
Fitzgerald created paintings out of pure fantasy, which did not have any literary theme. He used brilliant colors, blues, and purples. he painted dark to depict the ghosts and demons otherwise.
He produced a major series of paintings on the Cock's theme—among others, Who Killed Robin?, Robin Defending his Nest and Fairies Sleeping in a Bird's Nest. The Royal Academy which displayed his first works also displayed his final work in 1902, a picture of Alice in Wonderland.
Famous Paintings Of John Anster Fitzgerald 
His most memorable paintings are reminiscent of the works of Pieter Brueghel and Hieronymus Bosch. This self-taught artist painted beautiful pictures, some of them are:
Titania and the Changeling; Scene from 'A Midsummer Nights Dream'
Fairies banquet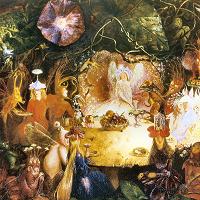 Fairy Hordes Attacking a Bat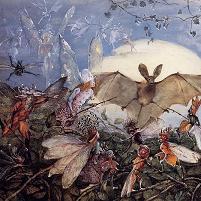 The Stuff that Dreams are Made Of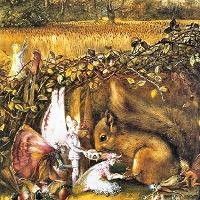 More Info On- Lilly Martin Spence, Henry Moore, Lord Byron, George Frederic Watts