Victorian American Sculptor Thomas Ball was born on June 3rd, 1819 in Charlestown, Massachusetts to Thomas Ball and Elizabeth Wyer Hall.
His father was a house and a sign painter who died when Thomas junior was twelve years old. Though he was American by birth, he had enough influence in England during his lifetime.
Thomas Ball Biography
After his father was deceased, he started to support his family. He worked in Boston Museum for three long years where he entertained the visitors by drawing portraits of them, playing and singing violin. He soon became the apprentice of the museum wood carver.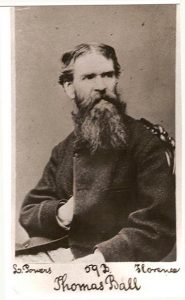 He also learned how to oil paint while making copies of the prints in the museum. Ball also performed at the Boston Church for which he was paid.
Playing and singing violin at the museum did pay him off because he soon began performing as a soloist with the Handel and Haydn Society in 1846, signing the title song in the first United States performance of Mendelssohn's "Elijah" and the baritone solos in Rossini's "Moses in Egypt".
Later life and career of Thomas Ball
His passion for painting had him working over several studios until he finally settled down working in Tremont Row for the next 12 years. Therein he painted several eminent personalities such as Cornelia Wells (Walter) Richards until he finally turned all his attention towards sculpting.
Amongst his earliest work was a bust of Jenny Lind, whom he saw at a tour in 1850 in the United States. The bust of Lind and Daniel Webster turned out to be very successful which was widely copied over time and sold.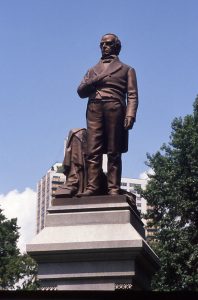 The two-foot statue of Daniel Webster made in 1868, which at present is placed in the Central Park of New York City is one of his famous work in his lifetime. He worked on it through photographs and engravings but finally saw him shortly before his death.
Thomas Ball Facts
In 1857, he with growing success in the sculpture profession, Ball married Ellen Louisa Wild and set sail for Italy in October 1854, aboard the steamer America, intent upon studying and working with the artists in Florence. He returned to Boston in 1857 to continue a project that was originally granted to Thomas Crawford, who failed due to his untimely death.
He was a member of an artistic colony in Florence, which also included the famous Elizabeth Barrett Browning and Hiram Powers. Ball made a bust of Franz Liszt whom he met in 1865 at the Vatican.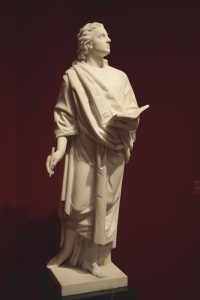 Although not a high school graduate, he received an honorary Master of Fine Arts degree from Dartmouth College in recognition of a series of portraits he had executed including Daniel Webster, Rufus Choate, William H. S. Smith, and President Nathan Lord.
Thomas Ball: Later life
Apparently, Thomas Ball never wished to attend any of his unveiling ceremonies because it was against his ethics. He avoided receiving an invitation for an unveiling ceremony of his statue of Gov. Andrew, which he later accepted and regretted as well leading to writing a letter.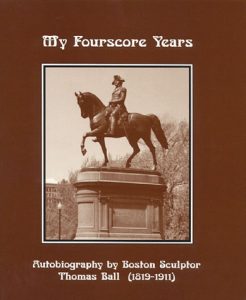 He mentioned "It was a mean thing to do. I am ashamed of it now, but I could not bring myself to stand on that platform and face the multitude." After returning to the United States he lived in Montclair, New Jersey while keeping a studio in New York City.
He published an autobiographical volume "My Threescore Years".In the next ten years, he then completed the sequel named "My Fourscore Years" which was later updated in 1890 as "My Three Score Years and Ten". He died in 1911 at the age of 92 in Montclair at the presence of his daughter and son in law, William Couper.
More Info on- Charles-Burton Barber's detailed biography, Jerome Thompson