What is Robert Southey popular for?
Robert Southey is an English poet of the Romantic school and a Poet Laureate. He is primarily popular for his poem After Blenheim and the original edition of Goldilocks and the Three Bears.
Like William Wordsworth and Samuel Taylor Coleridge, Southey starts being as a revolutionary but became steadily more traditional as he progresses.
Robert Southey's prose is superior to his verse. Contrarily His prose works, are the masterpieces for English prose like the Lyrical Ballads of William Wordsworth and Coleridge.
He is probably the most versatile, according to his fellow romantics. Coleridge titles him as the complete man of letters.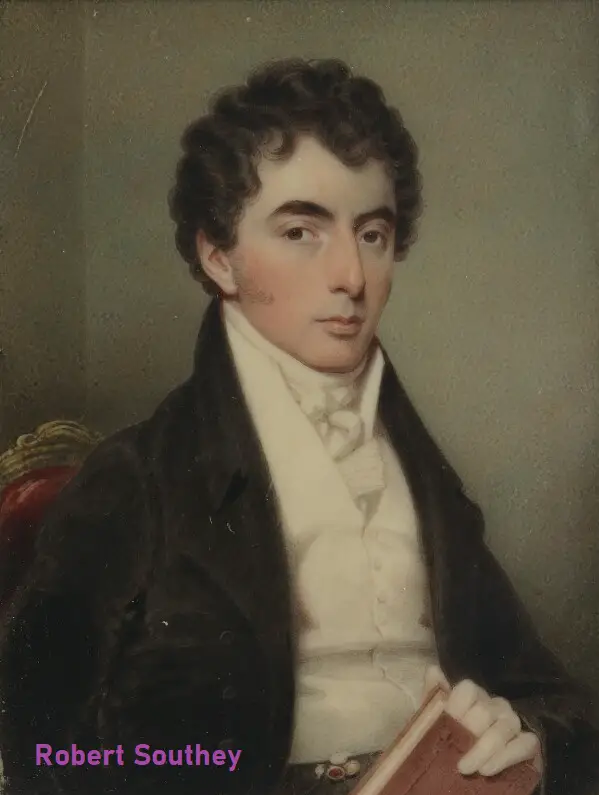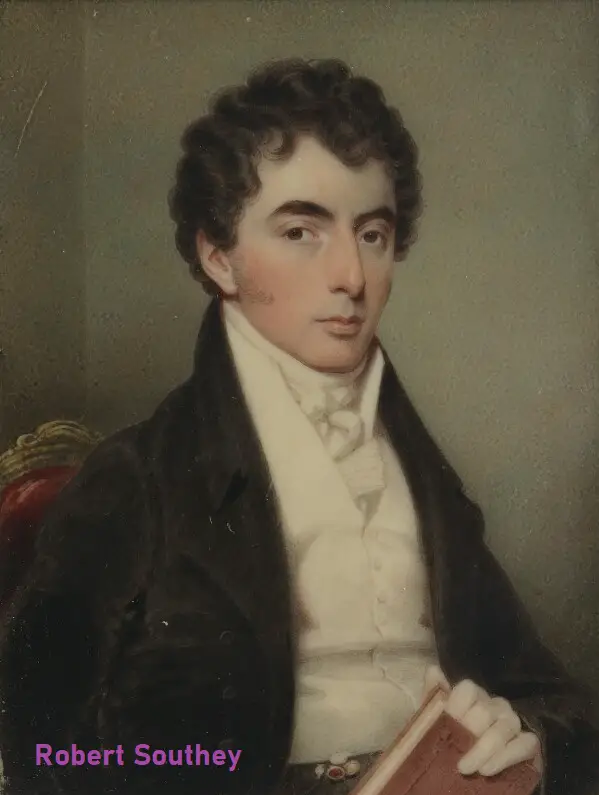 Early life
Robert Southey has born in Bristol on August 12, 1774. He is the son of Margaret Hill Southey and her husband, a bankrupt tradesman. In his childhood, he is forced to live away from home, and he moves in with his aunt, Elizabeth Tyler. There is a sudden emotional crisis because of the bankruptcy and death of his father.
He starts reading William Shakespeare and Francis Beaumont and the works about Renaissance of Tasso, John Milton, and Edmund Spenser as soon as he could read. He starts with writing plays, epics, and verses.
Robert Southey was both poet and prose writer, unlike many English Romantics, who wrote predominantly either in verse or in prose. As a poet and a poet laureate, he has written poems, epics, sonnets, romances, ballads, plays, odes.
His prose works incorporate biographies, histories, essays, reviews, semi-fictional journals and, autobiography.
His early life is basically about his development to become a poet. Robert Southey starts with his early life with writing journals.
Later he composes verses. His literary career is divided into two parts, the first one is an early poetic vein, and the second one is a transfer to prose dialogue.
In 1793 Southey studies holy orders in compliance at Balliol College at Oxford University. But he is a passionate republican, agnostic and sympathized with the French Revolution by now.
Meanwhile, he met, Edith Fricker, a young seamstress, whom he married two years later. She is the mother of his children until her brain fails. She passes away in 1837.
Literary Works of Robert Southey
Southey's first prose work, Letters Written During a Short Residence in Spain and Portugal, is published in 1797. By that time he has published a volume of Poems in the style of 18th-century sensibility.
He has also written two plays, which are, The Fall of Robespierre, and Watt Tyler. The Letters barely has a sense of literature but it is an example of Southey's keen interest in transforming occasions to journalistic material.
Southey returns to Edith in the summer of England. Southey and his wife spent several years in London. Meanwhile, Southey writes a lot of lyrical verses, odes, sonnets, monodramas, ecologies, and ballads which deals with social dilemmas, crime, guilt, and the supernaturalism.
Southey writes the very first series of mythological romances, Thalaba the Destroyer in 1801, which describes the religion of Islam through the portraying the story of a pious young Moslem champion.
In 1803 he primarily tries to be developed as a poet and continues to do so for another decade or so. In 1809 Southey completes another mythological writing, The Curse of Kehama. It is based on an exotic story of Hinduism. The story intends to allude to the struggle against Napoleon.
A third and final epic of Southey, Roderick, the Last of the Goths, is published in 1814. This poem is considered to be the greatest epic of Southey. It is more relevant particularly for the Napoleonic Wars and the Peninsular War.
After returning from abroad, Southey begins his career as a professional reviewer. It starts first with notices of Spanish and Portuguese literature for the Monthly Magazine. Later with reviews for the Critical Review in 1798.
During these years Southey works as a translator and editor. Between the years of 1803 to 1808, he produces prose adaptations of Amadis of Gaul, from a 16th-century Spanish version, Palmerin of England, the major romances of chivalry.
Southey has the urge to fight for the Portuguese origin of Palmerin of England. He claims that the origin of Amadis of Gaul is based on a dilemma of names.
Southey publishes works on advertising, packaging, and importing literary goods in his reviews, and translations. This spirit of literary merchandising is a part of most of Southey's texts.
Letters from England by Robert Southey
Southey produced during the years 1803–1808, Letters from England. It turns journalism into an art form. By writing this masterpiece, Southey receives the triple development of his personal bias through narrative conception.
Letters from England is written between 1820 to 1829 and the first edition published in 1829, and the second edition in 1831. As the title symbolizes the epistolary has been replaced by the dialogue. The work of Southey has been vividly praised for its prose style.
Historical works
Southey's best historical narratives are The Expedition of Orsua, and the Crimes of Aguirre. It elaborates the history of the search for El Dorado that ends up into mutiny, rebellion, and terror.
The voluminous History of the Peninsular War is another less popular historical work of Southey. It contains dense graphics.
Biographical works
The late Lives of the British Admirals is a biographical form of the work of Southey. It is considered to be the best portrayal of Elizabethan heroes and is remarkable for the great usage of Spanish and Portuguese information.
The Life of Wesley is another masterpiece of Southey. It is a movement to which Southey is not sympathetic and which he was not really competent to examine theologically.
The life of Nelson by Southey
The Life of Nelson is Southey's first and finest biography in 1813. The year it is published is a significant year for Southey as poet laureate.
Life of Nelson has a typical character of contemporary society. Southey's introduction of the character of Nelson is not just biographical. He clearly criticizes the servile characteristic of Nelson.
The Life of Nelson is more of a prose epic, as a biographical work. Undoubtedly it is one of the greatest contribution of Robert Southey to the English literature.
The Doctor & C
The Doctor & C contains some brilliant stories such as the famous story of "The Three Bears". But The Doctor, &c. is too much sentimental and shy in humour, and obsessive in its wordplays.
Robert Southey's works are filled with his ideologies, wit, curiosity, talent and have some historical elements. Almost all of his ideas and influences have been derived from the books he had studied from the beginning. He is utmost curious about the nature of human and expects it to be less volatile.
Ultimately his brain fails too and later he passes away of a stroke in 1843. He has been buried in Crosthwaite Churchyard in Keswick, right beside his first wife along with his three children.