During the Victorian period, within each household, you would usually find it was the woman who planned what would be eating for lunch and what everyone was having for dinner. However, this was mainly in upper-class households as they had the luxury to choose what they wanted and had someone to serve it for them.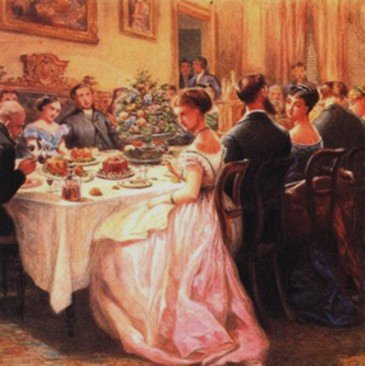 The Victorian dinner menu would vary depending on the income of course but as those higher in the class did not have to work hard in order to make money during the day, they had a large meal in the evening. This is when entertainment was also provided and was served up to the extreme amount of thirteen-course meals.
However, when they were eating by themselves they only ate up to five or six courses.
Here is an example of some of the parts to a typical Victorian dinner menu: Flavorful Soup Roasted Turkey with Dressing or Roasted Pork alongside Potatoes or Rice as sidelines. There were usually two Vegetable Side Dishes · Citrus Ice · Fresh Dinner Rolls with Sweet Cream Butter
Jams, Jellies and Sweet Pickles · Cake and Preserved Fruit · Coffee, Hot Punch Does the traditional Victorian dinner menu whet your appetite? Maybe that has sparked a few ideas in your mind of new recipes you could try or incorporate into your weekly meals at home.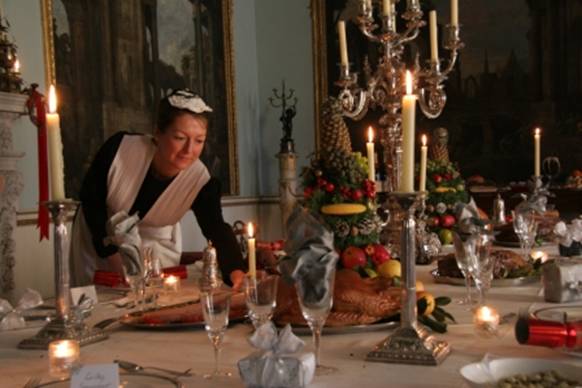 The eating schedule in a Victorian household would usually be one dinner in the afternoon around three or four o'clock then supper (Supper usually consisted of a light snack, not too filling) in the early hours of the evening or alternatively switch it around.
There are a few more traditional recipes that used to be included on the Victorian dinner menu or at a Victorian dinner party which were: crêpes, consommé, spaghetto, soufflé, bechamel, ice cream, chowder, meringue, bouillabaisse and mayonnaise.
In the year 1841 the first ever Christmas tree was introduced to the royal family by Prince Albert, the husband of Queen Victoria and before they knew it, the tradition quickly caught on until they are viewed as a 'must have' at the current festive season. Many other things then began to come in to plan and contribute to the Victorian Christmas dinner such as lighted candles, draped with tinsel.
During the festive dinners, within a Victorian household, you would also find many ornaments that were made with cotton-wool wrapped around a framework of metal or wood and smartly covered with embossed paper faces around its trim, buttons, gold paper wings which added to the magical effect and season.
Also see: Victorian Era Cooking And Kitchens
Victorian Era Cooking And Manners
Victorian Era Dinner Etiquettes
Aprons Of Victorian Era
Victorian Cooking Upperclass Dinner