As soon as the wedding ceremony used to get over and the reception wound up, the couple started for the honeymoon.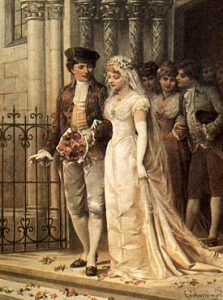 The origin of the honeymoon, however, was when early men used to carry their brides to far off, secret places where she couldn't be found staying there for almost a month.
Honeymoon in the Victorian Era
During the Victorian era, the couple used to change into their traveling clothes as soon as the cake was cut or after the wedding breakfast or supper. The bride gets assisted by her bridesmaid and she gives them to flower from the bouquet as a gift. By the time couple was to leave, only family and close friends would remain.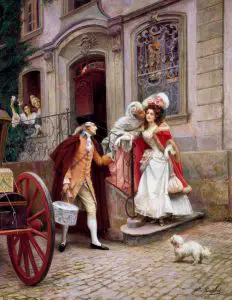 The couple used to drive off in a carriage drawn by white horses. They were showered with satin slippers and rice. It was believed that if a slipper falls in the carriage, it meant good luck for the couple forever and if it is the left slipper, it is better.
Victorian Era Honeymoon
The best man went with the couple to the train or steamer and took care of the baggage. He used to be sworn to secrecy about the honeymoon destination of the newly married couple.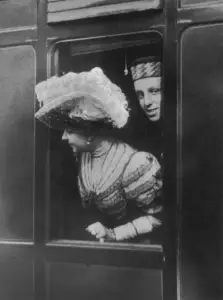 No one used to ask the couple where they were going because it was considered bad luck. After getting back from the honeymoon it was the custom that the husband carries his wife over the threshold because it was considered as bad luck if the wife stumbles.
Modification of Honeymoon during the Victorian Era
In the early nineteenth century, it was a custom that a female companion used to travel with the couple on honeymoon. The bride used to put on her travelling clothes and the couple started their journey immediately after the reception especially if it was on train or steamer.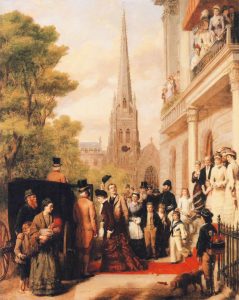 During mid-Victorian times the prominent colors of the dress were practically brown or black. The bride was advised not to wear anything noticeably new to make people figure out that they were newly married. If the bride married in the travelling dress, she wore a bonnet on her head instead of a veil.
Honeymoons became widely popular in the 1820s. They were often called wedding tours, bridal tours or nuptial journeys. The popular honeymoon destinations were Rome, Venice and the most romantic cities in Europe.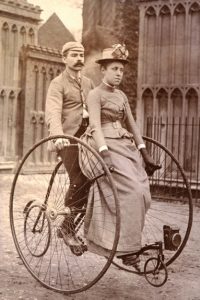 The couple was accompanied by family and friends till 1860s, but after that, they used to travel alone. The honeymoon is now considered a time to get intimate with each other and relax. It is believed the ceremony of honeymoons in its true sense started during the Victorian era.
More Info On- Lovers' Knot Ring, Antique Edwardian Era Rings, Garnet Ring, Victorian Era Jewellery, Victorian Era Jewellery, Wedding Preparation and Bridal shower.