William Etty (10 March 1787 – 13 November 1849) was one of the last academic history painters of the Victorian age. He is best known for his history paintings containing nude figures. He became the first significant British painter of nudes and still lifes.
Early Life and Career of William Etty
He was born in 1787 in Feasegate in York. He was born in a very humble family, his father was a baker and confectioner. To manage the expenses of the family he received an average education and surprisingly had no artistic guidance in his early life.  He began drawing as a kid on his father's shop floor.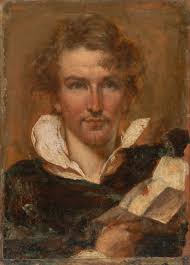 In 1798, his mother somehow got him an apprenticeship in Hull but in 1805 he moved to London to try his hands as an artist. In 1807 he became a student at the Royal Academy.  His uncle paid for him to be tutored by Sir Thomas Lawrence for a whole year.
William Etty Drawings
Initially, he did not succeed but he continued to dedicate himself to his studies, indeed he attended life drawing classes throughout his life. In 1811  his first piece was accepted by the Royal Academy.
First of his paintings to receive wider public recognition was 'Cleopatra's Arrival in Cecilia'. His 'Combat' (1825) brought him his first great success.
William Etty Artworks
In 1816, Etty decided to spend a year in Italy to study the artworks held in the great Italian collections. He also made a brief visit to France in early 1815. He seems to have developed as a painter during his travels. For the first time, his two paintings were exhibited at the 1817 Summer Exhibition.
In 1826 review for his 'Choice of Paris' gave him the critical acclamation he needed. Etty continued to exhibit at the Royal Academy throughout his career but his work was not universally popular. His nudes were a particular source of criticism.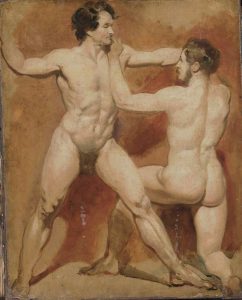 Etty was seen by others as the best English painter of the nude, but he has never become a household name. During the last decade of his life burdened with bad health, economic pressure, and unenlightened patronage he concentrated on minor pieces that sold easily.
In 1842 Etty established the York School of Design, which later became the York School of Art.  He also played a role in the conservation of the City walls. Etty was buried in his birthplace, York.  His grave is in the yard of St Olave's Church and can be viewed from within the ruins of St Mary's Abbey.
William Etty's Style Of Painting
Etty's paintings often contained mythological or historical subjects but his life studies are also admired. For his nude paintings, He was often attacked for the alleged indecency of his work.
His draughtsmanship is often criticized, but it is generally agreed that he attained a glowing voluptuousness in the painting of flesh that few British artists have ever approached.
William Etty's Works
Venus and her Doves,1836
Study of a nude man,1807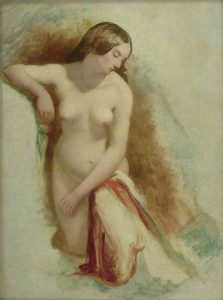 Grapefruit and oranges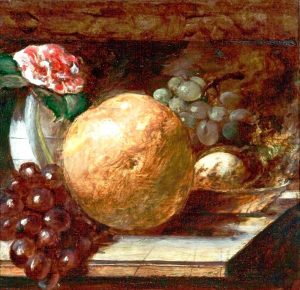 Nude reclining women
Nude woman kneeling
More Info On- Lord Byron, Wee Willie Winkie, John Pettie