Sir William Quiller Orchardson was born on 27 March 1832 in Edinburgh, where his father was engaged in business.
William Quiller Orchardson Biography
At the age of fifteen, William Quiller Orchardson was sent to Edinburgh's renowned art school, which was a Trustee Academy, and then after that, he was the mastership of Robert Scott Lauder.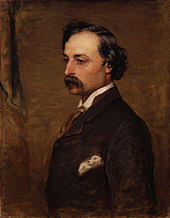 He was not really bright as a student but is work was notable by a peculiar reserve. By the time he was twenty,
He had mastered the essence of his own art and had produced at least one picture, which he thought would be accepted as representative, a portrait of sculptor John Hutchison. He worked in Edinburgh for seven subsequent years.
Early Life of William Quiller Orchardson
Orchardson was very active and agile. In his early life haunted, and then he became a devotee of tennis, back at Westgate. And for which he even had an open court built. in indoor games, he played billiards.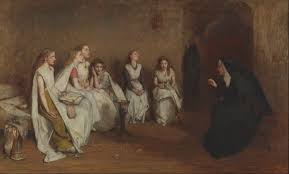 At the age of thirty, he moved to London, in 1862 and established himself at 27 Fitzroy Square, where he was joined by one of his friends John Pettie twelve months later.
Orchardson's Years in London
The same house, later on, was inhabited by Ford Madox Brown. William Quiller Orchardson works did not attract the English public. He confined himself to the simplest themes and designs.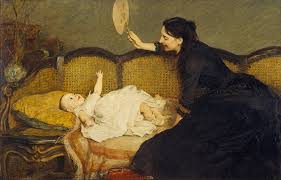 His best-regarded pictures of the first eighteen years after he moved to London were "The Challenge", "Christopher Sly", "Queen of the Swords", "Conditional Neutrality", and "Hard Hit". "Hard Hit," was perhaps the best of all. He even made a few drawings on wood.
Some Other Pictures  of Orchardson Which Gained Popularity:
The Voltaire
Marriage de convenience
A Tender Chord
The First Cloud
Her Mother's Voice
Later life
Orchardson was elected an Associate of the Royal Academy in 1868. And later on, he got married to Helen Moxon in 1873(6th April 1873). They had two daughters and four sons. The eldest son M. C. Q Richardson is an artist too.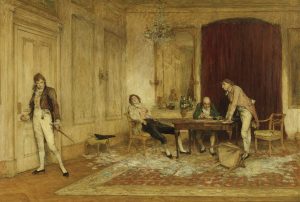 In 1877 he was again elected but this time to the full membership of the Royal Academy. In this same year, he finished building Ivyside, a house at Westgate-on-Sea with an open tennis-court and a studio in the garden.
Death
He died in London on 13 April 1910, two and a half weeks after his 78th birthday. And was buried Westgate on a sea. Only a fortnight he had completed a portrait of Lady Blyth.
He gained much popularity from 1880. In the very same year, he sent the large Napolean on board the Bellerophon to Royal Academy's exhibition, which was acquired for the national collection by the Trustees of the Chantrey Bequest for Tate.
More Info On- Lilly Martin Spence, Henry Moore, Lord Byron, George Frederic Watts, John Anster Fitzgerald