Anthony Vandyke Copley Fielding (22 November 1787 – 3 March 1855) was an English Landscape Painter coming from a family of artists.
He was probably named after Flemish Baroque painter Anthony van Dyck(1599-1641) and American painter John Singleton Copley (1738-1815).
Copley Fielding Biography
Copley was born in Sowerby, near Halifax. His father Nathan Theodore Fielding was also a painter, particularly a landscape painter. His brother Henry Theodore was also an artist.
Copley started in watercolor painting. Copley worked closely with his father and also traveled with him, and produced indistinguishable works.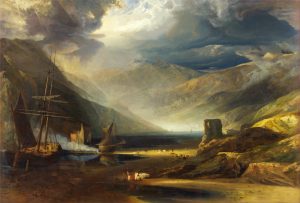 John Varley was one of the first teachers of Copley.  He first exhibited in 1810 and later he became an associate exhibitor in the Old Water-colour Society, soon in 1813 a full member and in 1831 President of the Royal Society of Watercolours.
Early Life and Career OF Copley Fielding
He retained his position as the President until his death. In 1824 he along with Richard Parkes Bonington and John Constable won a gold medal at the Paris Salon.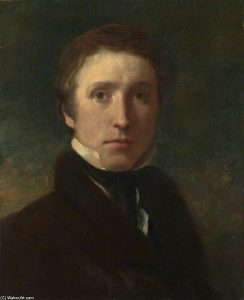 He not only painted but also was very involved in teaching the art which also gave him monetary profits. He taught John Ruskin in a series of lessons in 1835.
Copley married Susannah Gisborne in 1813 who was sister-in-law oh his old master John Varley. He divided his time between Brighton and London and later moved to Park Crescent in Worthing and died in the town in March 1855.
Copley's Style of Work
Anthony Vandyke Copley Fielding was a landscape painter, painted in watercolor but occasionally he painted in oil colors as well. His paintings had subjects like the sea, containing aerial effects, He painted Lakes, mountains inspired by Scotland and Wales.
He fancied woodlands, hills, trees, and seas. He beautifully depicted sunrays with intrinsic details of the sky, its shadows, and dark trees. He depicted the richness of the vegetation and the beauty of the Spring.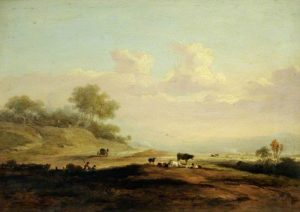 He produced spectacular scenic beauty in his paintings but during the last decade, he spent most of his time in his studio recreating his earlier works as a result, he became repetitive.
He was one of the most elegant and fashionable artists of that time. His taste and accomplishments were very popular at that time, particularly among purchasers.
Artistic Works Of Copley
His contributions to the Exhibihitons varied between 45 to 55. He was appreciated and called the best artist after Turner for his paintings of Atmosphere and sky.
Some of his works are:
In the Highlands
Tenby, 1836
vessels on the shore
Landscape
Snowdon,1830

Snowdon over the Head of Threat Mawr; Williamson Art Gallery & Museum

Newark Castle, 1810
Ben Venue
Seascape

Seascape by Copley

Broadwater,1848

Broadwater, Sussex; Sudley House;

Dunstaffnage castle
Bolton Abbey

Bolton Abbey; Leeds Museums and Galleries;