George Inness was known as "the father of American landscape painting" who was born in Newburg, New York on May 1, 1825, to a farmer, John William Inness and his wife, Clarissa Baldwin.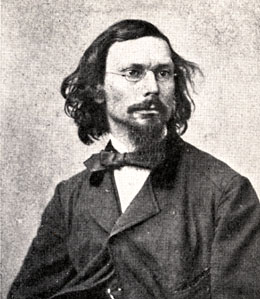 He was the fifth child of his father. He was considered the greatest landscape painter during his time, who was in turn influenced by the Old Masters, the Hudson River School, the Barbizon School and theology of Emanuel Swedenborg. Inness became a member of the National Academy of Design in 1868.
The Early Life of George Inness
George Inness along with his family settled in Newark, New Jersey at the age of five. During his young years, he worked as a map engraver in Sherman & Smith and N. Currier in New York City.
While working in the engraving company he attracted the attention of a French landscape painter, Régis François Gignoux trained him briefly. He gained most of his knowledge of compositional structure mostly by Claude Lorrain.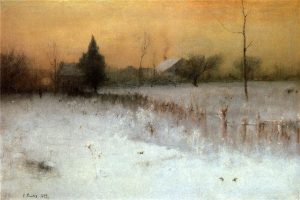 Throughout the 1840s he attended classes at the National Academy of Design and the work of the artists of the Hudson River School. He exhibited his artwork after taking several lessons from Régis François Gignoux in 1843 in NAD. Inness finally opened his studio in 1848 in New York City officially being a part of the art world.
George Inness Paintings
In 1849, George married a woman named Delia Miller, who unfortunately died within the next few months. He was again married to Elizabeth Abigail Hart, with whom he had six children. With the help of his patron named Ogden Haggerty, Inness made his first international trip in 1851 to Rome and Florence.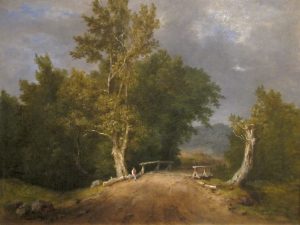 He met William Page in Florence with whom he discussed the works of Titian. Page introduced him to the writings of the Swedish scientist-Emanuel Swedenborg, which shaped Inness's style in a particular direction.
While returning to New York, he made another trip to Paris, where he visited the Salon for the first time and witnessed several paintings by the Barbizon artists including Theodore Rousseau.
Midlife of George Inness
In 1853, he was elected as an Associate of National Academy of Design after which he returned to Europe, in Amsterdam and London. He stayed there and studied the landscapes by Meyndert Hobbema.
In the 1850s he was greatly noticed for his loose brush strokes, darker color composition and emphasis on the mood of his artworks. In the year 1854, Inness befriended a minister Henry Ward Beecher, who became a potential patron of his work.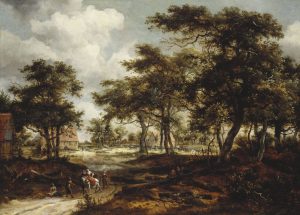 George Inness Junior was also born the same year, who notably followed his father's footprints to become a landscape painter later during his life.
In 1855, he accepted a commission from John Jay Phelps creating a masterpiece 'The Lackawanna Valley' which represented the Industrial Revolution that America was going through. In 1860, Inness moved to Medfield, Massachusetts where he made a studio out of a barn where he created 'Peace and Plenty'.
George Inness's Later life
In 1863, he was invited to Eagleswood by the Spring to become a drawing instructor. He was commissioned to paint a series on a central theme of Swedenborgian collectively known 'The Triumph of the Cross' within the next three years. He was elected as a member of the NAD in 1868.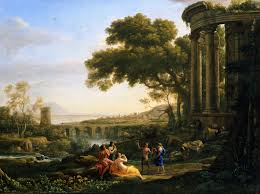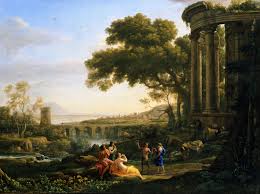 Inness settled himself along with his family for the next four years in Rome in 1870 while renting a studio which is said to be occupied by Claude Lorrain, his influential master. He created 'Across the Campagna, 1872', 'Olive Trees at Tivoli, 1873' during this stay in Europe.
George Inness Montclair
During this decade his artworks often topped by cloud-laden and threatening skies, a picturesque of his native country. In 1878, Inness rented the Dodge estate in Montclair, New Jersey during the next sixteen years. He spent few summers in Milton and Nantucket in the 1880s.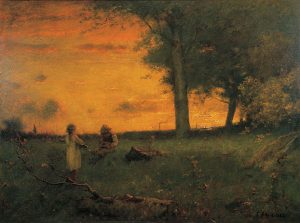 He finally settled in Montclair in 1888, after purchasing the estate for himself. In an interview, he mentioned, "The true use of art is, first, to cultivate the artist's own spiritual nature."
He died at the age of 79, on August 3, 1894, while watching a sunset at the Bridge of Allan in Scotland. His works during his lifetime comprise more than 1150 paintings, watercolors, and sketches which remains as an extraordinary testament to his lifelong journey.
More Info On- Gustave Caillebotte,  Joseph Solomon, Antoine Louis Barye,  Frederick Daniel Hardy, John Milne Donald