Below is the short Biography of Henry Anthony Mark, a painter and a landscape artist who was known for adding a French twist into his 18th Century paintings. In his era, he was known to be the second best painter, the first being John Constable.
Early Life of Henry Mark Anthony
Henry Mark Anthony was an English Landscape artist who was born on 4th August 1817 at Rushmore Lane, Manchester, England. He is of Welsh ancestry. His father was John Anthony, a merchant and his mother's name was Phoebe. The family moved to Cowbridge, in Wales around 1823 when he was 6 years old.
He apprenticed to a doctor called Harrison. Harrison was some of an amateur artist himself. Harrison encouraged Anthony to paint.
Art Career of Henry Mark Anthony
Henry Mark Anthony was a distant cousin of George Wilfred Anthony. George was a drawing master in Manchester. Anthony learnt some of his art from his cousin. George later became an art critic.
In the year 1833, Anthony moved to London. He travelled across Europe with the legacy he received in the 1830's and some patronage he owned. He studied in Paris at the Academie des Beaux-Arts along with Paul Delaroche and Horace Vernet. In 1837, he was influenced by the Barbizon School.
Anthony had a British origin. However, his paintings displayed a high amount of French style of plen air. He was the first British artist to have introduced this French element.
He travelled to many other countries on account of his painting career namely, Wales, France, Netherlands, Spain and Ireland.
Notable works and achievements of Henry Mark Anthony
His paintings were regularly exhibited at the Royal Academy from the year 1837 onwards until 1884. He exhibited at many places like the British Institution, Society of British Artists, etc. He was elected the member of the Royal Birmingham Society of Artists in 1834. His painting 'Nature's Mirror' won a prize of 50 pounds in 1854 at the Liverpool Academy. Today, the same painting lies at the Wolverhamper Art Gallery.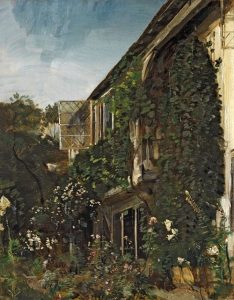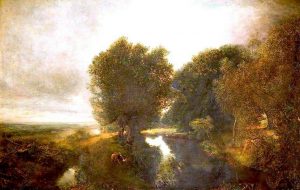 His paintings highlighted the effects of nature in a major fashion. He painted the landscape melancholic mood, nostalgic feelings and atmospheric effects of light in high detail and precision. Especially times of dawn and sunset.
Downfall of Henry Mark Anthony
Henry painted landscape of sunset and sunrise as the background of a castle or an old church. He lacked the factor of bringing changes and progression in art. However, England, at the time was rapidly producing painters of high quality and making huge progress in art and culture, especially, styles of paintings and portrayal. This left Henry Mark Anthony behind. This is why he couldn't be elected in the Royal Academy after the year 1860.
This also led to him being a person who loved solitude.
However, the PRB (Pre Raphaelite Brotherhood), were admirers of Anthony's work. They called his work 'The Spectator' 'remarkable' and 'standing out saliently from the throng'.
Dante Gabriel Rossetti helped Anthony secure the patronage of the Newcastle collector James Leathart.
Personal Life of Henry Mark Anthony
Henry Mark Anthony was married to Eleanor Sophia Marshall. She died in 1891. They had 3 daughters together – Phoebe Grace, Grace and Constance. His cousin was George Wilfred Anthony who was a landscape painter and later became an art critic.
Death of Henry Mark Anthony
Henry Mark Anthony died in London at his residence – The Lawn, Hampstead on the 1st of December, 1886 at the age of 69.