The history of John Hardman and Co.
Owing their reputation largely to the architect A. W. N. Pugin, who was associated with this family firm, John Hardman and Co. existed during the Victorian period. The Hardmans were from Lancashire and were orthodox Catholics. Their extent of orthodoxy was such that they moved to Birmingham in the eighteenth century just to reside with the largely Catholic community over there. Establishing himself as a name and pillar of the society was John Hardman Senior who dealt in button and medal making.
The Hardman and Pugin association
Pugin was overlooking the construction of St Chad's Chapel, the credit of the project largely going to the senior Hardman. The architect met the junior Hardman while the former was teaching at Oscott College and was also working on the chapel. The two soon became fast friends and were exchanging letters. They were of the same age and had similar religious interests. Soon, Pugin was passing the metalwork designs of the Hardmans. Soon, the Hardmans were advertising their company and their works under the name of John Hardman junior.

The works of Hardman and Co.
Before the death of the senior Hardman in the year 1844, the company had gone to the junior Hardman and was being dealt with with a firm hand and good administration. The association and friendship with Pugin nourished the company and it soon emerged into a symbiotic relationship for both the parties. Together they were reviving the ancient crafts and craftsmanship. The Hardmans were now making a variety of things like stone and wood carvings, leather and textiles. Their relationship, and thus the trade only flourished as the years passed by.
They entered new trades and became famous at all of them. Their names spread far and wide, not constrained just within their country, but also extending beyond that.
A few examples of their works are given below. Most of them have been influenced by Pugin.
Some of their metalworks:
Salt Cellar
Door Furniture for the Houses of Parliament
Bread Plate
Floriated Ornament
Candlesticks
Silver Dish
Chalice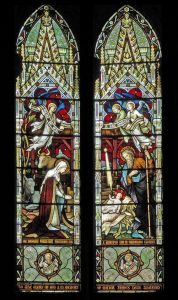 Some of their stained glass works:
Window depicting St George and St Alban at St George's Roman Catholic Cathedral, Southwark
The east window at St Peter the Apostle, Woolwich
The west window of St Paul's Parish Church, Brighton
South aisle window in St Paul's Parish Church, Brighton
The Glassworkers' Window at St Chad's, Birmingham
The following stained glass designs were influenced by Powell, the nephew of John Hardman junior. He had been a pupil of Pugin.
The Flanagan Window

, St Chad's Roman Catholic Cathedral, Birmingham

World War I Memorial Window

 (dedicated 1921), St Chad's Roman Catholic Cathedral, Birmingham

Spode Memorial Window

, Lichfield Cathedral

Nativity Window

, Holy Trinity, Llandudno

Coming of the Magi

, Holy Trinity, Llandudno

Christ in the Carpenter's Shop; Christ and the Doctors

, St Matthias Church, Richmond

Presentation in the Temple; Flight into Egypt

, St Matthias Church, Richmond

Nativity; Adoration of the Magi

, St Matthias Church, Richmond

Jesus Preaching; Suffer the Little Children; Raising Jairus's Daughter

, St Matthew's Church, Ashford, Surrey

St Matthew and St Luke

, St Matthew's Church, Ashford, Surrey