John Philip (1817-1867), nicknamed as "Spanish Phillip" was a painter of Portraits of the Spanish life in the Victorian Era.
Life of John Philip
John Philip was born in Aberdeen in April 1917 in a poor family. His father was an old soldier. His attraction for art was seen at a very young age. He used to work in a tinsmith's shop as an errand boy and the colors that were used to coat the pails and cans in the shop were used by him to paint pictures with coarse effect.
He then worked under Spark who was a painter and glazier at the age of 15 and showed more likeness towards painting. A signboard was painted by him for a basket maker and it was his first work that he was paid for.
David Benziel, one of his father's friend promised him to take him to London in the future in his vessel but he was so impatient that he hides himself in the vessel and migrated with him. When he was found out, he was appointed to paint the figureheads in the vessel. Once they reached London he helped in the lifting of the ballast.
He then returned to Aberdeen after visiting the Royal Academy. He painted the picture of a ship as a memorial of his journey in the vessel. He was then re-energized with the inspiration from his tour and then started studying art under a local painter James Forbes.
In 1835, he produced a genre picture under the title" The Pedlar or the Newsvendor" that had an interior with twelve figures and was inspired by Wilkie, an inspiration for all Young Painters. This painting of him was purchased by Lord Panmure who presented it in the Mechanics Institution of Brechin along with other two cattle paintings of Philips.
He then was hired in the Aberdeen theatre occasionally as a scenic painter but his main profession was of house painting and glaziers under his master Spark.
Lord Panmure was then very impressed by his other works and he paid for him to be a pupil of Thomas Musgrave Joy in London in 1836. Later in 1837, Lord Panmure also paid for him to get him admitted to the Royal Academy of Arts. In the next year, he exhibited his painting "A Moor" and also "A portrait of W. Clerihew" in the Royal Academy of Arts.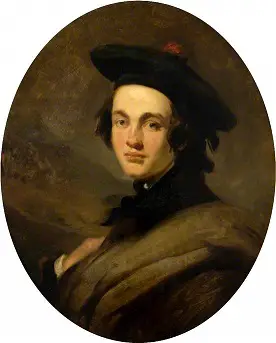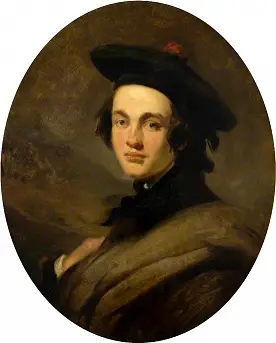 In 1840, he returned to Aberdeen and painted many portraits that included an oval portrait of himself, administrator of the city and life-size picture of James Blaikie of Craigiebuckler. He returned back to London in 1841 where he was initially indulged in making portraits but later he started to exhibit on historical topics like
Wallace and his schoolfellows at Dundee in 1846
Presbyterian in 1847
Baptism in Scotland in 1850
The Space-wife, A Sunbeam, A Scottish Washing in 1851
Due to his deteriorating health, he was advised to spend the winter in Seville where his art form changed drastically. He was inspired by the works of Velasquez and furthermore influenced by the surrounding that had bright sunlight and lucid natures choice of colors. A chromatic splendor and a sense of touch was visible in his paintings now which made him more popular.
His work was noted by Queen Victoria who brought from him the painting titled "The Spanish Gipsy Mother" in 1853. She also appointed him to paint "The Letter-Writer of Seville" in 1854. He then made a tour of Spain with Mr. Richard Ansdell and painted many of his prominent paintings then.
He became the member of the Royal Academy in 1857 and a full academician in the year 1859. He was again commissioned by Queen Victoria to paint "The Marriage of Princess Royal with the Crown Prince of the Germany" in 1858 and he justified totally the painting and the Queen was very impressed with his artistic production.
He made another visit to Spain in 1860 and spent around 6 months there. During his stay there he started with 25 prominent paintings, 20 smaller pieces of his work, 45 watercolor sketches and many other pencil sketches which he completed later.
Philip made his last visit to the continent in 1860 where he resided mostly in Rome and Florence. He mostly utilized his time in studying the works of Titian. He had a paralysis attack in the house of Mr. W.P.Frith and took his last breath at the Campden Hill in Kensington in 1867.
Artworks of John Philips
Some of the works by John Philips are
Portrait of an old man in 1842

Portrait of an Old Man

Gypsy Sister of Seville in 1854

Gypsy Sisters of Seville

The Evil Eye in 1858

The Evil Eye

The Dying Contrabandista in 1858

The Dying Contrabandista

The Assignation in 1859

The Assignation

Mitherless in 1863

Mitherless