John Prescott Knight was born in the year 1803 and expired in the year 1881.
John Prescott Knight early life
Born at Stafford as a son to the actor, Edward Knight, he studied privately and entered the Royal Academy in the year 1823.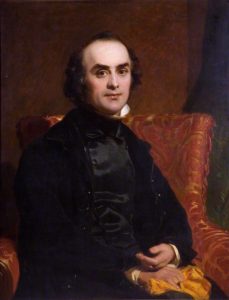 The very next year, he exhibited two paintings there. However, he had intentions of indulging into a mercantile career.
The life of John Prescott Knight
He had served as a clerk to a West Indian merchant. Owing to the failure of this man, John Prescott Knight began copying the designs by West to amuse himself.
His great success at this influenced his father to allow him to become a pupil of Sass and George Clint, and later to join the Royal Academy.
John Prescott Knight Paintings
The year 1828 saw two of his paintings, 'Whilst Party' and 'List, ye Landsmen', being hung at the British Institution. In 1835, his painting, 'Tam o' Shanter' was exhibited and with this, John Prescott Knight became an associate in 1836.
Soon, he took up the role of the professor of perspectives and stayed put from the year 1839 to 1860. John Prescott painted 'The Pedlar' in 1831, 'Auld Robin Gray' (1829 and 1833), and 'Sunset' (1834). He soon returned to painting portraits in large groups.
Some of them are Portraits Painting Group:
'Waterloo Banquet' (1842)
'Peninsular Heroes' (1848)
He also painted the solo portraits of the 'Duke of Wellington' for the London City Club, the 'Duke of Cambridge' for Christ's Hospital, and 'Sir George Burrows' for Saint Bartholomew Hospital.
Prescott Knight became the secretary of the Royal Academy in the year 1848 and held his post till the year 1873. His last exhibition at the Royal Academy was in the year 1878. The painting John Prescott exhibited was 'A Sandy Hillside'.