John William Casilear was born on June 25th,1811, in the city of New York. He was a prominent landscape artist who belonged to the Hudson River School. He got his training under the famous 19th-century engravers like Peter Maverick and Asher Durand.
It was in the mid 30s decaA great American painter and engraver, de that Casilear turned his attention to landscape painting due to the influence of his friend Thomas Cole. In the year 1840, William Casilear accompanied several famed artists on a trip to Europe to sketch vivid landscape scenes and paint picturesque places. They also visited several art galleries and museums to foster their interest in painting.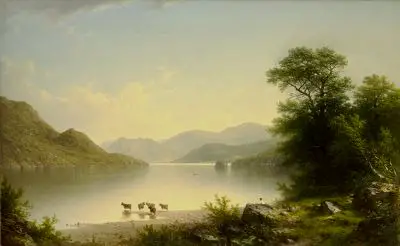 His Painting Work Features 
Casilear loved to create delicate and tranquil pastoral sceneries

He used subtle light effects in his work (luminism)

Apprenticed to a young printer called Peter Maverick during his teen years

Casilear was a critically acclaimed artist who was ranked as one of the finest American engravers of his times

He engraved banknotes, legal documents, and artworks to perfection

William Casilear started full-time painting in the year 1850

In the year 1840, he went on England tour along with artist friends John Kensett and Durand

He visited the beautiful country of Switzerland in the year 1858, which inspired him to paint alpine motifs

In 1851 he was appointed as the full member of National Academy of Design

He showcased his life works in the academy, for more than fifty years
Refined Painting & Impressionism
Casilear, as a painter, developed his artistic skill gradually with landscape art painting. This painting style later came to be known as Hudson River School paintings. His paintings and sketches were serene and refined. For example, a classic Casilear painting with shoreline view that included many cows in the background leisurely wading in the shallow waters of Lake George, is a typical Hudson River School painting. Such paintings highlight his unusual skill for fine draftsmanship and glowing ambience.
His Final Years
Casilear never sacrificed his personal and natural vision throughout his art career. In the last few decades of his life, his view was broad-minded and also accommodated unique new techniques such as Barbizon and impressionism painting styles.
William Casilear met with his death in the year 1893, in Saratoga Springs in New York City. He was 82 years of age at the time of his death. William Casilear was considered one of the greatest 19th-century American painter and engraver. His artworks and examples of his fine paintings have been stored at the Metropolitan Museum of Art in New York City, Ringwood Manor in New Jersey, Woodmere Art Museum in Philadelphia, and National Gallery of Art in Washington.