Born on the American lands and thrived on the same, Samuel Colman was a painter, writer and even a person mindful of right taste for Interior designing as well.
His most famous work of painting is the Hudson River, which gave him fame and esteem like no other.
Early years of Samuel Colman in America
Samuel was born on 4th March in 1832 in Maine, in the United States of America. While he was young his family moved to New York City. His father managed to give his family a decent lifestyle through the earnings of a book store in the new city which also played a role in influencing the artistic side of Colman with the literary environment.
Samuel Colman was a student of Asher Durand while he was enrolled in the Hudson River School. His first painting exhibition was done at the National Academy of Design in 1850.
He was able to get himself a studio in the city mist of New York in 1854. The following year he was a member of the National Academy and received full membership in the year 1862.
Samuel as a painter
For his interest in painting, he formed the American Watercolour society, with James Smilie in 1866. Samuel was the first president of this society. His works carved out using the watercolours have been fine and makes him suitable for laying the foundation of this society.
A couple of his famous works are The Spanish Peaks, Colorado and The Ships of the Western Plains.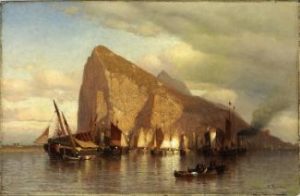 The Hudson River School where Samuel obtained his academic knowledge also became the inspiration behind his landscape paintings in his initial years as a painter. A perfect example for such illustration was created in 1856 and named Meadow and Wildflowers at Conway. It now is available at Frances Lehman Loeb Art Center at Vassar College for display.
Apart from inspired works of nature, he was also into romantic styled paintings. His work was appreciated after the Civil War.
The Storm King on the Hudson was considered to be the most famous and exemplary work of Samuel. It was also based upon the motivation from the Hudson River School and at present is available for display at Smithsonian American Art Museum in Washington, DC.
Samuel had a skill for etching and became a medium for the same later. He was also a member of the New York Etching club and certain etchings were displayed there based on the European designs.
He did exhibit his work based on etching in 1881 in an Exhibition of American Etchers at Boston Museum of Fine.
Travel inspired works of Samuel Colman
Colman was not a type of painter who was full time dedicated to his canvas and brushes. He was indeed a traveller as well. This fact about him is well reflected in many of his artworks carved on a canvas. He was super active in years between 1860-1861and travelled to France and Spain mostly. Yet another tour was accomplished by him in the 1870s in which he was headed for Europe and most of his time was spent at the Mediterranean shores.
The structures that he saw while on tours, were also a part of his paintings later. These architectural structures like castles, cityscapes, aches, bridges and others may seem structures of cement and design to us, but had a different effect on his mind.
Since these travel experiences gave him more than he could capture in his work and relive the scenes, he went for an excursion all again in 1870 and 1880 as well. This time he was roaming in the United States which captured the western landscapes and were comparable to those of Thomas Moran.
Samuel as an Interior Designer
After dedicating a major portion of his life to capturing colours of the world by means of travelling and painting, Colman was now set to take a different path through in his late years.
When the 1880s were up, he was already active as an Interior Designer. His collaborations of that time were with Louis Comfort Tiffany mainly. The works of their collaboration can be clearly seen in the Samuel Clemens' Hartford home and as well as in the Fifth Avenue house of Henry and Louisine Havemeyer.
Not just that, he was also fascinated by Asian decorative objects and became a well-versed collector of the same.
He also tried his hand in writing and wrote two books a well. They are known by the name Nature's Harmonic Unity and Proportional Form.
He died on 26th March in 1920 in New York City.