Thompson Launt was born on the 8th of February in the year 1833 in Abbeyleix, Queens Co, Ireland. In the year 1847, when he was 14 years old, there was a potato famine that broke out in Ireland. Thompson and his mother then moved to the United States and settled in Albany, New York. His mother was a widower. There he worked as a handyworker, commonly known as handyman.
He studied Anatomy in the office of a physician Dr James H Armsby. However, it wasn't his field of interest. Therefore, he abandoned medicine for Art. He later started working at the studio of Sculptor- Erastus Dow Palmer. He worked there as a studio boy for nearly 9 years and gained a lot of expertise in sculpturing.
Art Career of Thompson Launt
He showed flair for medallion portraits and then started receiving ample of employment. In 1859, he became an associate of the Academy of Design.
In the year 1862, he exhibited the "Rocky Mountain Trapper" which was a marble portrait of James 'Grizzly' Adams. Because of his excellence in this particular artwork, he was elected to be an academician at the National Academy.
In 1874, he was the Vice President of the National Academy and in the same year Yale conferred him with the honorary degree of Masters in Arts. He made the 'Morning Glory', a medallion Abraham Pierson statue at Yale College.
Many artists praised his studio and called it the 'largest'. Great artists met in his studio night and day. He had wireless communication throughout the building and the entire community would become aware of any announcement made. There was a huge statue in the middle of the attic of General Scott. There were bright rigs and colorful walls that gave a rich and warm feeling.
Notable works of Thompson Launt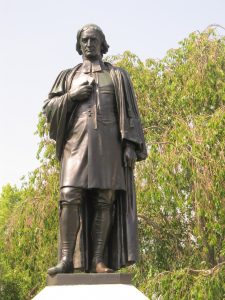 'Elaine' – a bust
'Morning Glory' – 1874 – Abraham Pierson – Yale College
'Morning Glory' by Thompson Launt
'Napoleon I' – at Milford, PA
Gen John Sedgwick – at West Point in 1869
William C Bryant – portrait – bust in the Metropolitan museum, New York
Personal Life of Thompson Launt
Thompson visited Rome in 1868, where he married Maria Louisa Potter. She was the daughter of Episcopal Bishop of Pennsylvania – Alonzo Potter. She died in the year 1916. He revisited Italy in 1875 and lived there until the next 12 years of his life. Therefore, he spent most of his life in Florence.
Death of Thompson Launt
Thompson Launt showed mental health issues during the latter stage of his life. He died in the State Mental Asylum at Middleton, New York on the 26th of September 1894 when he was 61 years old.